Program
Tongue PhD
Ieva Misevičiūtė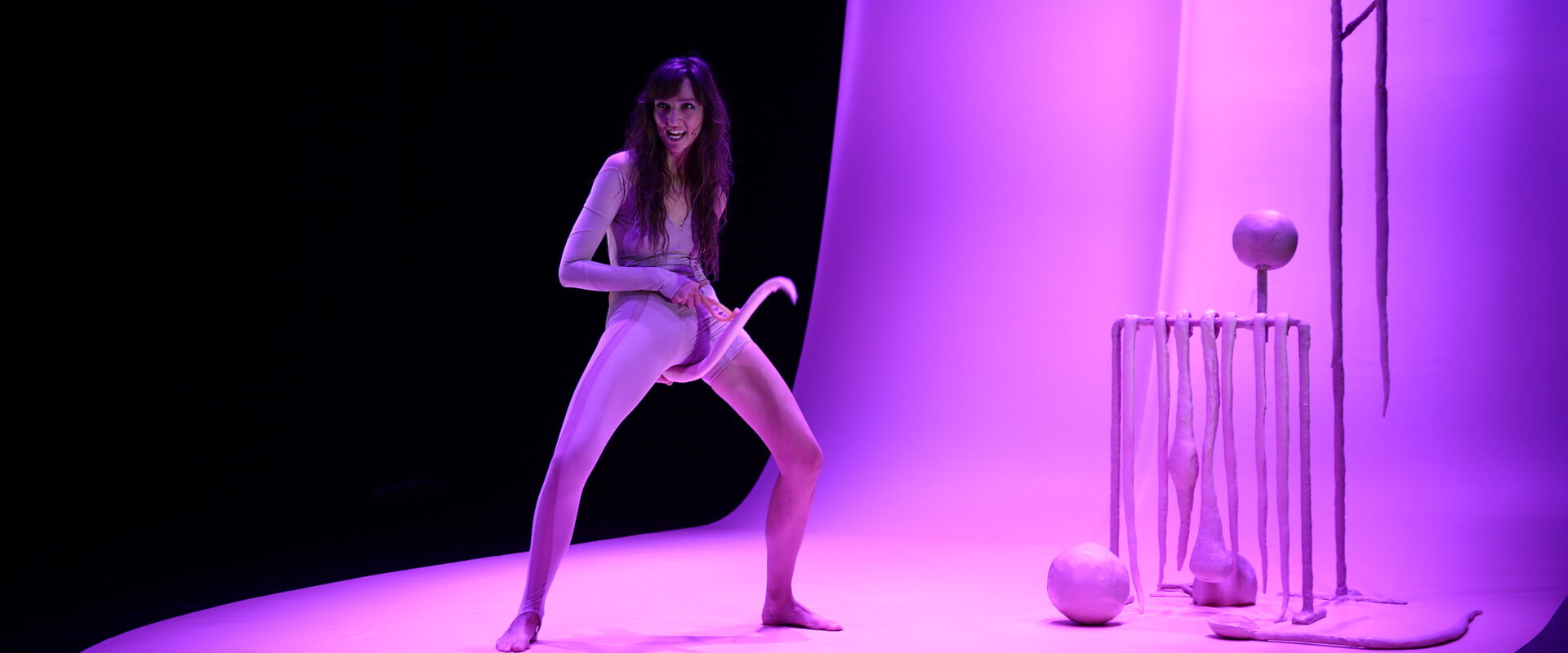 If I Can't Dance, I Don't want To Be Part Of Your Revolution and Veem House for Performance proudly present the Dutch premiere of the solo piece Tongue PhD by New York based artist Ieva Misevičiūtė.
Ieva Misevičiūtė, Master in Political Science, Master in Cultural Analysis, will finally get her PhD, in one hour, right in front of you, granted by her tongue! The tongue bares the memory of the animal, the instinctual, but also is the main tool with which we express our humanness. It is a bridge between madness and intelligence. It's a perfect place to get your PhD at!
The piece consists of ten chapters each investigating a different metaphoric lens of the tongue. Tongue PhD fuses elements of physical theater, academic reverie, dance, and sexual slapstic. A pink set with no straight lines will soon transport you to the most potent cavity where theory and rhythmic, animalistic loops mingle on equal footings. Long live muscle moving muscle!
The performance is developed in the frame of the Corpus international network. Its European premiere took place at Playground festival in Leuven in the autumn of 2015, and the US premiere took place at The Kitchen. The piece was shown as well in CAC Vilnius in 2016.
"Misevičiūtė's acts distort social characters and behaviours by imbuing them with animality, existential contortions, philosophical slapstick, and hallucinogenic cleverness." – Natalia Valencia, 10 Up and Coming Artists From The Americas, Crash.
"Ieva Misevičiūtė's quirkily unplacable blend of performance, circus, and dance, pleasing, sharp, and funny (…)" Catherine Wood, The Year in Performance, Best of 2015, Artforum.
Tongue PhD is commissioned and produced by Contemporary Art Centre (Vilnius) and co-produced by Playground (STUK Kunstencentrum & M-Museum, Leuven) as part of Corpus, network for performance practice. Corpus is Bulegoa z/b (Bilbao), CAC (Vilnius), KW (Berlin), If I Can't Dance (Amsterdam), Playground (STUK & M, Leuven), and Tate Modern (London).
Ieva Misevičiūtė
Ieva Misevičiūtė (b. 1982) is a New York based performance artist working in both visual arts and theater. She has presented her work in Centre Georges Pompidou in Paris; The Kitchen, Sculpture Center, Swiss Institute, MoMa PS1 and MET Breuer in New York; Hauser& Wirth in New York and Zurich, dOCUMENTA (13) in Kassel (with Michael Portnoy); de Appel art center in Amsterdam; Cabaret Voltaire in London; Playground Festival at STUK in Leuven, Belgium; Beursschouwburg theater in Brussels; Western Front in Vancouver; Swiss Sculpture Exhibition in Biel-Bienne in Switzerland; and Contemporary Art Centre (CAC) in Vilnius, among other institutions.
Concept, text, choreography and stage design:
Ieva Misevičiūtė
Producers and coordinators:
Maaike Gouwenberg, Monika Lipšic
Light design:
Eugenijus Sabaliauskas
Sound composer:
Gediminas Žygus
Music:
Gediminas Žygus, Sebastian Butt , Charlie Murray
Costume:
threeASFOUR
Script co-writer:
Michael Portnoy
Butoh training and artistic advice:
Vangeline
Scenography development:
Arts Centre Buda
Corpus is co-funded by:
The Creative Europe Programme of the European Union.
This program was supported by