Program
In a Flickering Light + Looking Back (live music version by Paul Koek)
Sander Breure & Witte van Hulzen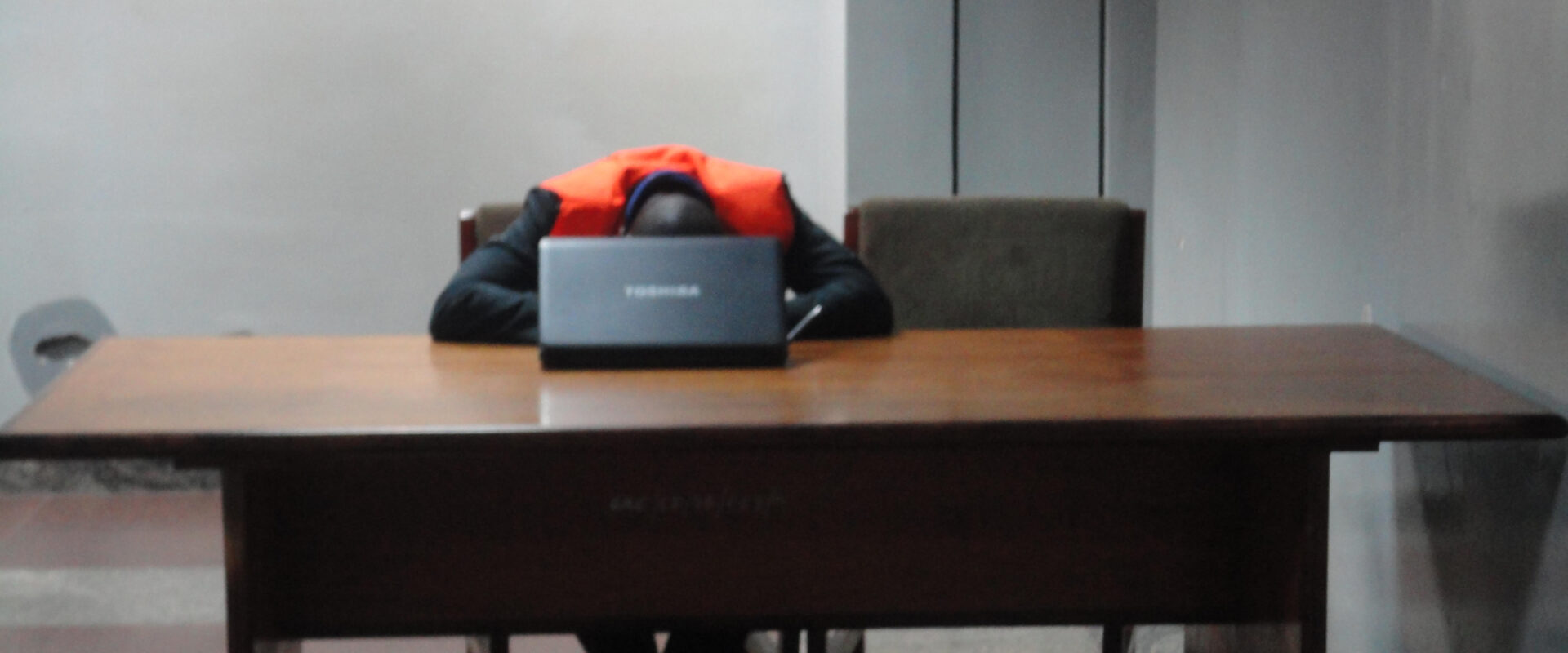 In a Flickering Light is een performance over de verslaving aan het licht van onze apparaten. Vier acteurs kijken naar een lichtbron die samen met geluid de suggestie van een film of video oproept. Het publiek ziet alleen de reflectie van het licht op de gezichten van de acteurs. De gezichten gedragen zich als 'maskers'. Het masker heeft een dubbel karakter: Aan de ene kant verbergt een masker het gezicht, aan de andere kant wordt er op rituele wijze expliciet gemaakt wat we normaal gesproken niet zien: dat wat zich in de mens afspeelt, kunnen we nu lezen op het gezicht. De manier waarop deze 'maskers' van het hoofd een object en tegelijkertijd expressief medium maken, raakt aan het idee van beeldhouwkunst en verwijst in zekere zin naar de keramische hoofden die Sander Breure en Witte van Hulzen vorig jaar voor RijksakademieOPEN maakten.
In a Flickering Light is ontstaan vanuit de gedachte dat de techniek van deze tijd onze manier van kijken, denken en communiceren beïnvloedt. De performance biedt een reflectie op onze fluïde maatschappij, waarin technologie een steeds nadrukkelijkere conditie van ons bestaan is geworden; er zijn maar weinig mensen die 's avonds niet achter een scherm kruipen.
In het Veem wordt de performance uitgevoerd samen met een screening van Looking Back, waarbij Paul Koek live de muziek zal spelen.
Looking Back is een film die de daad van het kijken tot onderwerp heeft en is gefilmd tijdens de performance How can we know the dancer from the dance? op Utrecht Centraal.
The Dutch artistic duo Sander Breure (°1985) and Witte van Hulzen (°1984) uses diverse media such as video, performance, photography, drawings and sculpture. Families, migration, everyday body language, the art world and its unwritten laws, the attack on Utøya: the various subjects are always translated into images, with specific attention to the human condition. Their work is rooted in a romantic tradition. Due to the way in which they attempt, through the continual reuse of images, to investigate the essence of art and its relationship to our world, that tradition takes on new connotations. Sander Breure and Witte van Hulzen have exhibited, among others, in the Stedelijk Museum Amsterdam, Centraal Museum Utrecht, Contour Biennial Mechelen and ISSUE Project Room New York. They finished a two year residency at the Rijksakademie in 2017 and recently won the Charlotte Köhler Prize. They are represented by gallery tegenboschvanvreden, Amsterdam.
Actors:
Phi Nguyen, Anneke Sluiters, Karina Holla, Chandana Sarma
Live music (Timpani) for the installation by:
Paul Koek (Veenfabriek)
Created by:
Sander Breure & Witte van Hulzen
In collaboration with:
Amsterdam Art Weekend
Financially produced and supported by:
Mondriaan Fonds (NL), Macba (Barcelona), LOOP, tegenboschvanvreden
Costumes:
Merel van't Hullenaar
Light technician:
Maarten van der Glas
This program was supported by