Program
In a Flickering Light + Looking Back (live music version by Paul Koek)
Sander Breure & Witte van Hulzen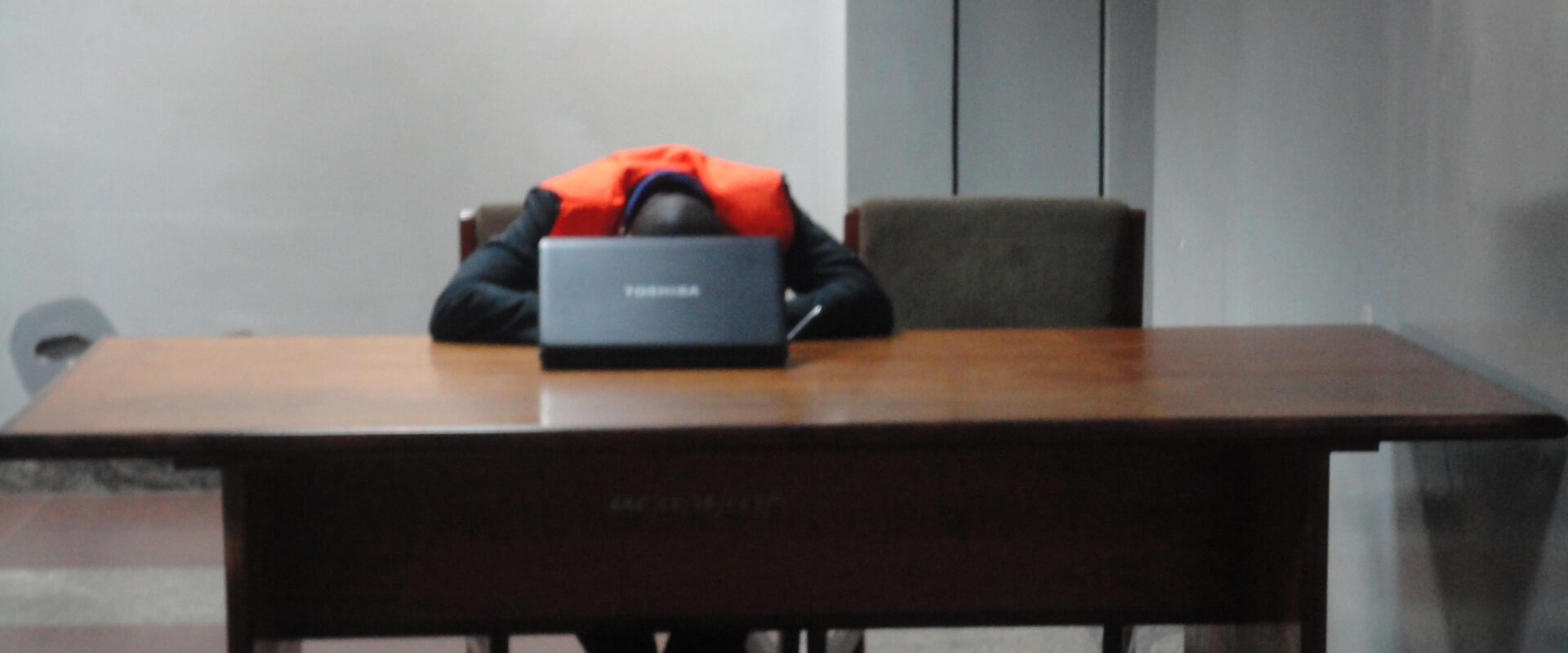 In a flickering light is a performance about the addiction to the light of our devices. Four actors are watching a source of light which suggests the reflection of a film or video. The audience 'watches the film' on the faces of the actors. These faces behave as if they were masks. A mask has an intrinsic duality: it hides the face but also reveals – in a ritualistic way – 'the inside'. That which normally cannot be seen we can now read from the face. The way in which these 'masks' transform the head into an object is reminiscent of the sculptures that Sander Breure and Witte van Hulzen make.
In a flickering light is made with the assumption that the presence of technique in our lives influences our way of looking, thinking and expression. The performance hopes to offer a reflection on our fluid society, in which technique as increasingly become a condition for our existence; there are very few people that don't resort to 'screen time' when they are alone for a moment.
At Veem house, the performance is preceded by a screening of the video Looking Back from 2016, and on this occasion Paul Koek will perform the soundtrack live on timpani.
Looking Back is a video installation filmed at Utrecht Central Station during the performance how can we know the dancer from the dance?, and takes the act of looking as its subject.
The Dutch artistic duo Sander Breure (°1985) and Witte van Hulzen (°1984) uses diverse media such as video, performance, photography, drawings and sculpture. Families, migration, everyday body language, the art world and its unwritten laws, the attack on Utøya: the various subjects are always translated into images, with specific attention to the human condition. Their work is rooted in a romantic tradition. Due to the way in which they attempt, through the continual reuse of images, to investigate the essence of art and its relationship to our world, that tradition takes on new connotations. Sander Breure and Witte van Hulzen have exhibited, among others, in the Stedelijk Museum Amsterdam, Centraal Museum Utrecht, Contour Biennial Mechelen and ISSUE Project Room New York. They finished a two year residency at the Rijksakademie in 2017 and recently won the Charlotte Köhler Prize. They are represented by gallery tegenboschvanvreden, Amsterdam.
Actors:
Phi Nguyen, Anneke Sluiters, Karina Holla, Chandana Sarma
Live music (Timpani) for the installation by:
Paul Koek (Veenfabriek)
Created by:
Sander Breure & Witte van Hulzen
In collaboration with:
Amsterdam Art Weekend
Financially produced and supported by:
Mondriaan Fonds (NL), Macba (Barcelona), LOOP, tegenboschvanvreden
Costumes:
Merel van't Hullenaar
Light technician:
Maarten van der Glas