Stories
Open Call: Paula Chaves Bonilla is looking for a performer
12 May 2021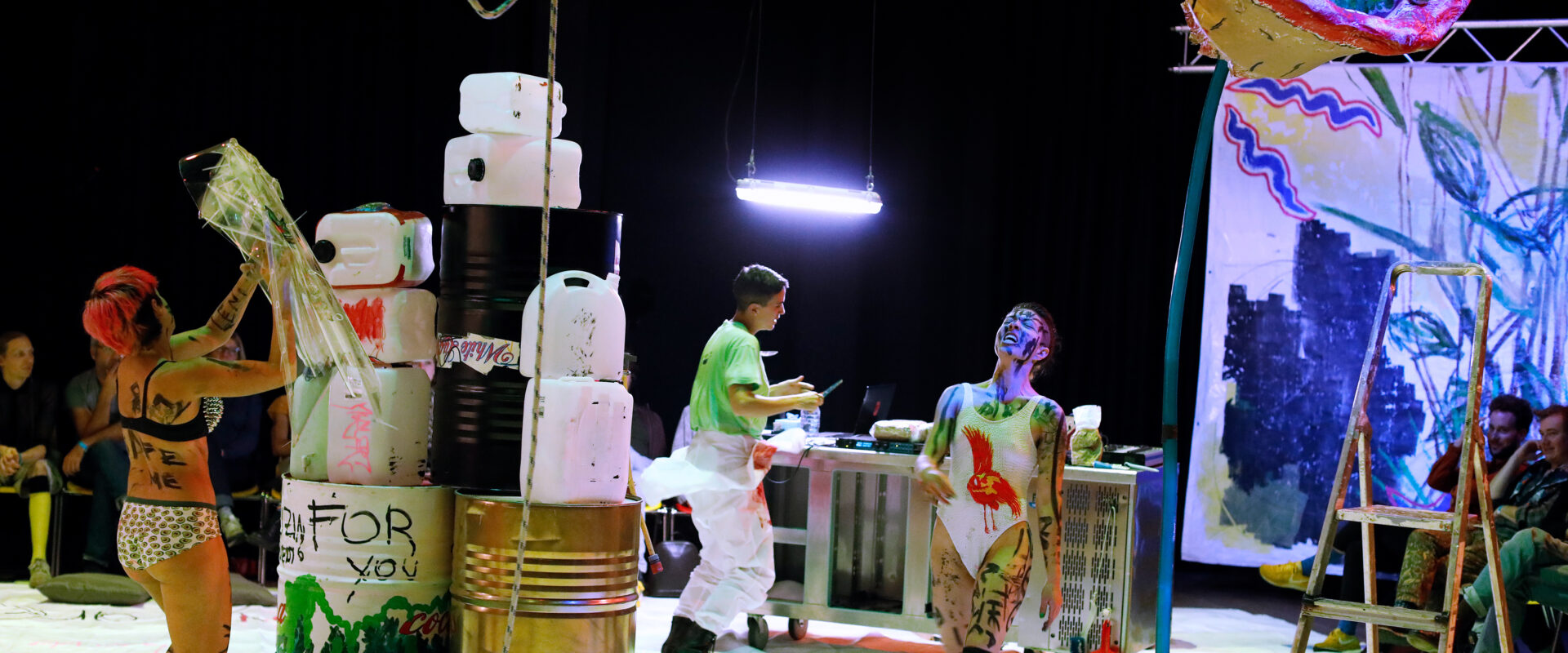 Paula Chaves Bonilla is looking for a physical performer for OMNI TOXICA: A performance created at the end of 2019 that will be recaptured in July and August 2021.
About the performance
OMNI TOXICA is a journalistic and forensic performative ritual on the history of Coca and how it passed from being a green, sacred, medicinal plant into a whitewashed, capitalist, toxic product: cocaine. The project borrows strategies from journalism, spiritism, narco culture, alchemy and activism to construct a dystopian laboratory. Here the politics of death behind what we call the Coca-Cocaine-complex are revealed as the continuation of a neo-colonial order in place. In OMNI TOXICA the coca plant machiavellizes its own court case while shedding light on the incoherent gap between justice and legality, between wellness and toxicity that overshadows this whole multibillion-dollar industry. OMNI TOXICA is produced by Veem House for Performance in co-production with Productiehuis Theater Rotterdam.
More info here: https://paulachaves.net/works/2019/12/11/omni-toxica
About Paula Chaves Bonilla:
Paula Chaves Bonilla (she/they) is a Colombian artist and activist based in Amsterdam. She has a background in contemporary dance, choreography, theatre and circus and now works as a dance and theatre maker across these disciplines. Her artistic research explores embodiments of denouncement, resistance and disobedience within contexts of censorship and surveillance.
Since 2015, Paula has been creating a series of works on the proximity between contemporary art production & neoliberal capitalism, which resulted in: Paraart (2015), Against the Wall (2017) and OMNI TOXICA (2019).
Paula Chaves Bonilla is currently a House Artist at Veem House for Performance, artist in residency at the Creative Crossroads program within the Life Long Burning dance network, member of the 'Climate Justice Code for artists and art institutions' (a project initiated by Casco) and co-founder of Papaya Kuir (an Intersectional feminist collective for and by Trans & Queer Lesbian Latinx Asylum seekers/Migrants in The Netherlands).
More info here: https://paulachaves.net/label
Performer Profile
Paula is looking for a performer who has at least several years of professional experience in the performance and/or dance scene. Someone who likes to work with themes such as social justice, colonialism, neo-liberalism and politics. Someone with a good level of English who is comfortable with speaking and interacting with the audience as well as exploring movement.
Ideally the performer has all/some of the following assets as well:
Is between the age of 25 and 45;

European residency, preferably living in or around Amsterdam;

Is queer and BPOC (Black or Person of Colour);

Having a Latin America or Caribbean background is a plus;

Spanish speaking is a plus.
Dates and availability
Deadline Open Call: 26th May 2021

Auditions: Monday 31st May 2021

Rehearsals and public sharing between: 26th July – 21st August, 2021 (working half days – exact dates and times tbc)

Performance and travel: 23rd – 29th August 2021

Potential performance: September – November 2021
Paula Chaves Bonilla in collaboration with Veem House for Performance provides:
A fee: The hours of investment (rehearsal and performance) are based on fairpay.

A reimbursement of travel expenses within the Netherlands.

Per diem + travel costs for international performances.
How to apply
Send us a description (max 450 words) by the 26th of May. We would like to know a little about your (professional) background, interest in and/or affinity with this project and we would love to see your earlier work. Please attach a video link (max 3 links) and indicate your availability from mid-end of July till November 2021.
Send your application to paulachabo@gmail.com latest May 26th stating 'Audition'. We will let you know by the end of that week whether you have been invited to the auditions on the 31st of May or not.