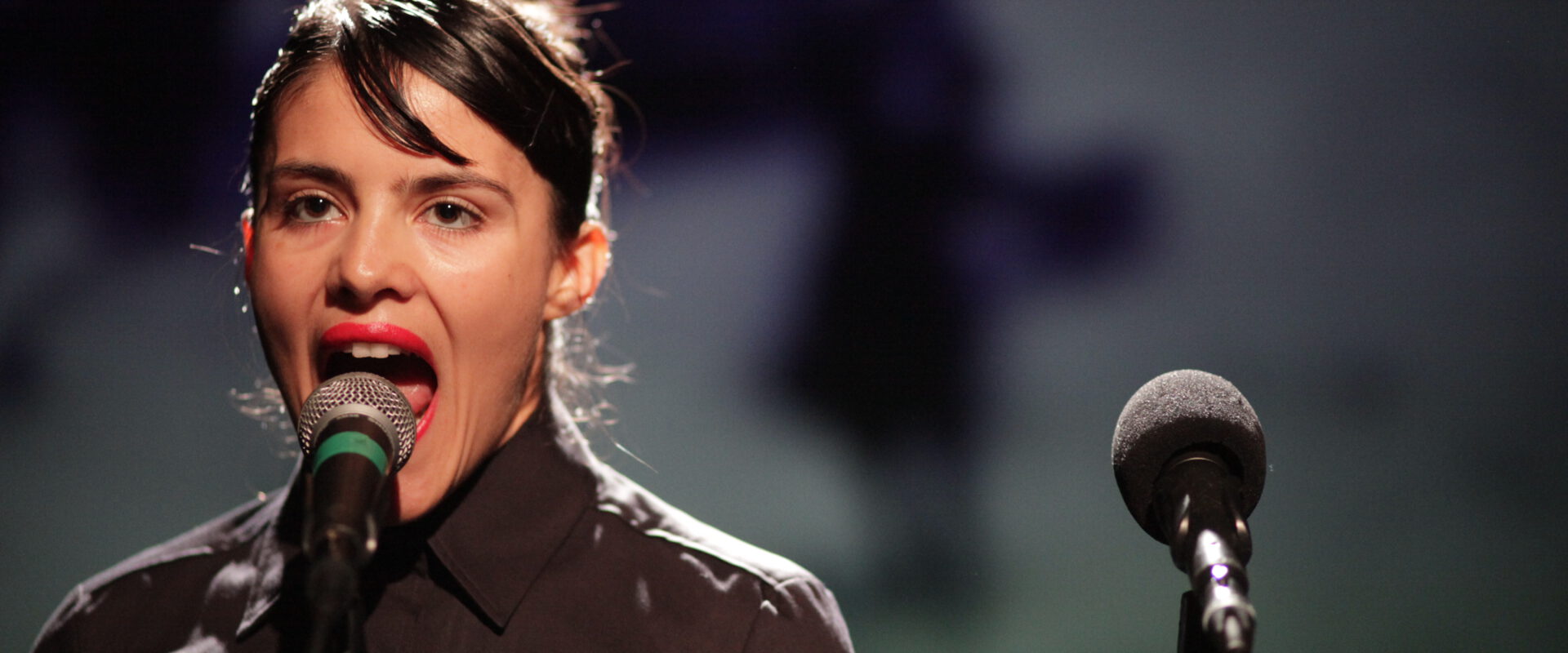 From the 28th to the 30th of November, the program "Polyphonic Songs" is presented by Veem House for Performance and curated in collaboration with BAU Dance & Performance Amsterdam, Keren Levi l NeverLike and Nicole Beutler Projects.
— Full programme "Polyphonic Songs, day 1"
— Full programme "Polyphonic Songs, day 2"
1: SONGS, Nicole Beutler's award winning performance from 2009, is a solo performance presented as a concert, a Liederkreis, an existential exercise for a singing body. Performer Ibelisse Guardia Ferragutti surrenders her voice to the intense words of tragic female figures from the history of theatre, figures such as Antigone, Medea and Gretchen. The suffering of the fictional heroines (and anti-heroines) repeatedly enters her very being as she sings, shouts and speaks – she is fragile, raw, calculating and emotional. But who is speaking here? And do the dramatic references from the past resonate in the here and now? The symbiosis of contemporary electronic music composed by Gary Shepherd and texts from the literary canon forms the basis for a subtle but loud scream against the instability and the incalculable incalculability of our existence. Director and choreographer Nicole Beutler works with the tension between intense emotionality and cool calculation on the one hand and with the reflection on the history of theatre on the other hand. How do we look at emotions, what moves us and what doesn't? And in how far does the past resonate through to the contemporary reality?
Biography
In 2010 Nicole Beutler received the prestigious VSCD-Mimeprice for 1: SONGS. The piece was also selected by the jury of the flemish Theaterfestival as one of the best performances of the season 2009/2010 and was performed during the Dutch Theaterfestival in 2010. 1: SONGS won the Silver Award for Best Performance (Special Jury Award) in The International Festival of Liberal Theater 2012, Amman, Jordan.
Nicole Beutler (Munich, 1969) is a renowned choreographer and theatre maker. Her company Nicole Beutler Projects is based in Amsterdam. After studies of Fine Arts at Münster and München Arts Academies and of German Literature at the University of Münster, she came to study Dance and Choreography at the SNDO at the Theaterschool, AHK in Amsterdam where she graduated in 1997. Her work is situated on the threshold of dance, performance and visual arts, she works from the conviction that all fixed categorizations should be destabilized. She refers in her contemporary work often also to the history of dance and theatre. Her performances are composed with a high sense for musicality, and suffused with a subtle sense of humor.
Concept/direction/choreography:
Nicole Beutler
Performer:
Ibelisse Guardia Ferragutti
Music composition & performance:
Gary Shepherd
Made in collaboration with:
Sanja Mitrović
Text advice & artistic assistance:
Magne van den Berg
Light Design:
Minna Tiikkainen
Video Design:
videomachas.com(Susanna Brenner/Helle Lyshoj)
Costume:
Jessica Helbach
Dramaturgical advice:
Igor Dobričić
Rehearsal assistance :
Giulio d'Anna
Music Advice:
Aleksandar Grujic
Technique:
Martin Kaffarnik
With thanks to:
Felix Ritter, Maurits Musch, Alan Razzak, Berthe Spoelstra
PR-Photography:
Anja Beutler
Supported by:
PACT Zollverein Essen, Frascati Amsterdam
Sponsor:
XOVER Sound System K Array, Raul Mini
Co-production:
NBprojects & Beursschouwburg Brussel