Program
Bâtard Festival Amsterdam 2018, Day 2: Anne Reijniers & Rob Jacobs, buren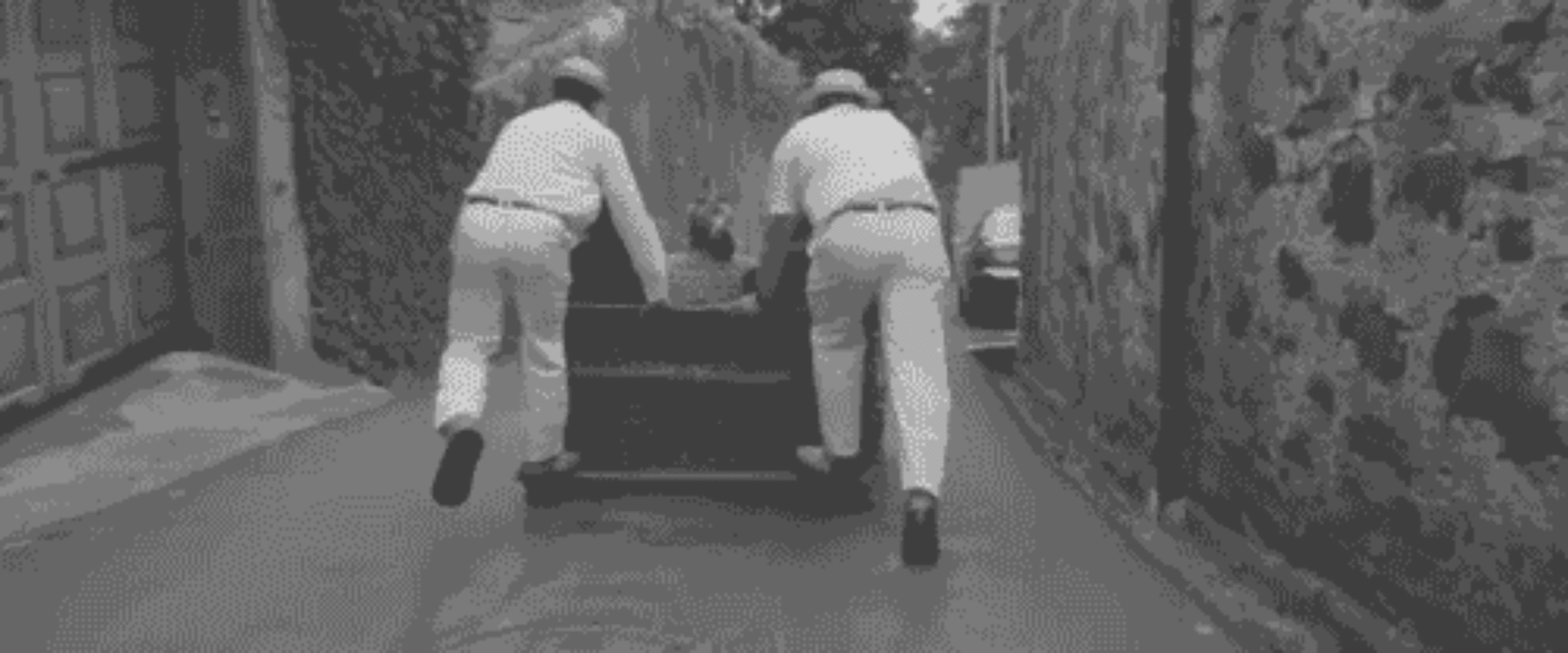 PROGRAMME
Day 2: Thursday 8 November 2018, from 19:00
— Échangeur by Anne Reijniers & Rob Jacobs (film)*
— Blue Skies Forever by buren*
(*=Dutch premiere)
Échangeur by Anne Reijniers & Rob Jacobs (30′)
In the streets of the metropolis of Kinshasa, young Congolese imagine their version of the colonial past. Around an empty pedestal that once carried a Belgian monument emerges an imaginary city where archival footage, artistic performances and present-day Kinshasa interact. This film is the first outcome of an ongoing exchange between young Congolese and Belgian makers, who try to relate to the colonial past through artistic work.
Blue Skies Forever by buren
In 2016 Beyoncé releases her video Hold Up, which seems to show many similarities to the video work Ever is Over All by Pipilotti Rist from 1997. Fascinated by the very different representation of 'the woman' in both video's, buren started working with two figures from Ever is Over All: Dorothy, based on Dorothy from the Wizard of Oz and Officer, a female police officer.
In a dreamy, associative performance buren seeks how to imagine, portray, disembody and connect these figures. With a sense of abstraction and humor they jump into their clothes, again and again.
Bâtard Festival Amsterdam 2018
7—11 November at Veem House for Performance
For the third time in its existence, scattered among the last years, this Brussels festival extends its time and space from Beursschouwburg and Decoratelier in Brussels to travel and migrate into Veem House for Performance rooms.
Bâtard Festival Amsterdam 2018 is made possible with the support of Fonds Podiumkunsten, Beursschouwburg and Bâtard Festival Brussels.
Échangeur by Anne Reijniers & Rob Jacobs (30′)
Director's note by Rob & Anne:
"Even though Congo gained its independence more than half a century ago, the shared colonial history remains set in stone in equestrian statues and commemorative monuments in Belgium. (…) Unlike Belgium however, Congo does succeed in expelling its monumental specters of colonialism." (Gia Abbrasart & Joachim Ben Yakoub, recto:verso, 2014 – our translation)
Profoundly interested in the debate on the representation of colonialism Belgian filmmaker Anne Reijniers and researcher Rob Jacobs travelled to Kinshasa in the summer of 2015, where they met up with Congolese anthropologist José Maria Masanga.
"Initially we focused on the different colonial monuments of Kinshasa, and their movements throughout the city. With the aid of museum workers we learned how the Belgian statues were removed from Kinshasa's public squares after independence, and found their way to the national Congolese museum of Mont Ngaliema.
While working on our research, another collaboration was taking form. Through the performance festival Kinact, we met a number of the artists who addressed the colonial in their artistic work. Unlike the static monumental images, the performances provided a more layered and complex representation of the colonial past. These meetings led to new artistic and filmic material, in which the artists and us entered in a game of attracting and rejecting, showing and not showing.
Échangeur is composed of images of static monuments exhibited in a museum, archival material of statues in movement between different sites, and active performances of young Congolese who imagine their own version of the colonial past. In the film, an empty pedestal that used to carry a Belgian monument functions as a junction, a point of intersection that connects different interpretations and forms of representation.
We consider Échangeur as one form of output of a larger project, an ongoing exchange between young people who are looking for ways to relate to the colonial past, its images and the continuation of colonial structures in the present. "
Blue Skies Forever by buren
Bio:
Oshin Albrecht studied visual arts at Luca School of Arts in Ghent and at a.pass in Brussels. She performed in All the Knives in Z33 and in the film The Way of Making by Frederique Bergholz and Maria Pask. In 2017, she performed Rana Hamadeh's script The Ten Murders of Josephine during Contour8, together with Melissa Mabesoone.
After an introduction in philosophy at the University of Ghent, Melissa Mabesoone studied visual arts at KASK School of Arts in Ghent. She worked for Kunstverein Amsterdam and performed for Davis Freeman, Assaf Gruber and Dora Garcia. She collaborated with Peter Aers on Everything Depends on How a Thing is Thought.
buren's collective practice started in 2012 and consists of performances, video, installations, prints, objects and film. Their work is presented in museums and galleries (Tatjana Pieters, Galery Am Polylog, Arti et Amicitiea, Z33, Netwerk Aalst) as well as in music venues, art fairs, private homes and spaces for literature (Les Ateliers Claus, Casco, Greylight Projects, POPPOSITIONS, KOMPLOT, Perdu Amsterdam, Gouverneurswoning Gent). Oshin and Melissa participated in several long residencies, such as Les Laboréales (Buda, Manège Mons, La Bellone) and BijlmAir in Amsterdam (Stedelijk Museum Bureau, CBK Zuidoost, Stichting Flat), and had shorter work periods at Bains Connective, Netwerk Aalst, Vooruit, CAMPO, wpZimmer and STUK. In 2016 buren started a postgraduate at HISK in Ghent. With Peter Aers the duo developed the salon To Care as Caress at Vrijstaat O. and with Frank&Robbert/Robbert&Frank they created the exhibition The Pursuit of the Gentlemen's Gentlemen at Croxhapox. In April 2017 buren presented their book Confusion of Tongues, edited by Posture Editions and created in collaboration with Koen Brams.
Échangeur
A film by:
Anne Reijniers and Rob Jacobs
With:
José Batekele, Jude Mansita, Klarchi Ngonde, Ange Katalea, Dieu Ndebo, Tiliton Kuzana, Docha Glody, Vialig ze Ngonde, Kimvuidi Lema Chef, Banzila Yemeyi Desire, Arqabound Kabunda Mbuyi Mick, Widjo Wiyombo, Erwan Soumhi
Research:
Davy Verbecket, Rob Jacobs, José Maria Masanga, Nizar Saleh Hirji, Widjo Wiyombo, Anne Reijniers
Production:
Rob Jacobs, Anne Reijniers, Thijs Paijmans, Koen Bleuzé, De Imagerie, Het Bos
Image:
Anne Reijniers
Sound:
Anne Reijniers and Erwan Soumhi
Editing:
Anne Reijniers and Rob Jacobs
Sound editing:
Aïda Merghoub
Sound mixing:
Michel Coquette
Grading:
Thijs Paijmans
Advice:
Elias Grootaers, Martine Huvenne, Lotte de Bruyne, Hilde D'Haeyere
Translation:
Veerle Duflou, José Maria Masanga, Nizar Saleh Hirji, Aïda Merghoub, Christopher Daley
Title design:
Mario Debaene
Blue Skies Forever
Created by and with:
buren (Melissa Mabesoone & Oshin Albrecht)
Third eye:
Charlotte Van Den Eynde
Voice coach:
Jakob Ampe
Music and Sound:
Benjamin Dousselaere & Ferre Marnef
Decor:
buren & Dominiek Colpaert
Light Design:
Frouke Van Gheluwe
With the support of:
Vlaamse Gemeenschap, STUK, Vooruit, Gouvernement, De Brakke Grond, wpZimmer, CC Scharpoord
Special thanks to:
Vlaams Cultuurhuis de Brakke Grond