Program
Conversations on World Building
Long Now Lab + Panagiotis Panagiotakopoulos (Taka Taka)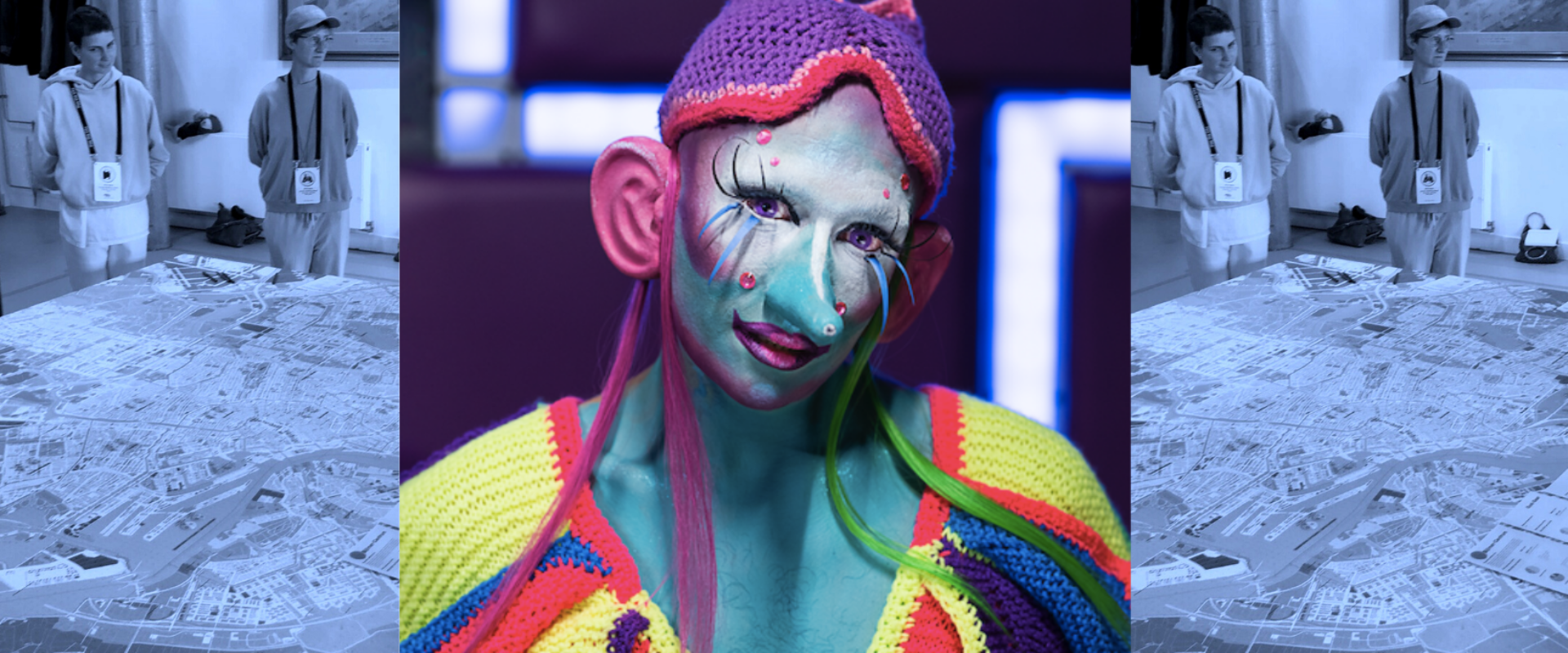 In March this year, we launched a new Long Now Lab, on "world building". Over five sessions, the participants unpacked the speculative concept of "world building", as it is in use across gaming, art, science fiction, politics, storytelling and urban design – situating themselves here in Amsterdam in the process.
On June 8th, we open the doors of this intimate workshop to the public, where we will be joined by Taka Taka aka Panagiotis Panagiotakopoulos. What will follow is an immersion into the practice of Taka Taka, through the lens of dragtivism, and a group discussion where everyone is invited to partake – moderated by Isobel Dryburgh with the help of the Long Now Lab-group.
About Taka Taka
Taka Taka is the godmother and art director of the House of Hopelezz and Club Church, they are a sister to others, mother of the drag king, House of Løstbois, proud daughter of Jennifer Hopelezz and co-founder of the non-profit Drag King Academy Amsterdam. Taka Taka acts as a dragtivist, educator, queer theorist and independent curator who produces performances on a weekly basis as creative director for the Amsterdam's sex positive underground night Club Church since 2013.
About World Building
World building, in our workshops has invited acts of transformation, through role play, storytelling, city building and the capacity of the imagination to instigate real world change. We've asked ourselves – from where did worldbuilding emerge as a term, practice and concept? How do we "do" it? What tools enable imagining new worlds and what allows that imagination to cross over into reality?
With the help of Tom K Kemp, Alexander Cromer, Ekim Tan, Juliette Lizotte and Taka Taka we have opened up a whole universe of imaginative frameworks which enable new worlds to be seen, enacted and made.
About the Long Now Lab
During the Long Now Lab a small group of people gather regularly for work-and-think sessions at Veem House for Performance. We invite participants to go deeper: through external inputs from guests, readings and performances, group discussions and group/individual activities, with the aim of collectively creating ideas and proposals.
Long Now refers to long-term thinking and the awareness that the present is part of the future. We create a laboratory where we can work and experiment together, where we can put ideas and proposals into practice.
Previous Long Now Lab's have delved into Art and Activism, Time, Sustainability and Care (to name a few).