Program
Conversations on World Building
Long Now Lab sharing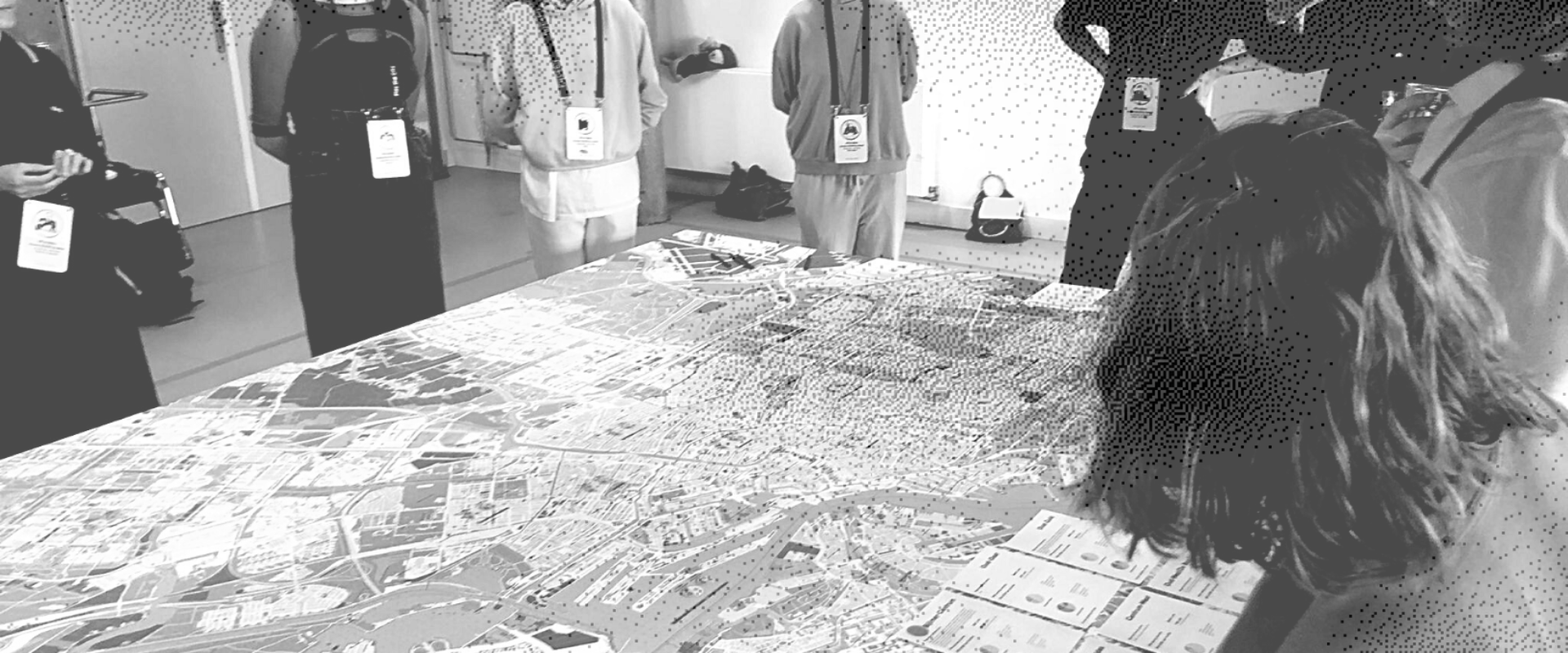 "The ultimate, hidden truth of the world is that it is something that we make, and could just as easily make differently."  – David Graeber
In March this year, we launched a new Long Now Lab, looking at "world building". Over five sessions, the participants unpacked the speculative concept of world building, as it is in use across gaming, art, science fiction, politics, and urban design – situating themselves here in Amsterdam in the process.
The intimate workshop sold out quickly, so join te Long Now Lab-group on the 8th of June for the final session which is also accessible for the public. The group will unpack some of their discoveries and will be joined by a guest expert in the field of world building.
World building, in our workshops has explored acts of transformation and the capacity of imagination to instigate real world change. Join us for this open discussion, hosted in part by the Long Now Lab participants!
About World Building
World building is a wide term used to describe a speculative, preliminary and often collaborative process that establishes the basic functions, definitions and appearances of a created "world": devising places, histories, beings, values, forms of leadership, rituals and even physics (and much more).
A world is created to be encountered in some way, be it through a story, game or interaction and is perhaps most commonly found in science fiction and role play games to create the setting or conditions to think further (think Middle Earth, the multiverse, the Republic of Gilead or afrofuturism). This "world" can be highly defined, for example a universe in which half the planet is always dark and half is always light, where genders can be changed month to month, or remain unfixed, like a loose framework of values and principles that act as an open source guide for users. 
As many societies are enveloped by a crisis of belief, re-shuffling political values or divided about what constitutes "truth", we need to acknowledge that we don't all live in the same "world". We create worlds out of our experiences and facts that support the narratives we want to live, or save us from the realities we are forced to live.
With the help of expert guests, the Long Now Lab group has explored the overtly political aspects of world building as it relates to nation making, societal structures as well as the creation and dissolution of worlds through performance. 
My imagination makes me human and makes me a fool; it gives me all the world and exiles me from it.

― Ursula K. Le Guin
About the Long Now Lab
During the Long Now Lab a small group of people gather regularly for work-and-think sessions at Veem House for Performance. We invite participants to go deeper: through external inputs from guests, readings and performances, group discussions and group/individual activities, with the aim of collectively creating ideas and proposals.
Long Now refers to long-term thinking and the awareness that the present is part of the future. We create a laboratory where we can work and experiment together, where we can put ideas and proposals into practice.
Previous Long Now Lab's have delved into Art and Activism, Time, Sustainability and Care (to name a few).