Program
Dance Concert
Ola Maciejewska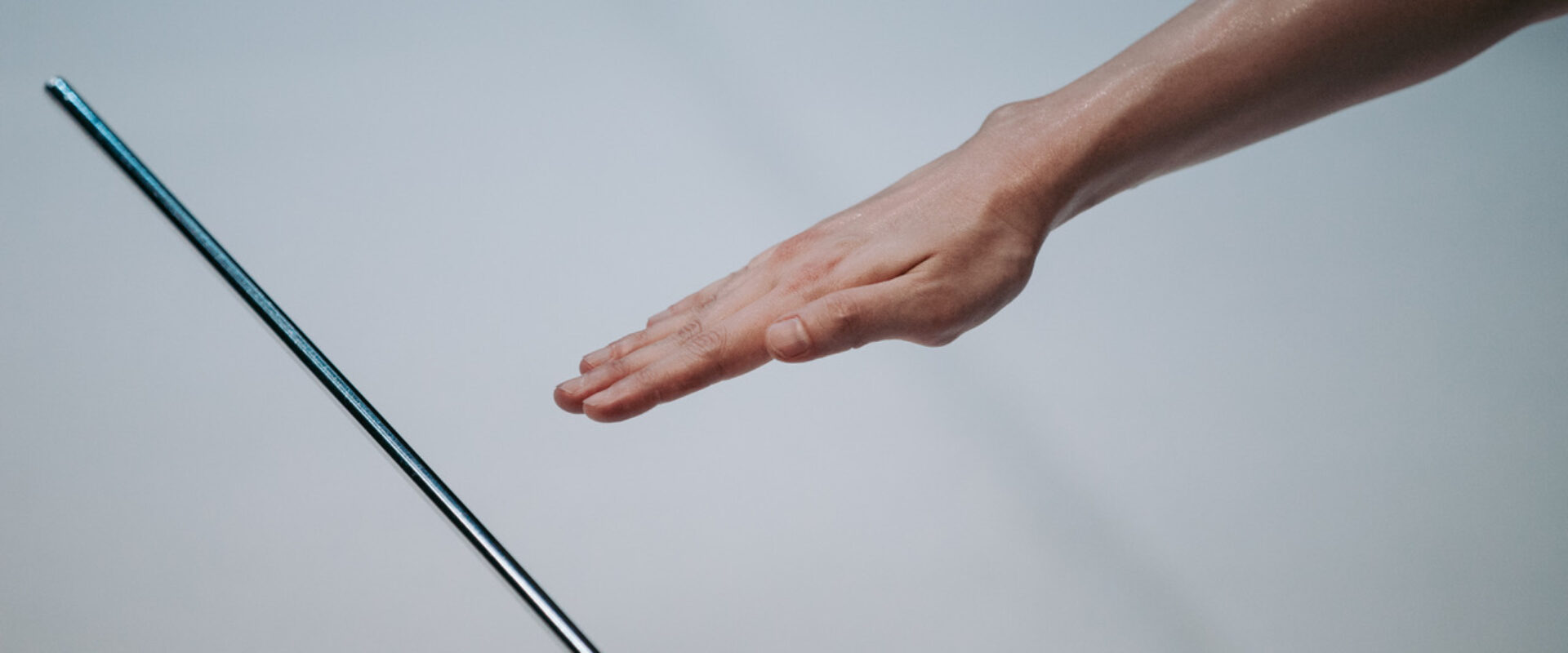 While BOMBYX MORI plays with dance history, sound and kinetic-figures, the following piece -DANCE CONCERT- takes the form of a dance concert – a musical performance where dance fabricates music. Following the invention of Russian physicist Léon Theremin (1896-1993), the idea is to appropriate from operational parameters of terpsitone –  an analogue space-played instrument that uses ether waves, electromagnetic fields, and the electrical conduction of the human body. The sounds are obtained by simply moving in proximity towards or away from an antenna without touching the instrument, as opposed to the traditional European instrument that involves direct physical contact. Terpsitone is played through a virtual field.
This work opens a new cycle concerning space. DANCE CONCERT is build from a concern with human beings' relationship with their environment.
Against the narrative of the instrument being a tool for the exercise of power and surveillance, conquering and tracing inner and outer boundaries— DANCE CONCERT is a dynamic entanglement, without apparent boundaries, where dancing bodies organise silence, engaging In the practice of listening.
With support from the Hermès Foundation within the framework of the programme New Settings.
With the support of ARCADI
Thanks to GMEM Centre National de Création musicale, Teatro Municipal do Porto
Rivoli . Campo Alegre, La Ménagerie de Verre (StudioLab), Montévidéo Marseille, CN D.
DANCE CONCERT is on tour:
12/13 September
Rotterdam Schouwburg (NL)
28 September
CCN de Caen (FR)
3/4/5/6 October
Centre Pompidou, Festival d'Automne, Paris (FR)
Born in Poland based currently in Paris, Ola Maciejewska is a choreographer and performer. In 2012 she obtained her MA from Contemporary Theatre and Dance Studies at the University of Utrecht. Along the academic research she made a performance, entitled: Loie Fuller: Research (2011), that has been presented in France for the Opening of CN D Pantin in 2015, Switzerland, Spain, Canada,
Poland, Portugal and several venues in Holland. In the fall 2015 Ola Maciejewska premiered BOMBYX MORI in Paris at la Ménagerie de verre in the framework of the Festival Les Inaccoutumés, and continued being presented abroad in venues such as Kaaitheater, Rotterdamse Schouwburg, Veem Huis voor Performance, Museu de Arte Contemporânea de Serralves, ImPulsTanz in Vienna to name just few. BOMBYX MORI is supported by Fondation d'entreprise Hermès in the frame of New Settings #6. In 2016 until 2018 Ola Maciejewska is associated artist of Centre chorégraphique national de Caen en Normandie. In the fall 2017, Ola's solo work Loie Fuller: Research and COSMOPOL (dance film) was presented in the frame of La Biennale de Lyon. Her new work DANCE CONCERT has its world premiere at National Taichung Theatre in Taiwan and in the fall of 2018 it will be presented at Centre Pompidou in the frame of Festival d'Automne in France.
Conception:
Ola Maciejewska
Dance:
Keyna Nara, Julia Plawgo, Frida Gulia Franceschini
With support from:
Hermès Foundation within the framework of the programme 'New Settings'
Sound design & Music:
Kerwin Rolland
Production:
Elodie Perrin / so we might as well dance
Acknowledgments:
Lydia Kavina, Nienke Scholts, Judith Schoneveld, Giacomo Sponzilli, Andrew Todd, Elisa Battistutta
Supervision:
Dorit Chrysler (New York Theremin Society)
Costume:
Valentine Sole
Stands:
Ola Maciejewska
Light, technical direction:
Rima Ben Brahim
Antennas:
Wilco Botermans
Co-production:
National Taichung Theater (TW), Centre chorégraphique national de Caen en Normandie (FR), Productiehuis /Theater Rotterdam (NL), Ballet National deMarseille (FR), Veem Huis voor Performance (NL), Festival d'Automne à Paris (FR), Centre Pompidou (FR)
With the support of:
ARCADI
Thanks to:
GMEM – Centre National de Création musicale (FR), Teatro Municipal do Porto Rivoli, Campo Alegre (PT), La Ménagerie de Verre (StudioLab) (FR), Montévidéo Marseille (FR), CN D (FR)
Made possible by:
Life Long Burning (LLB) project, co-funded by the Creative Europe Programme of the European Union