Program
Discursive Evening: On Hybridity with Alina Lupu, Jay Tan, G, Angeliki Tzortzakaki
Bas de Brouwer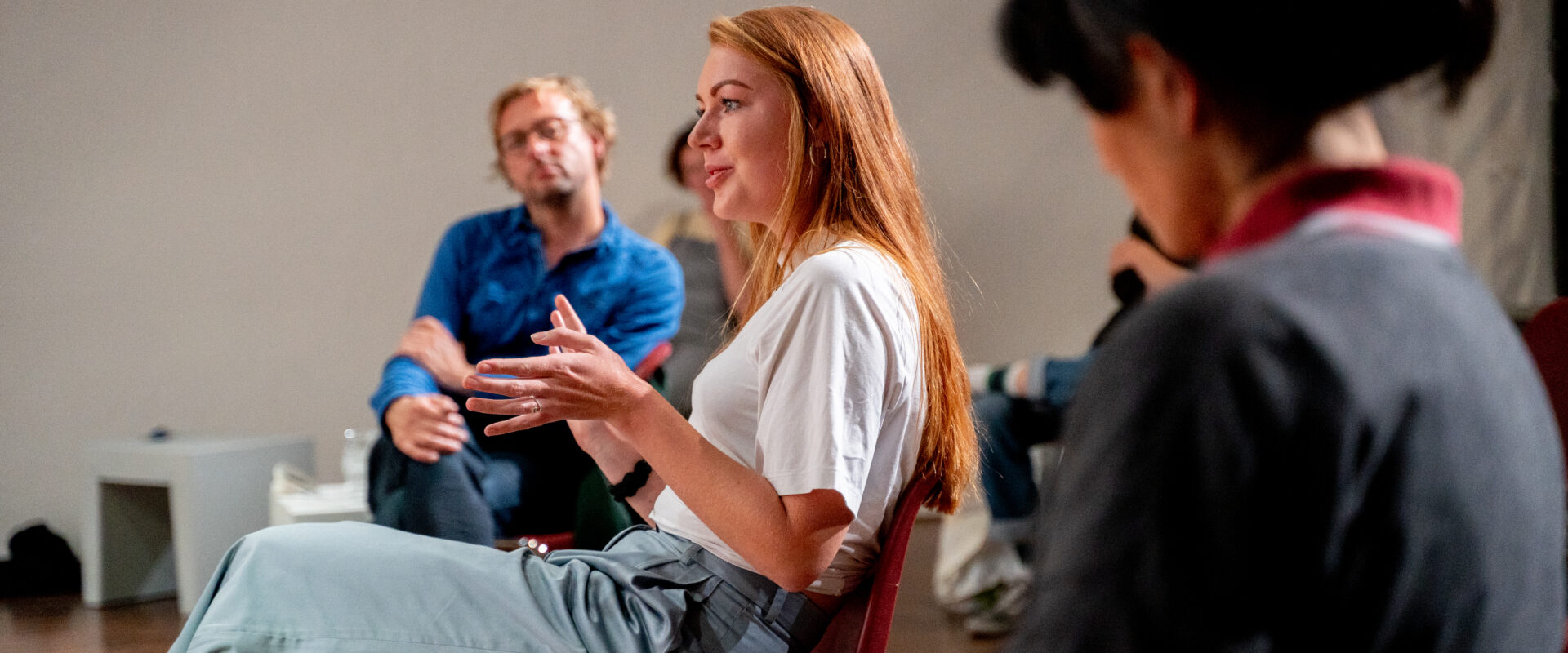 In 2019 over 605.000 people held a second job next to their main profession. We have not only integrated a hybrid practice as our working life – we are living it. Within the arts field, hybridity is an inherent aspect for many; whether it describes working life, the multidisciplinary nature of their practice or lifestyle.
With the help of Alina Lupu, Jay Tan, G and moderator Angeliki Tzortzakaki we will consider the following questions:
What does it mean to be a hybrid artist today?
How does hybridity emerge?
How does one identify within a multi layered working life?
In what ways does hybridity enrich artistic practice and in what ways restrains it?
Where can we go from here?
Reflecting on the personal experiences of the speakers we will gain insight into the symptoms, necessities, choices and variants of constructing multi layered, contemporary lives. Alina Lupu, Jay Tan and G will each share an artist statement concerning how they relate to hybridity within their work, and enter into discussion together to reflect on hybridity today.
The panel discussion is moderated by researcher/curator/performer Angeliki Tzortzakaki.
Ticket: €5
– Alina Lupu –
Alina Lupu is a Romanian born and bred, Dutch-based post-conceptual artist and writer. The focus of her practice is on precarious living and working conditions for art workers and laborers in general. In 2019 she released a publication entitled "This is a Work of Fiction". The novella goes through real and imagined situations touching upon the fragility of the artistic profession and the many compromises that come with it. You can access more of her work by clicking here.
– Jay Tan –
Jay Tan is a Rotterdam based artist and teacher from the UK. They make sculptural and video installations using DIY/domestic mechanics and experiments from the position that decoration is telling, powerful and necessary. This could be spending time with fluid dynamics via the sparkly dancing bits in oil after you fry ikan bilis, or playing with dressed-up model racing cars.
They completed the MFA programme at the Piet Zwart Institute in 2010 and were a 2014/15 resident at the Rijksakademie. Tan currently teaches at the Masters of Artistic Research programme at KABK (Den Haag) and the Fine Arts Dept at the Gerrit Rietveld Academie (Amsterdam). You can access more of Tan's work by clicking here.
– G –
G is an artist and resident at the Rijksakademie and death doula/researcher.
Moderator:
– Angeliki Tzortzakaki –
Angeliki Tzortzakaki is an Amsterdam based researcher, curator and occasionally performer from Greece. In Amsterdam she co-runs the feminist reading club 'Readings with friends (of friends)' and works as a Studio Coordinator of the artist Mercedes Azpilicueta. Angeliki writes regularly texts to be performed, printed or just emailed. Her research looks into ecologies of self-organization, hospitality, economies of knowledge production and friendships as ongoing processes of becoming otherwise. She has studied at Accademia di Belle Arti di Brera in Milan and at Athens University of Economics and Business. You can access more of her work by clicking here.