Program
Do you remember that time we were together and danced this or that dance? (try-out)
Clara Amaral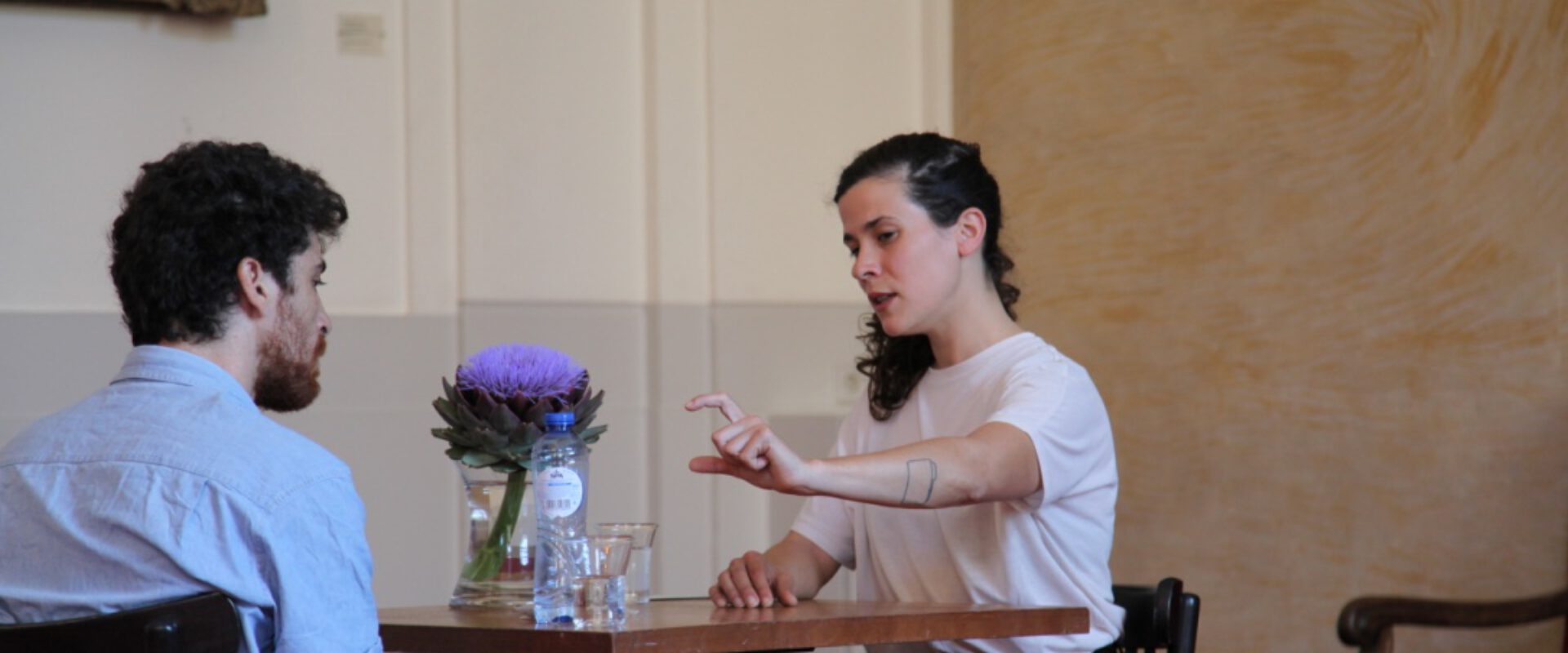 To remember a dance by remembering the counts, the space, the feeling. Also, the sweat, the steps and context; to remember the memory of what we remember dancing, the ones that we danced with or imagined while dancing. To remember a dance that we never really danced. Dancing as a fake title, an imagination, fantasy and fiction.
This performance presents a publication. Instead of the printed form, this
publication was learned by heart by two performers and it is transmitted through an embodied memory. The publication will be delivered in one on one session with the duration of 30 minutes each.
GENERAL NOTE: each performance is only for 1 person; pick the prefered time slot at the top of this page under the button 'pick timeslot' and buy your ticket! (You'll receive an email with all the information)
Clara Amaral studied Choreography at the SNDO (2009-2013) and is currently doing a Master at the Dutch Art Institute in Arnhem. She worked consistently and faithfully with language since her studies at the SNDO.
After graduating Clara Amaral dived in the universe of objects, specifically the relation between electronic objects and the female body. The work Low Tech was the result of this research. With her most recent works- A Lecture in II parts and Do you remember that time we were together and danced this or that dance? Clara Amaral returns to language.
Currently while writing and thinking Clara Amaral is interested in the flow of relations between theory and literature and how to practice permeability between both. In Amsterdam her work has been presented in Frascati and Dansmakers.
Official website: http://claraamaral.tumblr.com
Written by:
Clara Amaral
In conversation with:
Lana Čoporda, Loïc Perela, Magda Widlak, Ofir Yudilevitch, Serge Amoussou-guenou, Yang Zhen
Graphic design:
Dongyoung Lee
Editorial consultant :
Becket Mingwen
Learned by heart by:
Clara Amaral, Loïc Perela
Produced by:
Julidans