Program
Double Bill: Film Otherland presented by Keren Levi & The re-invention of Ellen Edinoff – Nicole Beutler Projects
Nicole Beutler Projects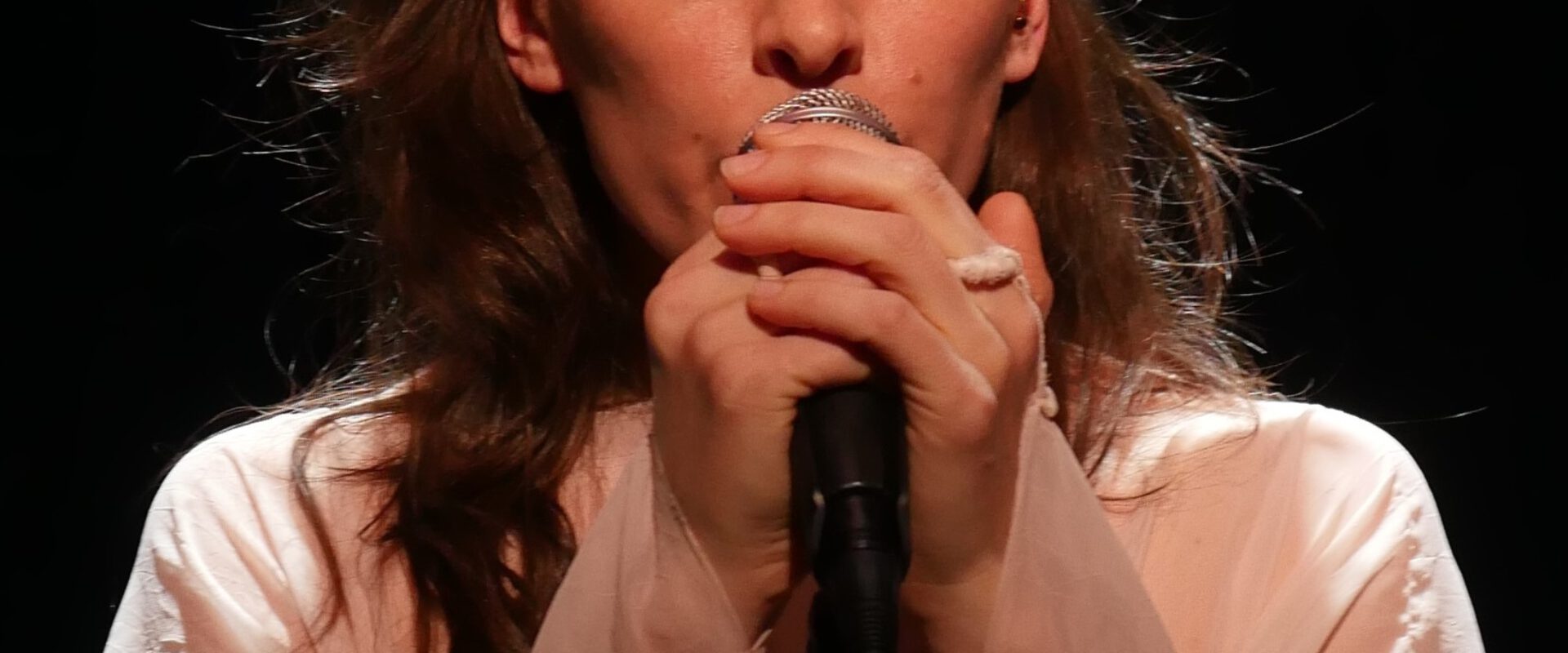 The re-invention of Ellen Edinoff – Nicole Beutler Projects
A tribute to the radical, performative work of Ellen Edinoff and her partner Koert Stuyf who in the 1970's completely blew up dance conventions in the Netherlands. That which moved Edinoff's spectators at the time, is incorporated by Beutler into a text for dancer Hillary Blake Firestone. Simultaneously a medium and a muse, she stands there proud and naked, in heels and wrapped in a transparent robe. She speaks, describes, repeats and transforms. Increasingly wild and increasingly free. As she plays with a pink feather headdress, Blake Firestone quotes sentences from reviews and newspaper clippings about Edinoff's work: "There is no such thing as lost time." Through delicate veils we catch glimpses of what has been. An evocation of the past in a 'cut-and-paste' fashion that graduately produces fiery poetry.
Re-invention:
is a kind of deconstruction of a work from the past, worked out through an anlysis of primary sources […]. This deconstruction does not aim at reproducing the work from the past in the present, but works towards the creation of a new work, and mediates in a reconsideration of historical sources through the practice of choreography. (Maaike Bleeker, (Un)Covering Artistic Thought Unfolding, 2013)
5: ECHO
On her journey through the history of dance, Nicole Beutler has re-interpreted choreographies by Michel Fokine and Lucinda Childs in her performances Les Sylphides (2007) and 2: Dialogue with Lucinda (2010). For the piece 5: ECHO she ventured into Dutch dance history and based her choreographies on the the works of Ellen Edinoff / Koert Stuyf and on the magical circle dance Vermiljoen (1977) by Bianca van Dillen. The piece consists of 3 parts. During Polyphonic Songs the first part The re-invention of Ellen Edinoff is shown. 5: ECHO was made in collaboration with ICKamsterdam and premiered in 2014.
Film: Otherland
Vogue dancer Elvin Elejandro performs at a Voodoo Carnival Ball, an important dance contest where he will have to prove himself to be accepted by the local ballroom community. He remembers growing up on Sint Maarten and the changes he has been through since. The freedom he longed for seems within reach. The biographical story of Elvin Elejandro Martinez is told using documentary elements combined with fictional dance scenes.
After the film Otherland, Elvin "Elly Vineyard" Elejandro, father of the House of Vineyard will Vogue the Veem House down in a live showcase!
Featuring: Elvin Alejandro Martinez / Elly Vineyard | Director, Cinematography & Script: Jan Pieter Tuinstra | Director, Choreography & Script: Keren Levi | Producers: Black Frame & NTR
Keren Levi presents Otherland
Last year, on the first edition of Polyphonic Songs Keren Levi presented a work in process of her solo piece Departing Landscapes. In this solo she tells a personal story, a farewell to her beloved grandmother. Farewell seems to be also one of the subjects of the short documentary dance film Keren presents this edition of Polyphonic Songs: Otherland, a collaboration with director Jan-Pieter Tuinstra.
About The re-invention of Ellen Edinoff: Concept, direction, choreography, text composition:
Nicole Beutler Projects
Inspired by the work of:
Ellen Edinoff & Koert Stuyf
Performance:
Hillary Blake Firestone
Choreography created in collaboration with:
Kelly Hirina
Music:
Gary Shepherd
Costume:
Jessica Helbach
Dramaturgical advice:
Bojana Mladenovic, Felix Ritter
Production:
Nicole Beutler Projects
Special thanks to:
ICKamsterdam