Program
GARDENING
a GREENHOUSE project
GARDENING is a one-week creative incubator in which four dance/mime/performance artists are given the opportunity to simmer and grow new ideas alongside each other. They are given a studio space while being actively coached by professionals in the field. GARDENING is about planting new seeds, making, meeting, feeding, growing, sharing and cross pollinating each other's worlds. 
GARDENING #1 (pilot) will take place from 5 – 10 April 2021 at Veem House for Performance and BAU Platform for Dance and Performance. Participating artists are Keerthi Basavarajaiah, Sofie Kramer, Lucinda Wessels and Niek Vanoosterweyck. They will be coached by choreographer & GREENHOUSE partner Keren Levi. 
GARDENING is a GREENHOUSE project. Produced by Nicole Beutler Projects and Veem House for Performance.  
We had hoped to open our studio doors on the 10th of April, to share with you what the artists have been working on. Unfortunately this event cannot take place due to the current COVID-19 regulations.
About GREENHOUSE
GREENHOUSE is a development network for dance, mime and performance initiated by BAU Platform for Dance and Performance, Boogaerdt/VanderSchoot, Keren Levi | Neverlike, Nicole Beutler Projects and Veem House for Performance. The network aims to create a healthy ecosystem in Amsterdam in which artists stemming from these disciplines can flourish. 
In GREENHOUSE we share connections, facilities, ideas and expertise. Together we claim time and space for exploration, experimentation and encounters. We join forces to create the support network that's needed for artists to take root, simmer, grow and flower within the artistic environment. Over the next four years, the network strives to initiate and produce new work, offer residencies and internships, organize workshops, talks, summer schools and festivals. 
About Sofie Kramer
Sofie Kramer is a theatre maker, performer and writer. She forges her personal experiences into shredded fairytales and mutilated myths as an attempt to tell coherent, big stories against better judgement. The fighting body is a returning theme in her work; the body that tries to fight time, gravity, the gaze of the other.  
During GARDENING #1 Sofie will be working on A Pole Tragedy – a pole dancing performance inspired by Euripides' famous tragedy Iphigenia in Aulis, about the sacrifice of the young girl Iphigenia.
 "The sacrifice of the female body fascinates me. I've been pole dancing for six years, always enjoying the physical sacrifice (bleeding wrists, bruised shins…) to master this phallic symbol. But I also wonder; is this self-expression or self-objectification? This feminist confusion made me want to re-tell the story of Iphigenia in the context of a pole dancing show. I will write a monologue from Iphigenia's perspective, focusing on the thin line between violence and the erotic. I want to search for a new body language in relation to pole dancing and the experience of femininity, using the pole as an instrument of liberation but at the same time questioning it. I want to break free from the male gaze (aaahhh), using the pole as a dance partner and boxing ball at the same time.''
About Keerthi Basavarajaiah
Keerthi Basavarajaiah is an Amsterdam based maker and performer. As a choreography graduate from SNDO (School for New Dance Development), she is looking at generative spaces for the body to attune to the emerging conditions, exploring shifts in the mundanity of rhythms. Her works tend to move with a synaesthetic play of senses, in-between the postures of audience-performance relationship.  
During GARDENING #1 Keerthi will be researching 'facades':

''This topic seems to be of urgency in how I experience my surroundings now. Through immense pain and struggles, there is a composure of still being able to carry a certainty, a face, a front. I'm looking at techniques where the act of carrying a facade is integrated as part of a lifestyle: in art and as a full practice in itself. A facade can have different purposes: for survival or in its beauty of multiplicity but it could also be deceiving. The play between the need and the deception is a constant dance our bodies echo.''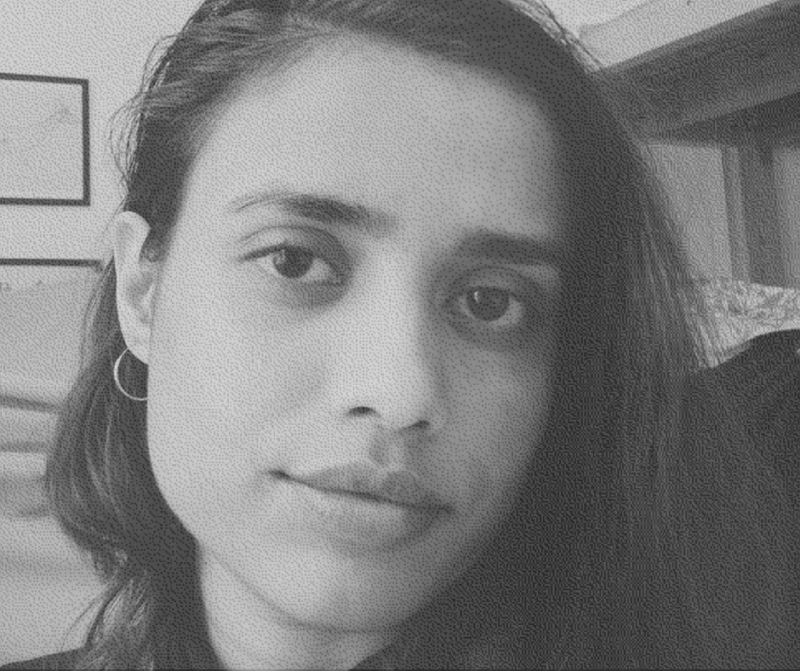 About Lucinda Wessels
Lucinda is a dancer, choreographer, DJ and co-founder of HOWS OF NORMS. From an early age she has been inspired by the creativity within HipHop dance and culture. Over the years, Lucinda has continued to search for her own form of movement and prefers to dance from her own story/feeling with movement concepts, instead of with a defined style as the foundation. 
During GARDENING #1 LUCINDA will be working on her work methods towards movement directing. By using improvisation techniques, she will guide her guest dancers to explore their performative, theatrical and storytelling quality. Together with visual artist CJ P. ROXAS they will simultaneously create a symbiose with the use of a camera.  LUCINDA and CJ are building a brand/platform named HOWS OF NORMS that aspires to produce dance films and immersive theatre experiences. In addition, they want to create a physical place where like-minded creatives are given the space to develop. The dancers that will join LUCINDA and CJ are Evelien Jansen, Megan Simons, Isabel Boenders and Ryan Rademakers. 
Niek Vanoosterweyck graduated from the Mime and works as a performer, actor, interdisciplinary consultant and movement artist. A performer who maneuvers between the now of the emotional world and the relentless course of events in order to create. Always looking for the limits of the possible. 
This week Niek will be working on choreography:

''During Gardening I would like to learn more about choreography and how to treat, approach and process it within my own work. Not by making a choreography but by looking for different notation possibilities of choreography. From the mime and dance world. Based on this research, I want to write down my own work in various ways. Is this digital, vocal, or written? Or does every other work require a different way of noting? I want to do this research on the basis of images and memory. I believe that through this path, I am taking a step within the analysis and form of how I choreograph and how I will approach this in the future.''