Program
Afterhours — Reading & Research group on art and labour
Anna Moreno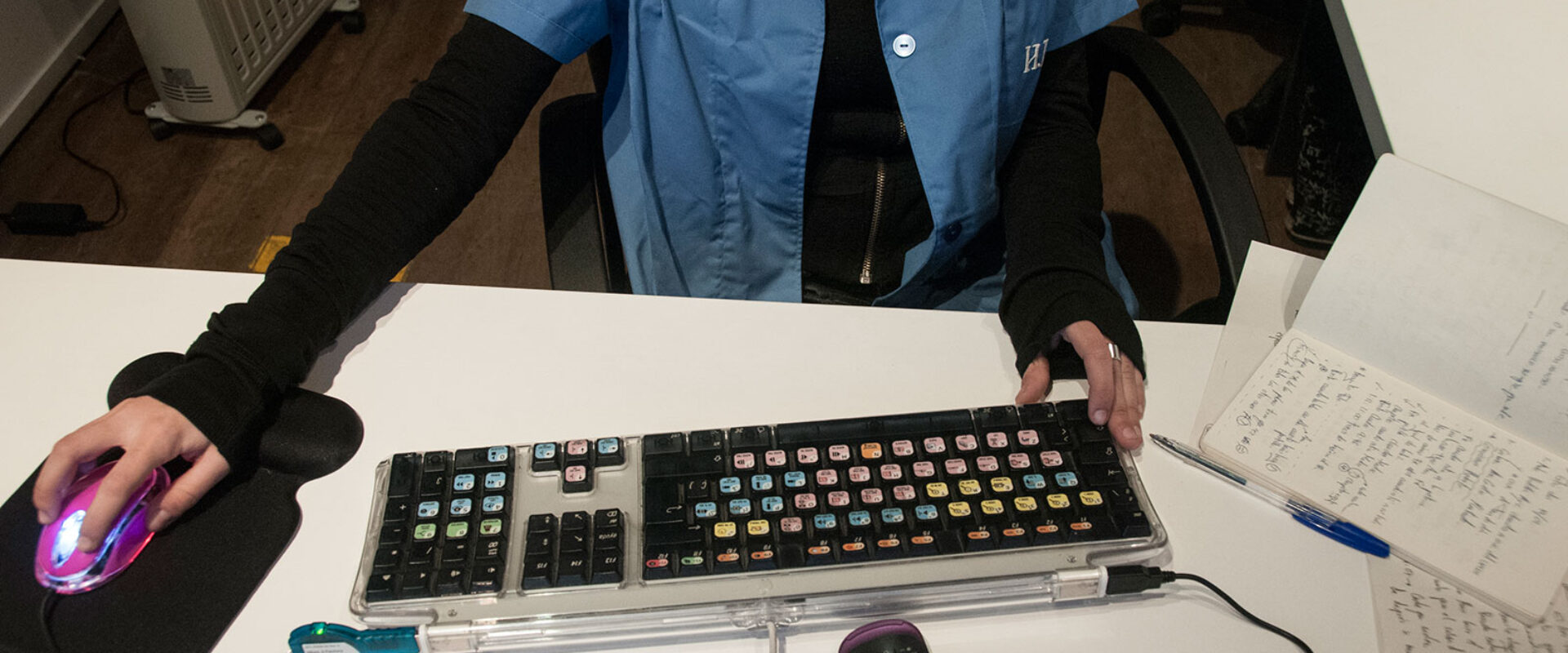 Everywhere within (and outside) the art field issues are raised concerning work and labour. As we tend to do more and more for less and less we risk corroding our own practices and bodies. How to create a more transparent and constructive dialogue about the conditions we do (not) work in?
Veem House for Performance and artist Anna Moreno offer a Reading & Research (RЯ) group on art and labour. Invited by Veem, Moreno proposes with AFTERHOURS a performative approach for a cohesive working group, shifting between the roles of workers, thinkers, participants, audience members and the figure of the dilettante.
The sessions take place at Veem House for Performance and will use that location as a constant contextual backdrop for discussion and experimentation. The group discusses suggested bibliography and partakes in performative exercises sparked by those discussions.
The starting question: Are we working now? examines questions common not only to the worlds of theatre, performance and visual arts, but also to all the bodies thrown into today's knowledge economy: "A society in which intention and focus are on top and intensity and wastefulness are at the bottom (…) we can describe this development in terms of a larger diagnosis of the transition, from a society of discipline to one of control." ( D. Diederichsen, 2011)
The group will address matters like the refusal to work, the body as a tool for discourse, and the "division" of the contemporary worker in order to navigate between the desire for art's autonomy and the vertigo of being subsumed into the entrepreneurial machinery.
Anna Moreno is an artist from Barcelona (Spain) based in The Hague since 2012. Her work explores the capacities of the performative in video, installations and series of events such as Radical Colophon at SFMOMA (San Francisco), W139 (Amsterdam) and SASG (Seoul); or lecture performances like the ones at BINK36, Stroom den Haag (both in The Hague) and solo shows such as An Awkward Game (1646, The Hague), The Barnum Effect (Sala d'Arcs, València) and Learn Something Useful (bb15 Raum für Gegenwartskunst, Linz, Austria). Anna exhibits internationally and is also a lecturer at the Royal Academy of Art in The Hague and at the Minerva Academy in Groningen.
Practicalities:
Afterhours takes as a spin off the Dutch book launch of Bojana Kunst's 'Artist at Work' that takes place at Veem on Wednesday Thirty September. Members of the group are invited to attend this first (un)official session to get the wheels in motion. The first official session is October sixth.
The group will meet on Tuesday evenings on a bi-weekly basis throughout 5 sessions:
6, (autumn-holiday) & 27 October, 10 & 24 November and 8 December 2015.
Participants are asked to commit to the whole series.
Costs: 25,- euro's (reading & research material, coffee & tea etc. included, free entrance to booklaunch and discount on the book Artist at Work).
All sessions will be recorded as part of a future project on art and labour by the artist. More info: www.annamoreno.net
Programme Afterhours (Work is never over)
Session 1: work!
(work is never over)
Diedrich Diederichsen, People of Intensity, People of Power: The Nietzsche Economy
Hito Steyerl, Art as Occupation
Session 2: play!
(afterhours and leisure)
Anton Vidokle, Art Without Work?
Liam Gillick, The Good of Work
Session 3: sweat!
(working out)
Aimar Pérez-Gallí, Sweating the discourse.
Mierle Laderman Ukeles: Manifesto for Maintenance Art
Session 4: sleep!
(laziness and the refusal of work)
Bob Black, The Abolition of Work
Sven Lütticken, Liberation through Laziness. Some chrono-political remarks
Session 5: repeat!
(rehearsal, skilling, de-skilling)
Boris Groys, The Loneliness of the Project (from Going Public)
Franco Berardi, The Precarious Soul (from The Soul at Work. From Alienation to Autonomy)
Creator:
Anna Moreno
Photo:
Hours in Fabra & Coats, Anna Moreno (2010)