Program
La Nature IRL
Mårten Spångberg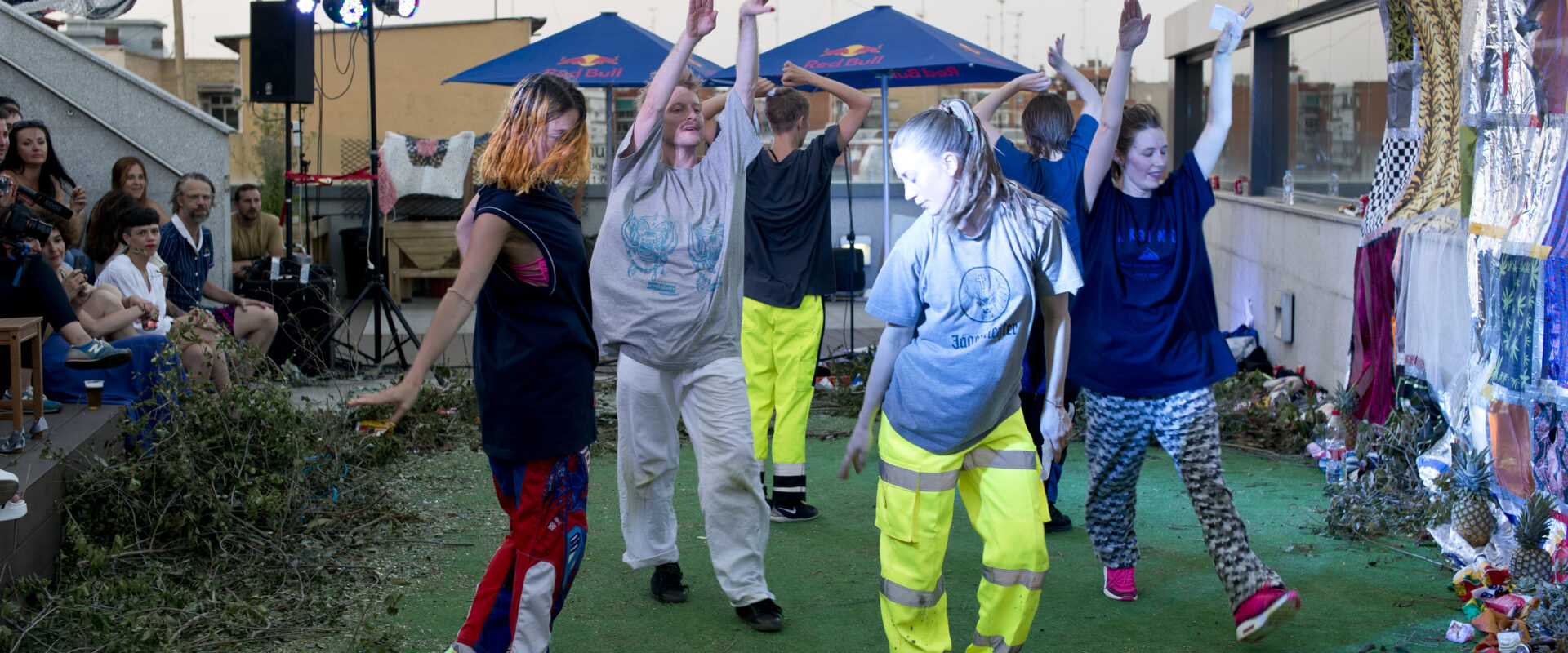 The problem with things are that they stay things and are stable. Every time I look at a thing it gains more and more identity, good or bad but always identity.
La Nature IRL is an attempt to make something that at is the same time a performance and not. It is both and at the same time strongly determined and fully indeterminate. Certainly not an interest in any formalised notion of indeterminacy but simply penetration, making a situation that is as dense and weak as possible without faking anything, or on second thought, all of it. All.
Over the last few years I have struggled with the problem that the work that I make always remains recognizable. It's this or that. Hence it's obviously easy for the spectator to say yes or no. In front of something that is and isn't something at the same time the spectator will either drown (Brecht) or will have to make a decision, give the experience a location or a name. The current project takes as it's departure a doubled contraction, on the one hand recalling Walter Benjamin's notion of a dialectical image – an image that is diagrammatic and demands a seconds
look, but as you look back the images has already changed. On the other hand displacements created through the use of hors champ or extra-diegetic elements, in order to produce ungrounded fields of experience.
La Nature IRL offers an asymmetrical and corrupt display where forms of representation split like hair-ends or breaks open like a mouse hole in the wall. One of its ambitions being to challenge the determination of representation or queering appearance.
A second interest is the notion of catharsis and to what extent it is useful or necessary to appropriate the term from its resented position and claim the importance of a new kind of metaphysics of the stage or of art. This is not a matter of resurrecting something Greek nor to flirt with Artaud but probe a landscaped version of catharsis in favour of the production of politics.
La Nature IRL is also an informal celebration of the work of Jan Fabre. In what ways is hard to say but Jan's work has played a central role in my work, surfacing currently not least through the desire and need to charge the stage with "everything too much": expression, laughter, disgust, awkwardness, dance, language, set design, garbage, delight, precision, speed, loitering, explosions, care, families, poetry, extrovert language, psychology, anger and life. From economy to libidinal, desire to
jouissance, beauty to sublime, transformation to break.
Yet, La Nature IRL is a dance performance and the destabilisation and exaggeration is prominently taking place on the terms of dance. It is a dance ritual not far from Le Sacre but here there is no chosen one and certainly not a woman. La Nature IRL is a ritual that takes on the dubious aspiration of exorcising the determination of what it means to human.
La Nature IRL is performed by 6 dancers, the choreographer and 3-4 local performers.
It is 2,45 hours of fast forward and totally turbo.
It's the best and loudest music.
It's extremely contemporary and too good looking.
It's completely shameless and vulgar, it's accelerationism 2.0 and desperately postinternet.
Although it is dead serious and razor sharp it is undeniable an experience that will blow your mind.
Mårten Spångberg (b. 1968) is a choreographer living and working in Brussels and Stockholm. His interest concerns dance in an expanded field, something he has approached through experimental practice in a multiplicity of formats and expressions. He has been active on stage as a performer and creator since 1994, and since 1999 has been creating his own choreographies, from solos to larger
scale works, which have toured internationally. Under the label International Festival, Spångberg collaborated with architect Tor Lindstrand and engaged in social and expanded choreography. From 1996-2005 he organised and curated festivals in Sweden and internationally, and in 2006 initiated the network organisation INPEX. He has considerable experience in teaching both theory and
practice. From 2008-2012, he directed the MA pro- gramme in choreography at the University of Dance in Stockholm. In 2011, his first book, Spangbergianism, was published. Mårten Spångberg is professor in dramaturgy and choreography at Oslo National Academy of The Arts, departments of dance and theatre. Mårten Spångberg is associated artist at Black Box teater Oslo, 2017-2018. His more recent works La Substance, but in English, The Internet, Natten and Gerhard Richter, une pièce pour le théâtre has gained extensive international recognition.
Created by:
Mårten Spångberg
Performers:
Hana Lee Edman, Louise Dahl, Ludvig Daae, Hanna Strandberg, Tamara Alegre, Mårten Spångberg, Alexandra Tveit