Program
Lashes came and cried a river… (sold out)
Raoni Muzho Saleh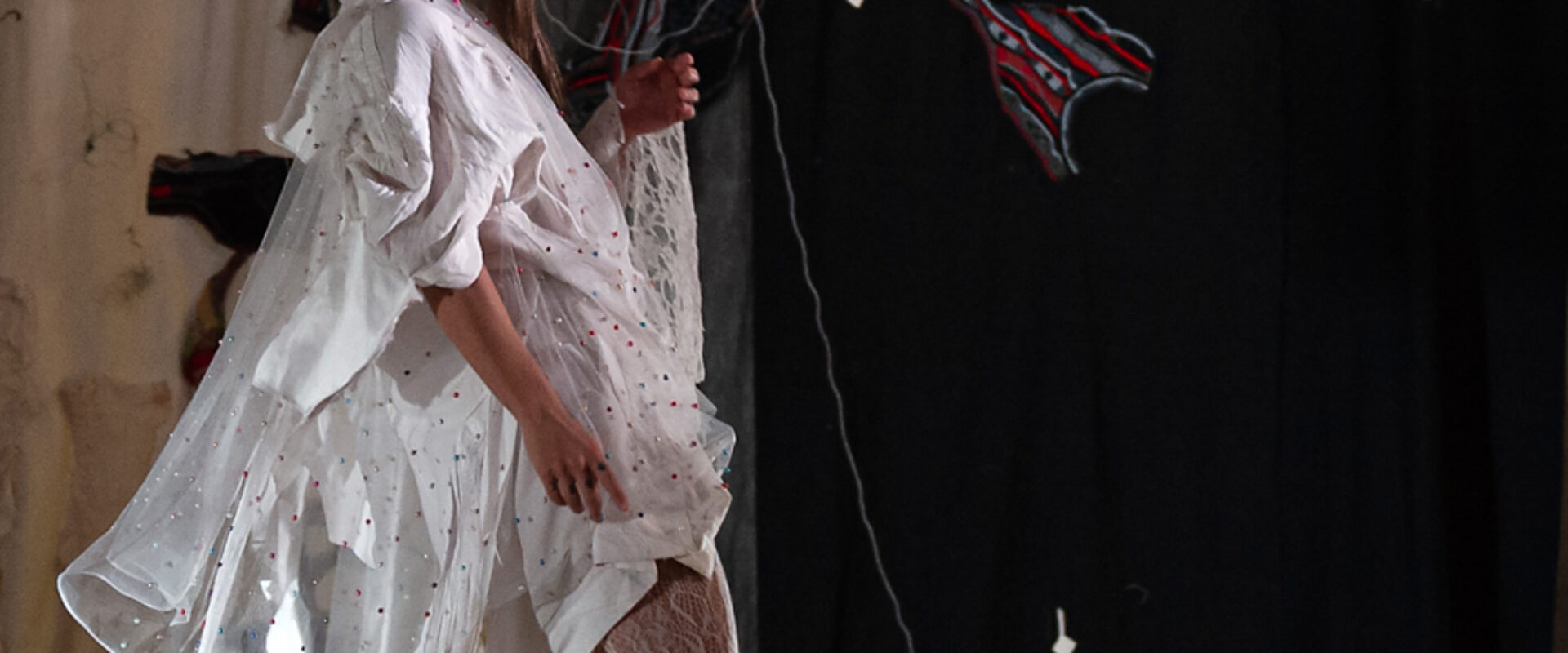 A ritualistic performance in which the interdependent relationship of grief and praise is central.
What can we learn about loss from the ways textile envelops us in times of grief?
What do we learn from extending our emotional and sensuous selves into materials surrounding us about world-making?
In Lashes came and cried a river… Raoni Muzho Saleh aims to transform the stage into an incubation chamber, a fermentation womb that urges one's sympathetic and visceral self into 'hatching'. This moaning ritual dance is performed by one of Raoni's drag characters: Lashes. Lashes belongs to an ancient tradition of professional mourners whose responsibility is not to grieve on behalf of the bereaved but to choreograph the expression of people's grief so that it has a public dimension and does not consume the bereaved in its chaos. Lashes moans in order to mourn, continuously tuning into the moan as affect and the moan as expression.
—
A long wet shrieking wail gentle calming whimper rocking your sclerosis into tender meat drop a jade for the yellow sea foam your lover's pee dripping down your long-gone breasts relentless scratching of neglected heartache gaping hole of silence repetitive heavy breathing high pitched wail searching for inherited pain to move a large group of bodies into feeling and then acting the rumble of an incredible rage low groaning of hidden stomachs faces of strangers queerness disrupting complaining nagging resisting resting sighing like a baby uncontrollable crying laughter expressing revisiting a scared me hiding in the closet to move through trauma the release of ghosts to remember another self into being.
—
Raoni Muzho Saleh (1991 NL/AFG) is a choreographer/performer based in Amsterdam. He graduated from University of Amsterdam in 2015 – Beachelor in Literary and Cultural Analysis. In 2019 he graduated from SNDO – Bachelor in Choreography.
Born in Afghanistan and raised in Pakistan, his thinking and work is shaped by fugitivity as a radical movement. Through his personal gender transitioning he has been generating a movement practice of becoming other, meaning becoming a body and spirit unknown to oneself. His recent works are materializations of the seduction of the backspace, which is a concept, a relationality and a spatiality that provokes transformational multiplicity and aims for a sense of being freed from deeply ingrained algorithmic oppressions of binary thinking. In his works he approaches the voice and materiality such as textile, fabrics and dough intertwined intimately with the human body in the aim to disrupt a fixed sense of subjecthood.
Ticket: €12
10×10 November: Movement
From the 26th of November till the 5th of December it is time for our last 10×10 edition. Exactly one year ago we started to unfold the 10 stories of Veem's Future by hosting a monthly 10-day program. This last edition is all about Movement. From dance to discours, through workshops and activism you can enjoy the works & practices of Antonia Steffens, Keerthi Basavarajaiah, Raoni Muzho Saleh, Nico Roses, Mami Kang, Matthew Day & Paula Chaves.
The November 10×10 program is co-curated by Amsterdam based choreographers/performers Antonia Steffens and Keerthi Basavarajaiah. Co-curation will form a recurring part of our methodology as we work to embed new perspectives into the internal structures. Read more…
We will stick to the corona measures during all of our activities to ensure your wellbeing in our care. Read more about our regulations in our safety protocol.
Choreography:
Raoni Muzho Saleh
Installation:
Sabine Okrouhlik, Raoni Muzho Saleh
Much gratitude to:
Raoni Metuktire, Davi Kopenawa Yanomami, Martin Prechtel, Bibijan, Keerthi, Antonia, Femke, Karlijn, Pablo, Marga, Martha, Jacuzzi and all those who have insisted on reshaping themselves in incubations.