Program
OBOL LE/ LE LOBO
Ibelisse Guardia Ferragutti, Brian Sulpizio, Jochem van Tol, Frank Rosaly, Janneke Raaphorst, Ben Boye, Michael Oliver, and Matteo Bifulco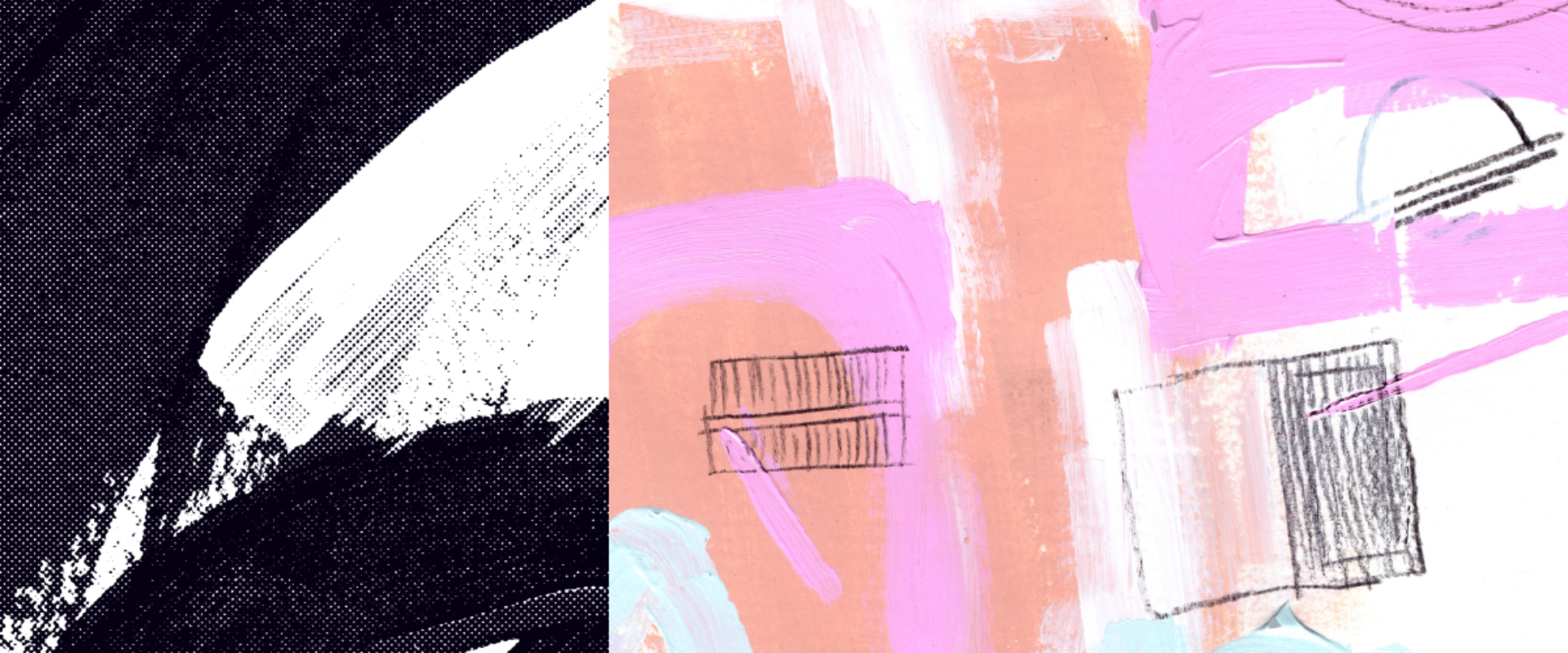 Born in Bolivia and raised with the knowledge of the Tarabuco people, performer and singer Ibelisse Guardia Ferragutti initiated a new band called OBOL LE. OBOL LE is a band with musicians from Amsterdam and Chicago presenting a concert/performance inspired by the ceremony Phujllay (translation: game) from Los Andes (Bolivia).
OBOL LE reflects upon the Phujllay clan's practice of dividing seasons in sound periods. The sounds are learned from the Sirens (half living/half dead, half human/half animal) that inhabit the space between the upper world (our world) and under world (the invisible world). These songs and drones are played by the Tarabuco people four months continuously, while carpets are being woven into graphic scores as documents of the sounds being played.
OBOL LE takes inspiration from this ritual and translates it into songs with the aesthetics of pop, electronic, folk and drone. In performance, OBOL LE is weaving songs into color, light and textile.
In addition to the performance there is an expo and a live radioshow will be broadcasted.
On the 5th of May, liberation day, we kick off three nights of OBOL LE. With one ticket you can visit all three (different) nights and free entrance for We Are Public members on the 5th of May.
Born in Bolivia grew up in Brasil, studied classical piano, modern and contemporary dance, was part of various music and dance ensembles till she moved to Amsterdam to follow the Mime School at the Amsterdam School for Arts; after getting her degree she stayed in The Netherlands to further develop and actively work in the performance art scene which highly influenced her as a performer and maker. She collaborated since then with numerous artists, theatre groups, bands and visual art projects. Worked and played with Boukje Schweigman&, Nicole Beutler, Bambie, Orkater, Germaine Kruip, Stichting dOeK, The Paper Ensemble, Paul Koek, Tuthola, etc. Performed and worked in The Netherlands, France, Belgium, Norway, Brasil, Bolivia, Cuba, England, Poland, Russia, Jordan, China, Japan, Mozambique, Germany, Spain, Argentina a.o.
Chicago drummer and composer Frank Rosaly has been an active and prolific member of the experimental, improvisation and performance world stage for 15 years. He has collaborated musically with Thurston Moore, Rob Mazurek, Joshua Abrams, Nels Cline, Roscoe Mitchell, Colin Stetson, Fennesz, Rhys Chatham, Marshall Allen among many others. Rosaly has also worked in theater/dance/performance art with Synapse Arts, The Space/Movement Project, Museum of Contemporary Art Chicago, Chicago Cultural Center, Shawn Decker, The Seldoms, Selina Trepp and Links Hall among many others. In addition, Rosaly composes for dance and film. He contributes much of his time to performing, composing and teaching workshops as well as organizing the experimental performance program The Ratchet Series, while also touring regularly domestically and internationally
Perhaps a fear can strike us when we move through the world at risk of being described and explained, a fear that others may, in their descriptions and explanations, make "real" only a small part of who we "really" "are", and perhaps when we encounter other things and people in the world, it is in the spirit of our own fear that we must describe and explain them, displacing and assuaging our fear, transforming it into an engine of culture. If these things are the case, do not fear Ben Boye.
Jochem van Tol earned in 2009 his Master of Music at the Interfaculty Artscience of the Royal Academy of Fine Arts and the Royal Conservatory in The Hague. Startingpoint of his work is sound in the broadest sense: from the raw frayed edges of popmusic to minimal 'forgotten' sounds. As a composer he collaborated in successful theatre productions like "Blaas" from Schweigman&.As a soundartist Jochem van Tol has researched the sounds of paper in the past 7 years in a number of remarkable performances. He shows how much there is to discover in the most simple material and how to choose radical consequences from his discoveries. With Ibelisse Guardia Ferragutti he developed a series of sculptural paper instruments and formed The Paper Ensemble. Since 2007 Jochem van Tol | The Paper Ensemble has performed and exhibited extensively abroad, especially in Japan amongst artists like Yoko Ono, John Cage, Mamoru, Yukio Fujimoto, Francis Alys, Germaine Kruip, Toshi Ichiyanagi and Ken'ichi Nakagawa.
Is a songwriter, singer, guitarist and music recordist from the American Midwest, where he resides in Chicago. Having found a range of underground musics from noise to free-improvisation to rock&roll, his tastes run eclectic. He fronts the pop/rock trio Health&Beauty with Ben Boye and Frank Rosaly, plays electric guitar with Ryley Walker, and works with numerous musicians to see their creative ideas realized in the recording process. He also enjoys a nap and time spent with his dog.
Janneke Raphoorst
Terneuzen 1981, works with text and textile. After studying VAV at the Rietveld Academy she completed the Master of Performance Art DasArts in Amsterdam in 2009. She weaves and she works with the woven structure of a narrative. Literally she treats textile as language, with precise application of its grammar. Metaphorically speaking she makes flying carpets, vehicles for fantasy, storytelling or travelling. Both in her texts and in her textile works she brings to light equivalences, pointing at connections where there don't seem to be any. At the same time she keeps record of things falling apart. The resulting contrast of decay and birth points at transformation. She is specialised in the performativity of textile.Apart from collaborations with visual artists and choreographers she works with activists such as The Yes Men and Greenpeace. Her designs have been used as props, costumes and architectural installations.
Matteo Bifulco
22 years old, in 2006 approaches theatre at "Quelli Di Grock", a physical theatre school based in Milan, where for six years he experiences the philosophy of the school in which physicality is at its basics. In the 2013 he moves to Rome where he begins two different paths. One more close to "traditional" acting and the second with the integrated company Superdiverso where he begins a path linked to dance-theater. In 2014 he's on stage with the company Superdiverso in Rome and Marrakech. In Rome he also attended a under-graduate degree at the department of Arts and Theatre studies (DASS) at the Sapienza university of Rome. Now he is a student in the first year at de Theaterschool of Amsterdam in the Mime course.
Michael Oliver
Michael Oliver is a first year student in the Mime program at the Theatre School in Amsterdam. He began his journey in theatre in university in the USA where he encountered physical and vocal approaches to performance inspired by the Roy Hart theatre and the Odin Theatre. After visiting and studying the work of both of these theatres he became deeply inspired by the power of the performing body. Michael is also currently following, part-time, the vocal-dance work of Patricia Bardi.
Band:
Ibelisse Guardia Ferragutti, Brian Sulpizio, Jochem van Tol, Frank Rosaly, Janneke Raaphorst, Ben Boye, Michael Oliver, Matteo Bifulco
Algorithms and projections:
Harpo 't Hart
Weaving:
Janneke Raaphorst
Performance:
Michael Oliver, Matteo Bifulco
Musicologist:
Jan Nieuwenhuis
Color research:
Jochem van Tol
Radio MeduseQ:
Rosa Ronsdorf, Alexandra Duvekot, Hugo Rocci
Art, Graphic design:
Acauã Novais
Artistic adviser:
Yannis Kyriakides, Nicole Beutler
Thanks to:
Bertha Elena Artero Ponce, Jappe Groenendijk, Birgit Gunzl, Paul Koek (Veenfabriek)
Supported by:
AFK, Stichting Stokroos