Program
Open House Festival | Sonja Jokiniemi
Sonja Jokiniemi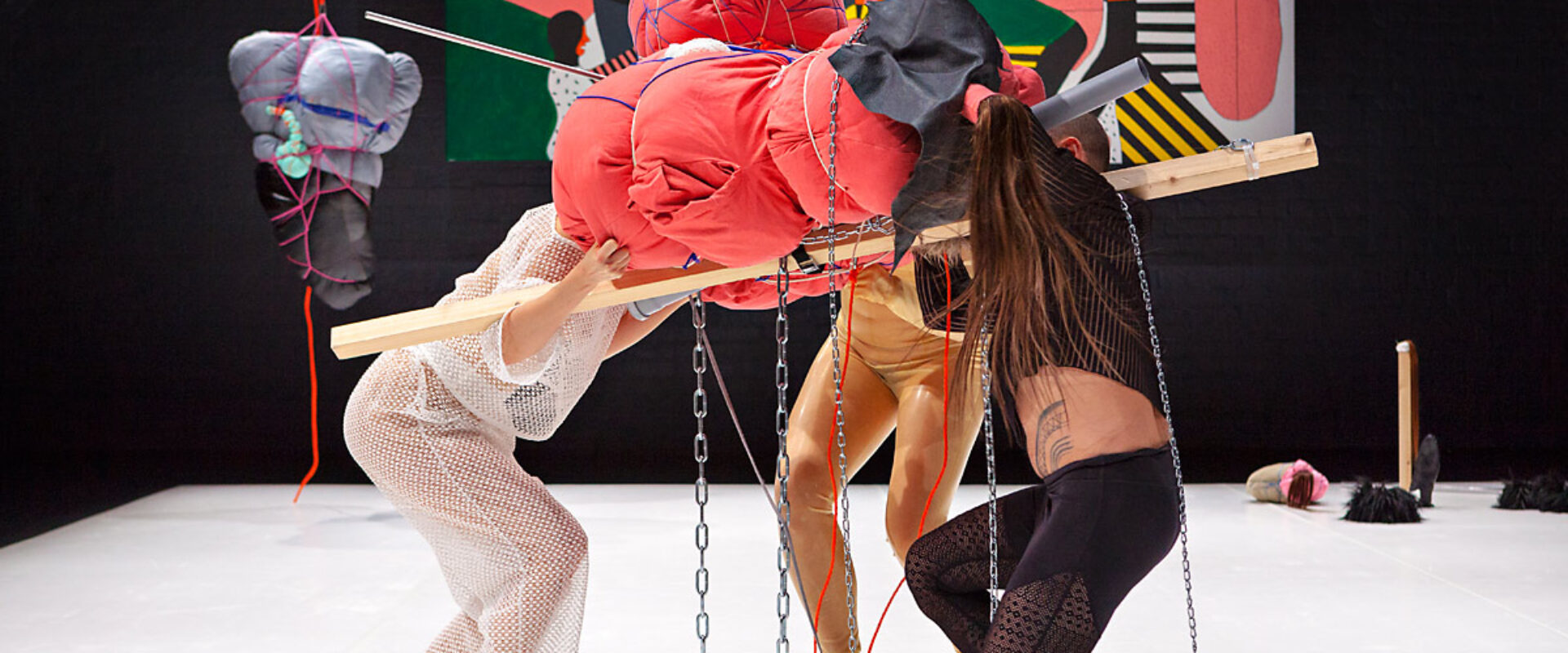 Sonja Jokiniemi's new work Blab is a hybrid performance, a blend of painting, sculpture and choreography. It seeks to escape the world of categories towards the unknowns; towards unions and blurs of humans and objects, extensions and expansions of different bodies, penetrations of forms and acts of desire. The work unfolds itself in the transforming multisensorial sculpture, the essence of which charts a subconscious territory. The mind of the performance is built on a foundation of linguistic indefinability, senses and reflexes. The work explores lumpy, tangled thought processes that have neither beginning nor an end.
21 & 22 December 2017 program starting from 19.00
LINE-UP
Because I Always Feel Like Runnig by Ogutu Muraya
Blab by Sonja Jokiniemi
* Please note: the ticket gives acces to all activities on the festival day. Check all activties in the programme overview.
About Sonja Jokiniemi
Sonja Jokiniemi is a performance artist and choreographer based in Helsinki, Finland. She makes transdisciplinary work with research interests in thing ecologies, language and thinking structures, neuro and psychodiversity. Her projects take form in performance, drawing and community engaged works. Jokiniemi graduated from DAS Theatre (previously DasArts) MA Degree programme in Performing Arts in Amsterdam 2013.
Concept, choreography and visualization:
Sonja Jokiniemi
Performers:
Ivo Serra, Mira Kautto, Sara Gurevitsch
Co-production:
Zodiak – Center for New Dance, Moving in November festival, Regional Dance Centre of Eastern Finland (ITAK), Veem House for Performance
Residency Support:
Arsenic Theatre, Regional Dance Centre of Eastern Finland (ITAK), ImPulsTanz – Vienna International Dance Festival, Pianofabriek Kunstenwerkplaats, STUK – House for Dance, Image & Sound, wpZimmer
With support of:
Arts Promotion Centre Finland (Taike), Jenny and Antti Wihuri Foundation, Samuel Huberin Taidesäätiö
Lighting design:
Heikki Paasonen
Textiles made in collaboration with:
Janina Silvennoinen
Performance photos:
Simo Karisalo
Producer:
Riikka Thitz