Program
Open Studio with Clara Amaral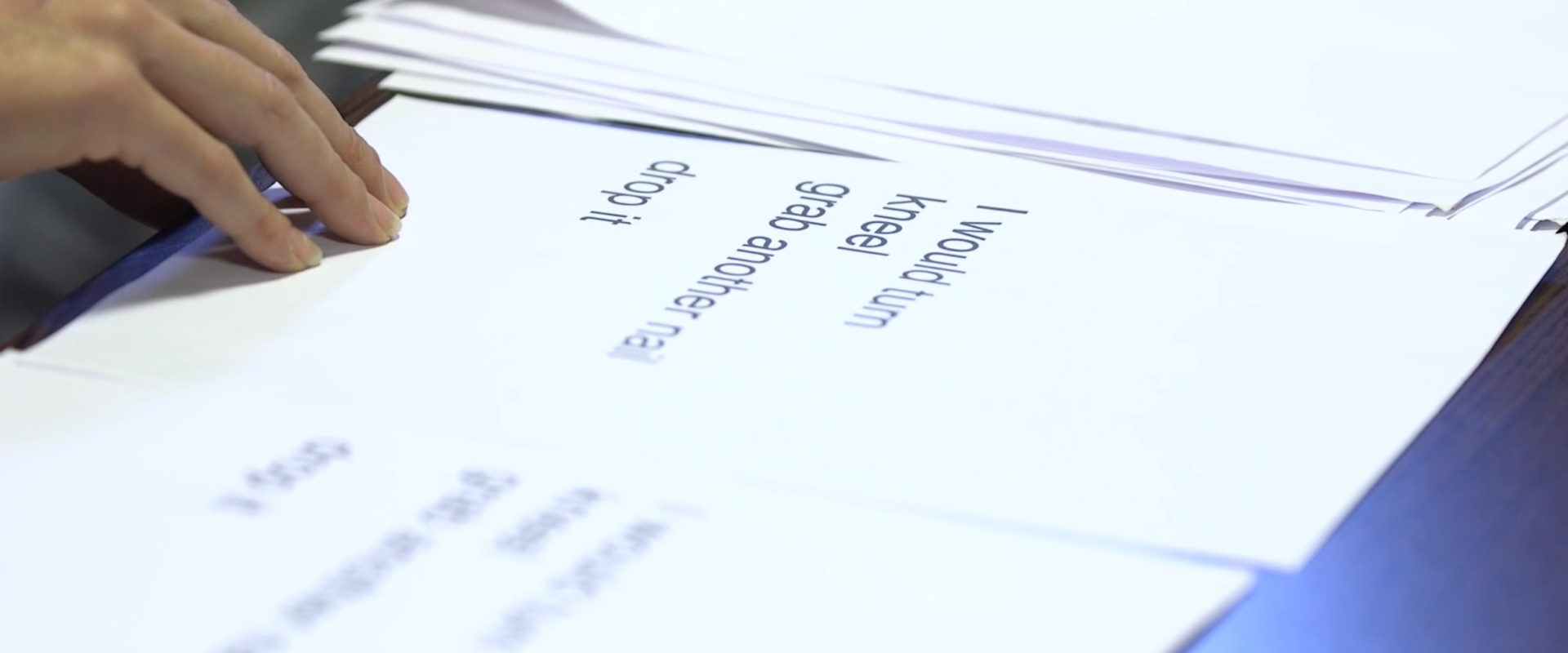 During a two-week residency at Veem House, Clara Amaral will continue working on her upcoming project A book that is a choreography activated by a performer for a group of people [working title]. In this project Clara Amaral explores how a book can host a choreography that is activated by releasing the  pages from its bind and placing them in relation to each other, to the body of the performer and the space of a table.
'In my work, I pay special attention to the various ways in which we interact with the book as a cultural artefact. Digital technology may seem to render the book a redundant object.However, the book continues to be overly present and central in our lives. I believe that this continued presence of the book has to do with a poetic and imaginative aspect that exists within these objects. A book requires to be held in a certain way, to turn their pages and put them down in another way, and so on. These requests condition us, the readers, to a specific physical interaction with the book as an object, as well as to access their contents in a unique and particular imaginative realm.''
Join Clara in our online Open Studio on the 1st of June in which she will share her research so far!
Due to current COVID-19 regulations, the Open Studio will take place online.
About Clara Amaral
Clara Amaral works with text and performance. Her artistic practice is situated in an interdisciplinary perspective, questioning what it means to be a reader, to be a writer, aiming to expand existing modes of reading and writing. Central to her practice is the investigation of innovative publishing modalities and the performative aspect of writing and language. 
Clara Amaral is supported by Mondriaan Fonds (2021 – 2022).
Find out more…
Credits
Concept & performance
Clara Amaral
Graphic design
Karoline Swiezynski and Ronja Andersen
Set design
Olga Micińska
Publisher
Kunstverein
Co-produced by
Teatro do Bairro Alto (TBA) and Alkantara, Veem House for Performance and Kunstverein Amsterdam
About Open Studio
Take part in the research of emerging performance makers!

Are you curious about the creation processes of emerging performance makers? During Open Studio you can get a glimpse into artists work and processes as they develop. We open our doors to the beautiful and vulnerable process of creation, and invite you to take part in an exchange in an open and informal environment. As each artist engages with different thematics, particular questions and has a specific artistic practice, no Open Studio is alike.

Join artists in their research, and in it maybe find something out about yourself as well. No special knowledge is required, your curiosity is more than enough.