Program
Open Studio: Heartscore by Maarten Heijnens & Anthony van Gog
with neuropsychologist Jolant van den Haspel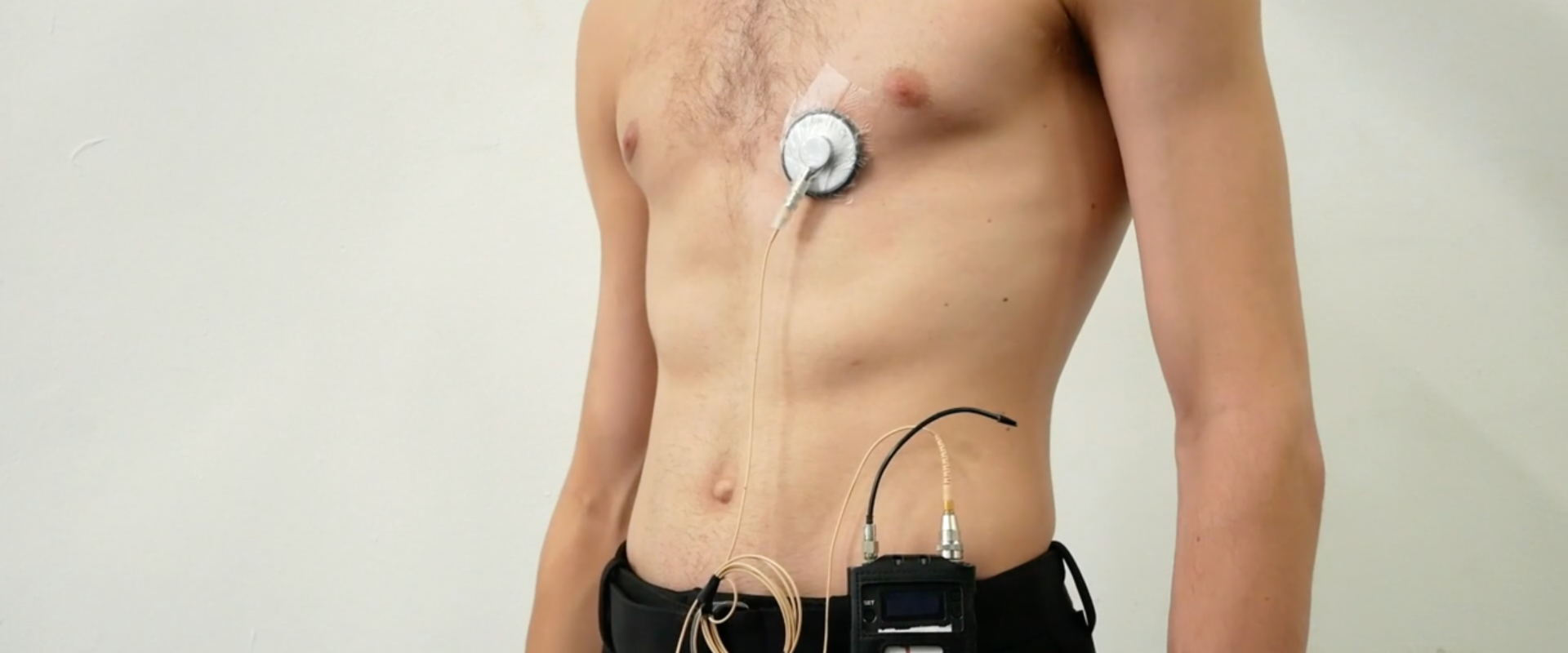 Anthony van Gog and Maarten Heijnens are currently working on their second physical partiture Heartscore in Veem House for Performance. Heartscore is a physical composition conducted by a live beating heart. While the performers attempt to manipulate the beating of their heart, this beat in turn directs the performance. Heartscore becomes a dialogue between the organic heart and the rational will of the performers. How does the organic intuitive body relate to the rigid frame of a musical score? How can the performers find freedom without missing a beat?
We invite you to join this Open Studio and dive into Anthony and Maarten's research process. Fascinated by the relation between body and mind, they attempt to make underlying body frictions visible. In this Open Studio we will share their research process and engage in conversation with neuropsychologist Jolant van den Haspel. In her practice she works with the notion of 'heart coherence', through breathing techniques one can manipulate the heart beat and reduce stress. With her we will get more into the depths of our own heart beats. 
About Maarten Heijnens & Anthony van Gog
Anthony and Maarten both graduated in 2019 from the Theater Academy in Maastricht (Performance). Since graduation, they have formed a makers duo dedicated to creating what they call "physical scores." In a physical score, not the musical instrument, but the 'body-as-instrument' is central. In a compositional way they manipulate a body instrument to the utmost, in an attempt to make its underlying (body) frictions tangible to the viewer. Their first partiture breathing pieces their central instrument was the breath, in heartscore the performers attempt to manipulate their heartbeat. They find each other in a shared desire to let the body speak in order to (continue to) understand her.
Due to current COVID-19 regulations, the Open Studio will take place online.
About Open Studio
Are you curious about the creation processes of emerging performance makers? During Open Studio you can get a glimpse into artists work and processes as they develop. We open our doors to the beautiful and vulnerable process of creation, and invite you to take part in an open and informal exchange. As each artist engages with different thematics, particular questions and has a specific artistic practice, no Open Studio is alike.
Join artists in their research, and in it maybe find something out about yourself as well. No special knowledge is required, your curiosity is more than enough.
Credits
Concept & performance
Maarten Heijnens & Anthony van Gog
Produced by
Makershuis Tilburg
Coproduced by
Veem House for Performance, STUK, VIA ZUID & Master of Theatre
Heartscore will premiere in September 2021.
Interview
Under Construction: Anthony van Gog & Maarten Heijnens
more information