Program
Open Studio with Erin Hill & Ira Melkonyan (sold out)
Erin Hill and Ira Melkonyan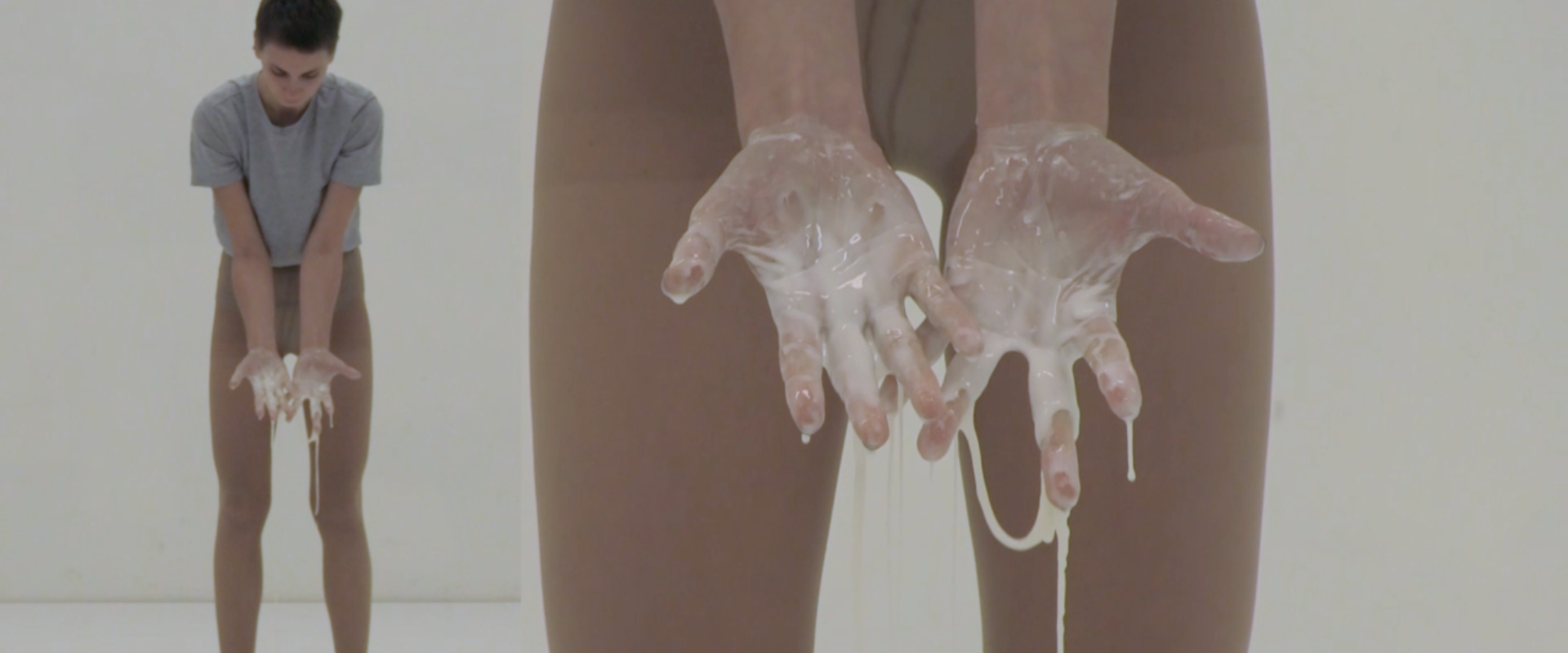 – this event is sold out –
LIQUID TELEPATHY
Step into the beginning of a new landscape: verbal and imagined, embodied and danced, physical and liquid. LIQUID TELEPATHY is the meeting point between Ira Melkonyan's and Erin Hill's practices, an attempt to align their independent methodologies, allowing for a new outcome to emerge through the intersection of the senses. During this Open Studio we invite guests into the creation process of young makers, for an evening of exchange.
Erin Hill is a choreographer, performer, and writer, based between Montreal and Amsterdam. Through durational practices, she works with her body and life as a site of experimentation, noticing habits of perception and critically questioning from where these habits arise, as well as where they lead to. Erin dances in order to practice a transfeminist phenomenological approach to identity; one enfolded in fluid, horizontal and somatic states. In 2018 she received a Masters from Das Theatre (NL), where she connected with Ira on many levels. Alongside her own work, Erin is an ardent collaborator with many playful and engaged artists, such as Jana Vetten (DE), Nina Vroemen (CA) and Charlie Prince (LB).
In 2010 Ira Melkonyan was awarded a degree in Microbiology and Virology. Eight years later, she completed her Masters in Theatre from Das Theatre in Amsterdam. It was in Amsterdam that the contamination between Erin's and Ira's worlds began. Ira is one of the founding members of the rubberbodies collective (2009) in Malta, where together with a group of people she was an author of visual theatre performances, installations, interventions and publications. Ira often uses domestic chemicals and DIY materials to construct her improvised laboratory set-ups, scenographic and performative experiments. She is curious about harmony and metaphysics, while construction of (scientific) knowledge similarly remains to be her interest.
For September's 10×10, Ira and Erin will be sharing the outcome of their 5 day residency at Veem House for Performance during an Open Studio session.
Ticket Open Studio: €5
Before the Open Studio, we host a Veem House Dinner with MOHA Project. The two activities can be combined and cost €5 each.
Open Studio
Are you curious about the creation process of young theatre makers and choreographers? Do you wish to exchange thoughts with people around performance? Join us at Open Studio! No special knowledge is required, each visitor's specific background and expertise is enough, these sessions are about getting a glimpse of works in development, in an informal and open environment.
September 10×10: hybridity
The 10-day September program is embracing hybridity. By 'Hybridity' we mean the multiplicity in which many artists operate – whether it describes working life, the multidisciplinary nature of artistic practice or lifestyle, hybridity is an inherent aspect of many artists working today. You may recognize some of the makers/artists in this program from their other role within Veem House: as bartender, evening coordinator or technician. This month we focus on their artistic practice and you are very welcome to discover it! Click here to read more about the September 10×10 program.
Concept and performance:
Erin Hill, Ira Melkonyan
Photo:
A still from a video by Jimmy Grima for UPSTAIRS GEOLOGY by Ira Melkonyan