Program
PARADISE: spring collection
SNDO3xECD2 (student showings)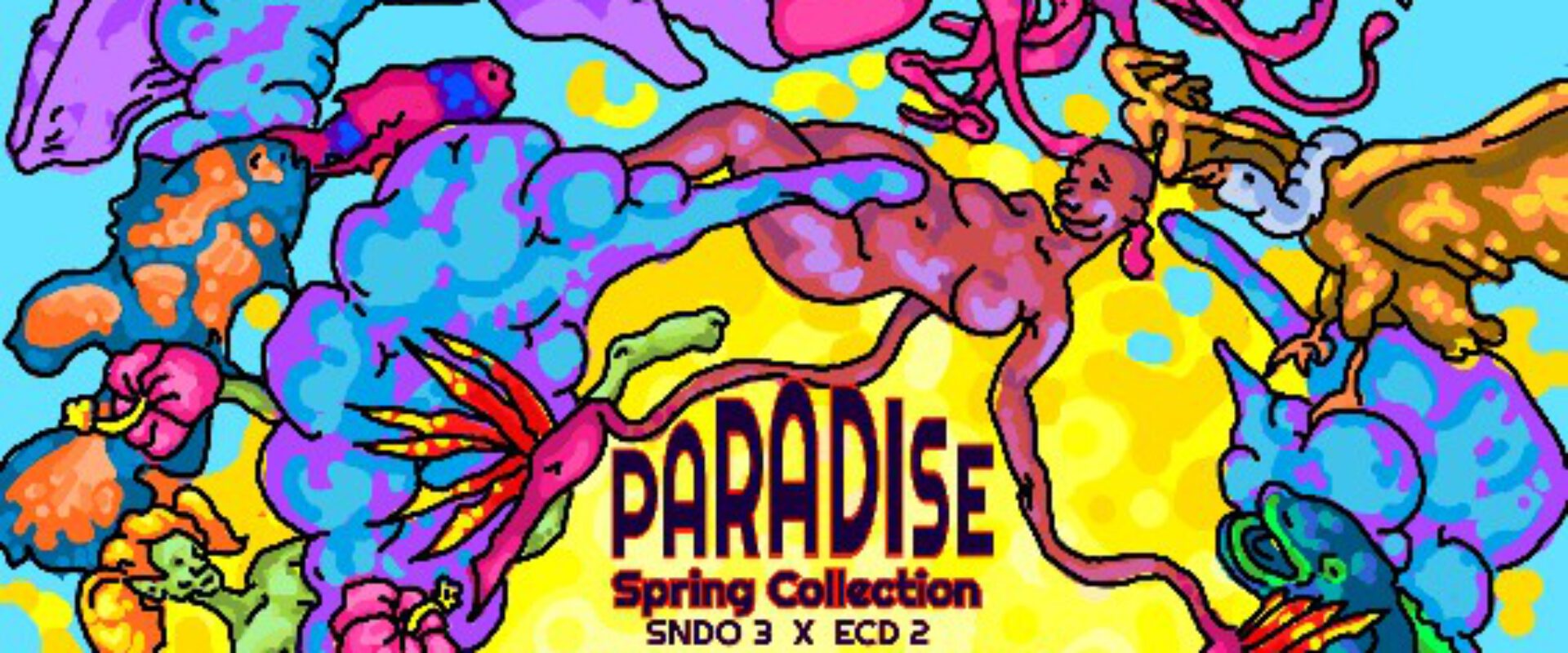 Veem House welcomes the dance students of SNDO 3 and ECD 2!
On the 18th, 19th, 21st and 22nd of April they will present the outcome of their two-week working period at Veem House.
SNDOxECD is a project where students of two dance departments of the Academy of Theatre and Dance work together. The collaboration between third year choreography students of the SNDO and second year dance students of the ECD, is an annual tradition and valuable part of the curriculum.
The programs are presented in Veem House for Performance, following the decade long tradition which started as collaboration between SNDO and MTD (Modern Theatre Department) and later joined by JMD/Urban Contemporary department. While these two sister departments are slowly ceasing to exist, SNDO and ECD are continuing to carry the program forward.
The exchange works as follows: The SNDO3 students get a carte blanche to create a choreography with the dancers of ECD2. Together they get to experience all facets of creating an autonomous work – and the responsibility that comes with that freedom.
The project allows a generation of makers and performers to experiment, explore and develop language of collaboration together, creating an environment where creativity of everyone is activated to make a choreographic work.
Program
The works will be shown in two programs:
April 18th and 19th (Program 1)
Works by: La Uyi Ihasee, Barros and Ciro Monoarfa Goudsmit
April 21st and 22nd (Program 2)
Works by: Agnė Auželytė, Sasu Korom, Yujing Liu and Saman Mahdavi
18 April 2023
19:00 — 22:00

19 April 2023
19:00 — 22:00

21 April 2023
19:00 — 22:00

22 April 2023
19:00 — 22:00

For tickets at the door we charge +€1.50 on top of the normal ticket price.
About SNDO

The SNDO—School for New Dance Development —offers a full time four-year professional education course leading to a Bachelor's degree in Art – Choreography. The school was founded in 1975 as an attempt to find new directions for dance next to the existing forms and styles that dominated the field. After forty years, the SNDO remains inquisitive, open minded, and in the foreground of progressive developments in the fields of dance and performance. In the curriculum, the school establishes the conditions from which the creativity of the student can emerge. Reflection on the specific qualities of dance and performance as art forms is developed, and awareness of the body and the artistic, political and ethical implications of working with it take precedence.
About ECD
The innovative, varied and dynamic programme of the ECD (Expanded Contemporary Dance) prepares students for a life-long career in dance. The future of dance and question what is 'contemporary' are explored. The student is trained to become a high-level dance performer and co-creating artist with great physical awareness, imaginative abilities, critical capacities, precision and adaptability.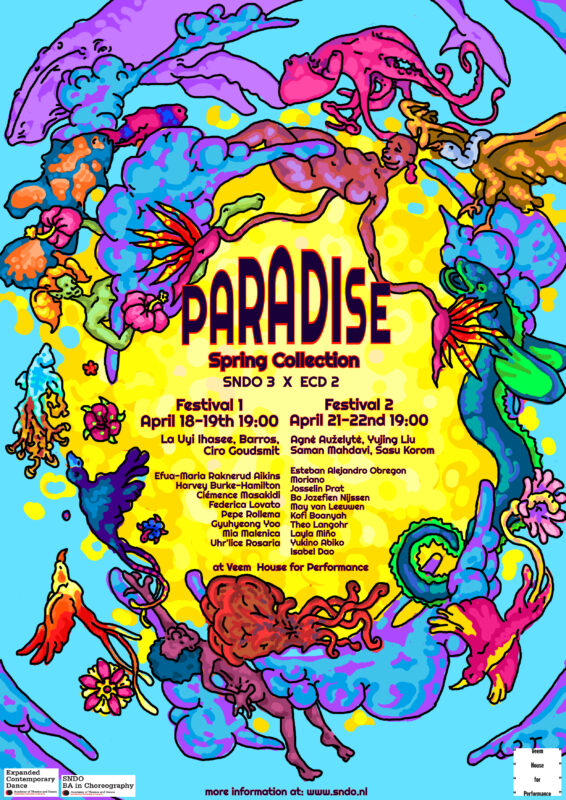 Credits
Mentor SNDO 3 Joy Mariama Smith Production manager Lisa de Kwant Light designer Katinka Marac Sound Dymf Mussig SNDO production Chantal Mooij PR coordinator Keerthi Basavarajaiah Graphic design Ion Kazantzidis ECD coordinator Gideon Poirier ECD assistant Roos Oudt SNDO artistic director Bojana Mladenović ECD artistic director Bojana Bauer
SNDO choreographers:
Agnė Auželytė / Barros / Ciro Monoarfa Goudsmit / La Uyi Ihasee / Sasu Korom / Yujing Liu / Saman Mahdavi
ECD dancers-performers:
Yukino Abiko / Efua-Maria Raknerud Aikins / Kofi Boanyah / Harvey Burke-Hamilton / Isabel Dao / Theo Langohr / Federica Lovato / Mia Malenica / Clémence Masakidi / Layla Miño / Bo Nijssen / Esteban Alejandro Obregon Moriano / Josselin Prat / Pepe Rollema / Uhr'lice Rosaria / May Van Leeuwen / Gyuhyeong Yoo