Program
Something In This Universe
Genevieve Murphy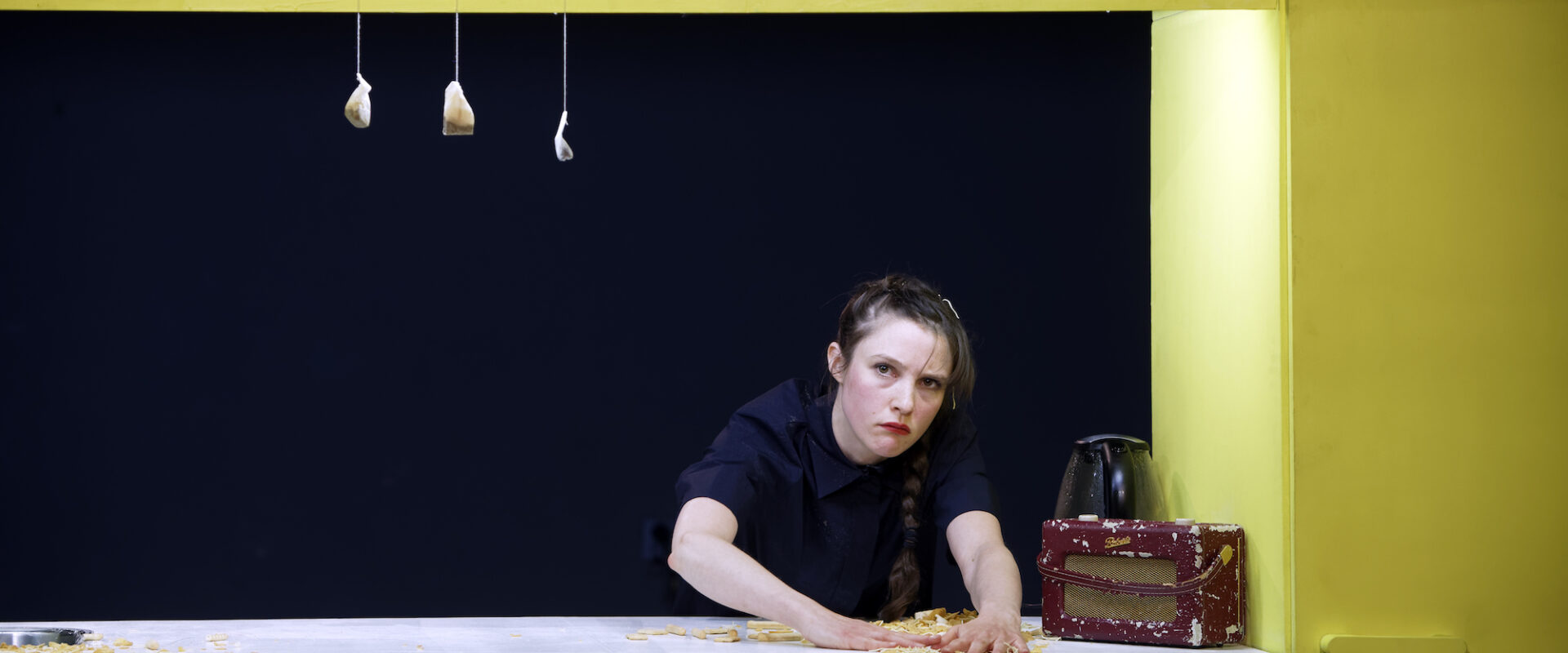 Something In This Universe is a production Of Nicole Beutler projects, in co-production with Veem House for Performance and Korzo
Something In This Universe is a solo performance by Genevieve Murphy, questioning whether there is such a thing as isolation when comforted by an infinite desire for perfection. Inspired by the 'tipping point' between control and destruction the audience views a person captured between the seduction and obsession of a compulsive disorder. Genevieve Murphy creates an individualized space in which to lose yourself. A place to enjoy your own company – but also a place that will reveal your mortal fears, disappointments and self-neglect. Recently, Murphy's has been fascinated by psychology and disability. Her work explores ways to communicate sensations that can feel intangible and incomprehensible.
Tour dates:
Frascati Theater – Amsterdam 16/17/18 Oct. 2018
Opera and Musical Theatre of the Janacek Academy, Brno – 5 Dec. 2018
Read the interview with Genevieve about the link between composing, obsessions and dark matter.
To go to Genevieve's website, click here.
GENEVIEVE MURPHY
Genevieve Murphy (Scotland, 1988) studied music and composition at the conservatoirs of Glasgow, Birmingham and The Hague. She lives and works in Amsterdam. As an artist, she combines performance and visual art with contemporary classical music.
Murphy's compositions and performances have been performed at Muziekgebouw aan 't IJ, Concertgebouw Amsterdam, Het Stedelijk Museum, Sectie C Eindhoven, Music Showroom SC Zagreb, ESC Graz, La Fenice Theatre Venice, MAXXI Rome and Gaudeamus Utrecht, among other places. She has collaborated with, among others, Slagwerk Den Haag, Koninklijk Concertgebouworkest Camerata, Storioni Trio, Ex Novo Ensemble and International Ensemble Modern Akademie Frankfurt.
In addition to creating compositions for various music, visual art and theatre projects, Genevieve has travelled Europe with traditional and improvised pieces for bagpipe. She has also performed with musicians like Andy Moor (The Ex) and Terrie Hessels.
Concept, direction, music and performance:
Genevieve Murphy
Set design:
Tim Vermeulen
Sound technician:
Joel Thurman
Dramaturgy:
Nienke Scholts
Artistic Advice:
Nicole Beutler, Stefan Prins, Yannis Kyriakides
Production:
Nicole Beutler Projects
Co-production:
Veem House for Performance, Korzo
With the support of:
Fonds Podiumkunsten
With thanks to:
Esther Snelder, BAU
Photography:
Thomas Lenden