Program
Double bill: Tempo~orale by Eva Šusová & Angelo Custodio + Recognized by Marjolein Vogels & Coralie Vogelaar
Eva Šusová & Angelo Custodio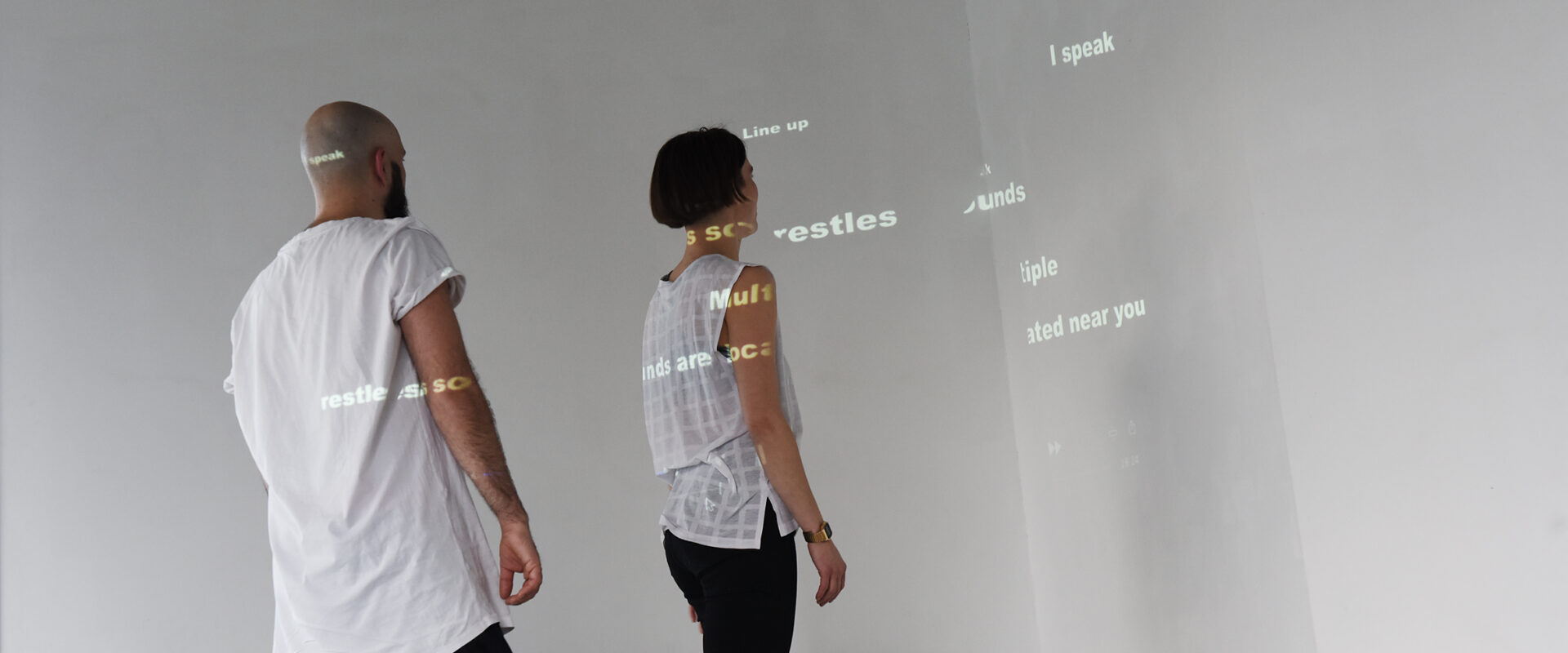 Tempo~orale
It began with an interest in developing a physical-vocal practice that allows all the voices, actual and virtual, of bodymind to resonate and be exteriorised as such. In this performance, we incorporate the most vulnerable voices that are not yet shaped into the signifier, such as language but are materialised in uncanny sounds and combinations of words. "It's time?" "What's the tempo"? – Indicates the start of the performance. A performer suggests a dynamic tempo that allies the cacophony of our voices and supports the performers as they are live scoring and using defined strategies that complicate and denounce hierarchies and value systems of "staging". The tempo is maintained across the performance reinforcing what we identify as "the spiral", the vulnerable exchange of bodily reading of current events. We focus on the movement of the mouth as the most apparent cavity that echoes the junction of our internal and external desire. By combining physical presence with imagery we speculate of a place of allowance, resonance and sensational transmittance.
Concept: Eva Šusová | Development and performance: Angelo Custodio and Eva Šusová | Photo: LAZOO | This project is supported by the AFK (Amsterdam Fund for the Arts).
Eva Šusová and Angelo Custodio
They met in the Master of Voice, a temporary program of the Sandberg Instituut in Amsterdam, initiated by Lisette Smits, Paul Elliman, Marnie Slater and Snejanka Mihaylova. This research-based Fine Arts program quickly became their first dialogic event on critically exchanging knowledge regarding performative practices. In both of their cases, such practices move across various fields – classical singing, choreography, dance, visual arts and writing. Working through connecting "bodymind", they share and nourish a queer utopian desire for thinking with embodied knowledge. With their art practice, they create forms that speculate, apply and fantasize of other social structures. Their consistent interest in contaminating physical practices with theory, and vice versa, led them to collaborate on the multidisciplinary project Tempo~orale. Eva and Angelo bring their feminist and queer/disable perspectives to dialogue while tuning in and not harmonising.
Recognized
What characteristics define whether a news-photo is successful or not?
Amsterdam based choreographer Marjolein Vogels and visual artist Coralie Vogelaar created a performance exploring the underlying compositional patterns of popular news imagery. Hereby recognizable images and compositions of protests, riots and victim scene's are analysed, deconstructed, decomposed and performed by five dancers.
Coralie Vogelaar conducted a methodological research on which images of press agencies were used the most and the least from 2010 – 2015 with the help of image recognition software.
Concept and choreography: Coralie Vogelaar and Marjolein Vogels | Dance: Emile Boer, Ashley Ho Yuhan, Lív Smáradóttir, Fons Dhossche en Iannes Brylant | Sounds: Rutger Zuydervelt
Marjolein Vogels
is a choreographer, performer and artistic director of WhyNot festival. She studied modern dance theater, specialized in performing arts at the Amsterdam School of the Arts. She works as a dancer, performer and collaborator with Nicole Beutler projects, Arno Schuitemaker, Virgillio Sieni (IT), Michael Portnoy a.o. and choreographed performances in close collaboration with Jennifer Tee, Aimee Zito Lima a.o. Her Recent pieces are created in close collaboration with Coralie Vogelaar.
Coralie Vogelaar
is an Amsterdam-based visual artist. Her work consists of systematic conducted studies revealing mechanisms on valuation within our visual culture. She finds inspiration from the computer science and works with eye-tracking, emotion and image recognition software. Her work explores the area where the computer and human meet, the communication between the two and what new ways of seeing or behaving this can result in.
Recent exhibitions were in ZKM – Karlsruhe, Kunstverein Kassel, Science gallery Dublin, Impakt Festival Utrecht, MU Artspace, V2 – lab for the unstable media, FOMU – Antwerp, SPRING Festival Utrecht and PuntWG, Amsterdam