Program
THING: a trans-action (première)
Lisa Vereertbrugghen and William Collins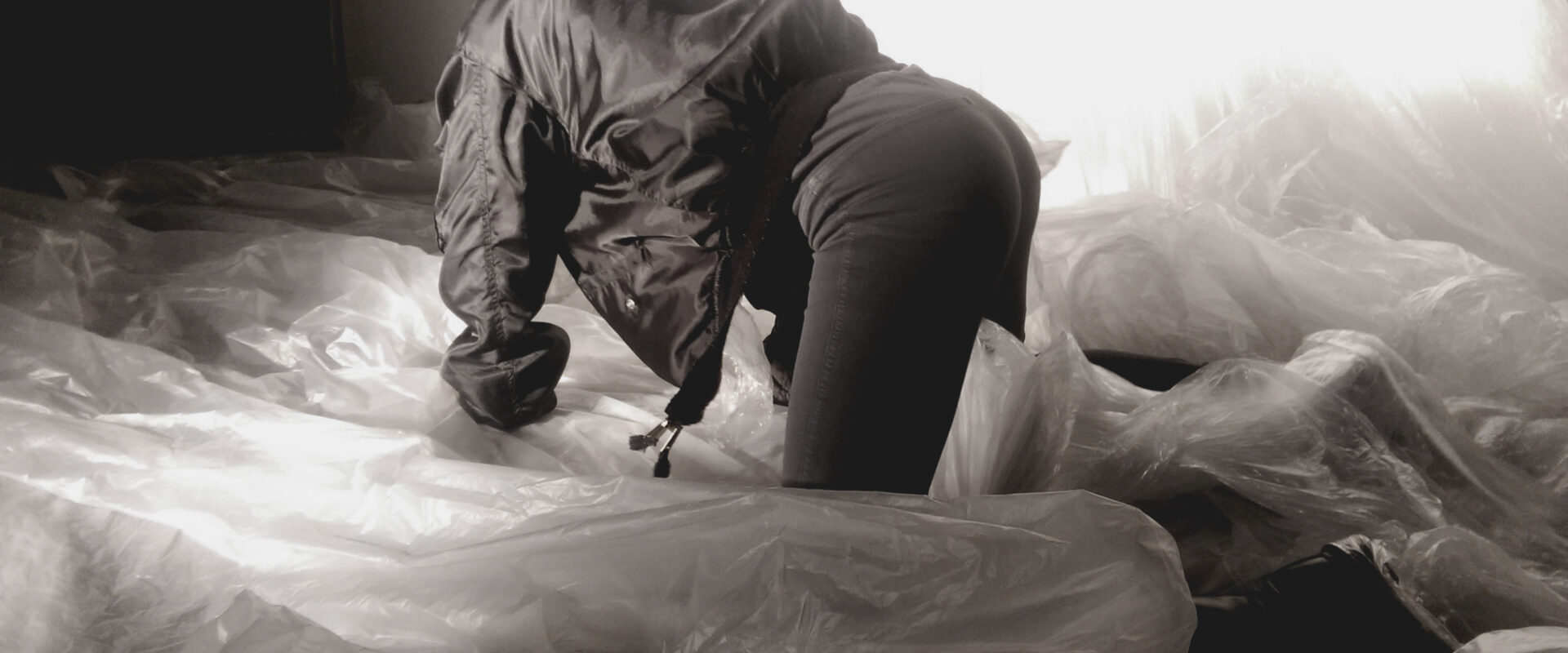 Our new production THING: a Trans-action, coproduced by Something Raw and Brakke Grond and created by Lisa Vereertbrugghen and William Collins, will premiere during Something Raw Festival at Frascati.
The performer at the centre of THING: a Trans-Action is material. THING penetrates the surface, descending to a level where everyday boundaries between human and object disappear. But rather than stressing fixed form, THING explores materials-in-flux. Bits or plastic and bomber jackets unfold, explode, implode, stick together and come apart. How can we approach identification without preconception? Seeing the thing not as simple fact, but as a process, full of potential to become anything else.
Lisa Vereertbrugghen studied dance in Berlin and choreography at the School for New Dance Development in Amsterdam. Her work balances on the boundary between performance and visual art and can regularly be seen in theatres and galleries. A recurring fascination in her work is the tension between code/meaning and material/affect. In 2013, she won the danceWEB Scholarship at Impuls Tanz (Vienna). In 2014, at Veem House for Performance, she created The performance formerly known as performance, a performance full of hard-core techno and superfast dance around the relationship between identity and camouflage.
William Collins graduated from SNDO in Amsterdam and the Laban Centre in London. His work is concerned with the politics of space and meta-modernist discourses on agency and participation. Collins won the IT's Festival Choreography Prize and was commissioned to create Exclamations for Dansgroep Amsterdam, which toured extensively throughout the Netherlands. Currently based in London, he works internationally as a choreographer, adviser and lecturer. Recently, Collins has been developing his interests in writing as a metaphor for choreography in an attempt to look at an expansion of the possibilities of the discourse of agency within dance.
Creators, Concept & Choreography:
Lisa Vereertbrugghen, William Collins
Lighting design:
Vinny Jones
Sound design:
Nikos Kandarakis
Technican:
Paul Schimmel
Advisor:
Bruno Listopad
Production:
Lyndsey Housden
Special thanks to:
Eva Susova, Eleana Alexandrou, Nina Aalders, Simon Asencio, Esther Arribas, Roi Alter, Min Oh, Carlos Maria Romero, Alice Tatge
Co-production:
Something Raw, Vlaams Cultuurhuis de Brakke Grond
Supported by:
Life Long Burning (LLB) project, co-funded by the Creative Europe Programme of the European Union
Video Recording:
Jasper van den Brink / Dwarsboom Studio