Program
Things on a Table
Uta Eisenreich and Eva Meyer-Keller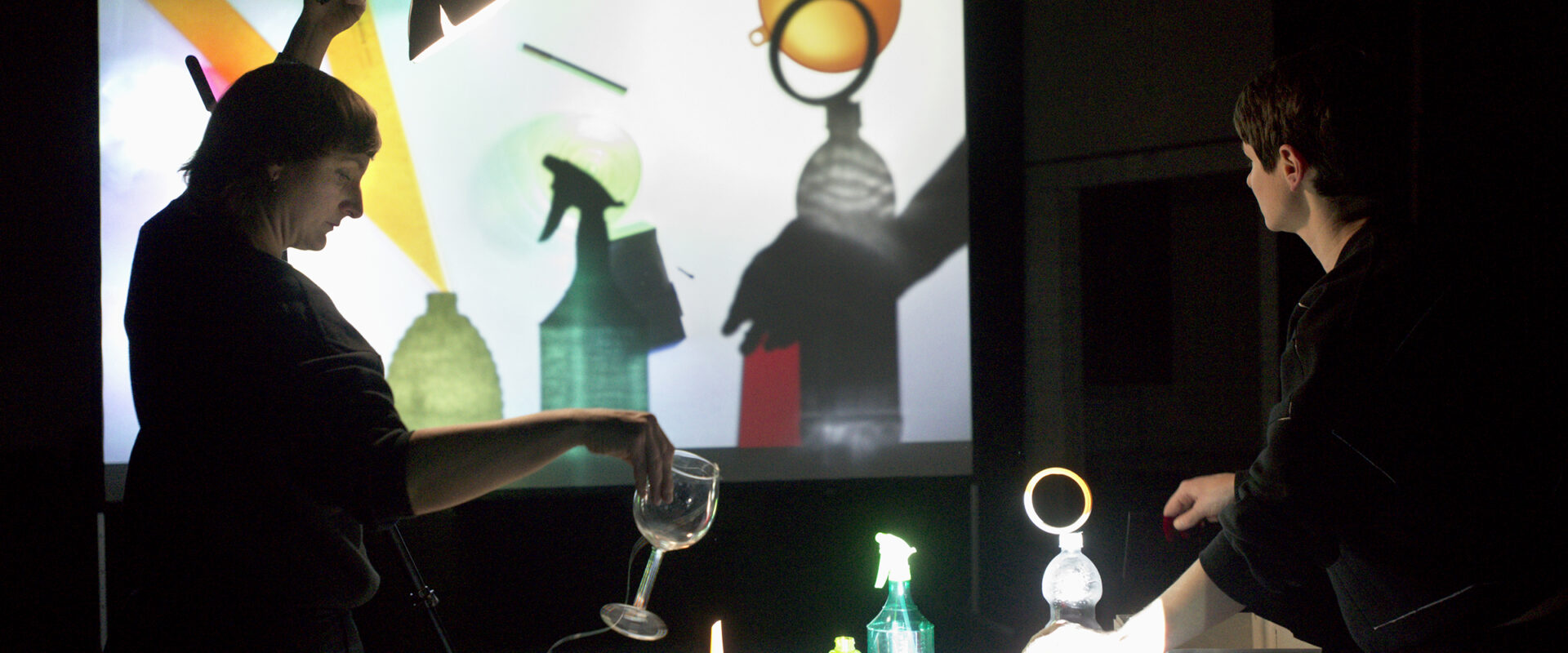 "Objects lie on a table. We live beside them and look at them and then they are on the table then. Objects on a table and the explanation". Gertrude Stein (Objects lie on a table. A Play)
In Things On a Table, the associations of everyday objects start to coalesce questions about art history and the bourgeois obsession with object possession and arrangement, of gender and representation as well as environmental and ethical issues. A whirl of landscapes, upheavals and transformations form simultaneously in front of the audience and the unblinking camera. Perspectives switch between the micro and macro so that the objects on a table start to take on dimensions and meaning far beyond their humble, recognisable forms.
Things On a Table starts with a table in the dark. On this table – a metaphorical tabula rasa – ordinary everyday objects, paper, milk, ink, an apple, a glass of water, are manipulated into a series of assemblages, cajoled into compositional exactitude, lit and framed by a camera connected to a projector.
During the performance Uta Eisenreich, Eva Meyer-Keller, Björn Stegmann and Katrin Hahner will perform Gertrude Stein's text from the play Objects Lie On a Table by spoken word and Katrin Hahner will add a third dimension to this play of word and image in the form of music. Stein's text evokes methods of her cubist circle, breaking language and viewpoint apart to form new compositions, bridging the space between the visual, the musical and the verbal.
Choreographies emerge from the assembly of objects witnessed by the camera but also from the movements of the people creating these assemblies, arranging object, light, camera – as alchemists extracting the magical from everyday material.
We also warmly invite you to the book launch of A Play, the pocket book by Uta Eisenreich and James Langdon, published by Roma publications and launched by San Seriffe on the 16th of April prior to the performance from 7 PM onwards.
Supported by Nationales Performance Netz (NPN) Coproduction Fund for Dance and International Guest Performance Fund for Dance which is funded by the Federal Government Commissioner for Culture and the Media on the basis of a decision by the German Bundestag
Uta Eisenreich
Uta Eisenreich is an artist working with photography and performance. Operating from a firm background of photography, Eisenreich started exploring the interface between photography and performing arts in the early 2000's, collaborating with performance makers such as Eva Meyer-Keller (DE/SE) and Zhana Ivanova (BG/GB). She frequently incorporates performative strategies in her photographic practice, her camera is often used as a live tool for performances. In another sense she treats a book as a time-based medium, as a portable theatre. Her acclaimed artist book 'A NOT B' (2010, Roma Publications) has received several prizes and is a collector's item. Uta Eisenreich works and lives in Amsterdam, where she teaches at the Gerrit Rietveld Academy. She is represented by Ellen de Bruijne Projects.
Eva Meyer-Keller
Eva Meyer-Keller works at the interface of performance and visual art. Her working method is marked by a constructive disregard for the imposition of any boundary between visual and performing arts. She has presented her work internationally in a wide range of contexts and sites. These include the performances DEATH IS CERTAIN (2002 performed in more than 200 venues around the world), PULLING STRINGS (KunstenFestivaldesArts, Brussels, 2013) and HANDMADE (NGBK Berlin, Bonniers Konsthall Stockholm, Palais de Tokyo Paris). Eva develops projects alone and in collaboration with other artists, such as Uta Eisenreich, Sybille Müller and Kate McIntosh. She has worked with Baktruppen, Jérôme Bel, Christine De Smedt/les Ballets C de la B (9×9), Juan Dominguez and Agnes Meyer-Brandis.
Katrin Hahner
Katrin Hahner is a multidisciplinary artist working in the fields of music and visual art. Her education includes studies at Akademie der Bildenden Künste/ Stuttgart and Kunsthochschule Berlin Weissensee. Under her alias MISS KENICHI she has released three critically acclaimed albums of her music. The compositions are used in film and she purposefully collaborates with filmmakers and other artists, for example Swedish composer and audiovisual artist Marcus Fjellström or German director Irene von Alberti for music videos. She performs her music all over Europe in various constellations and spaces, often blurring the line between art and pop. Across the disciplines her work centers itself around mapping out the inner landscape, the search for identity and the interplay of absence versus presence
Björn Stegmann
Björn Stegmann operates as a sound engineer behind and on stage, and is active in a wide range of music and performing arts. He has worked in the international art center INKONST in Malmö, as a freelance technician in Berlin, and has toured through Germany and Denmark with various artists. He is also a member of the band Thirdimension.
Concept and performance:
Uta Eisenreich, Eva Meyer-Keller
Music:
Katrin Hahner
Technical direction:
Björn Stegmann
Clothes:
Elisa van Joolen
Production:
Alexandra Wellensiek
Co-production:
PACT Zollverein (Essen), Internationales Figurentheater-Festival (Erlangen), MDT (Stockholm), EdB Projects (Amsterdam), Mondriaan Fonds (NL)
Supported by:
Nationales Performance Netz
Thanks to:
Birgit Schachner, Sharon Smith, Anouk Beckers, Rebecca Sakoun und Manuel Lindner