Program
Transmission (sold out)
Mami Kang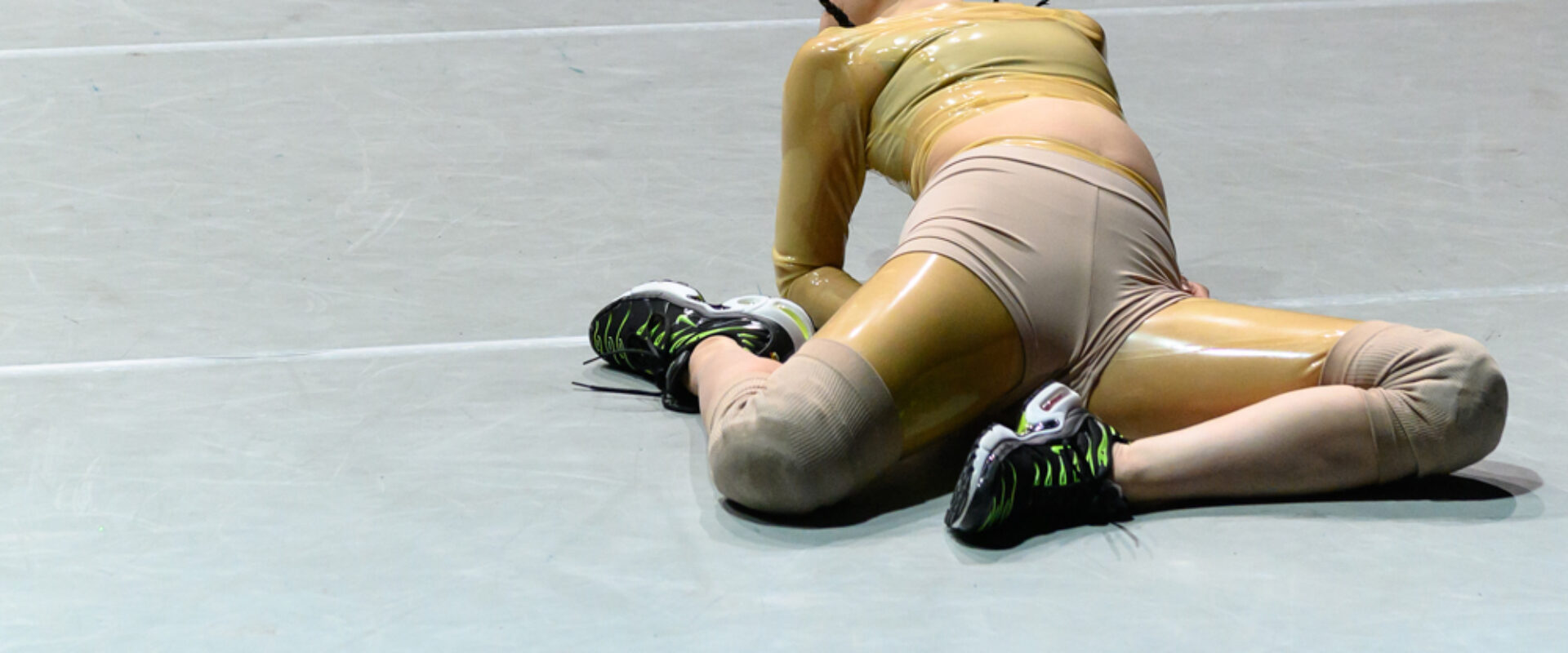 Transmission thinks dance as an alternative non-dualistic ritual by addressing an
imaginary force. It unites materiality and immateriality as a form of faith in the current oversaturated world. By using the body as a kinetic and technological tool, Transmission emanates synthetic sensations towards the surroundings. Through the creation of fluid, unnatural, and ambiguous tragic dreams, and by continuously dismantling and reconstructing her subjecthood and objecthood, the protagonist attempts to give a new life to ideas about the body.
About Mami Kang
Mami Kang is a choreographer and dancer. She graduated from the SNDO – School for New Dance Development in Amsterdam in 2019. Her works deal with the experimentation of dance concerning its materiality, sensorial technology, and affects through poetic sensitivity. She often employs quasi-fictitious figures to conjure both destabilized and transformative experience and to look at the notion of otherness. Her work has been presented in Amsterdam, Berlin, Ljubljana, and Osaka. Mami received danceWEB Scholarship for 2021.
Ticket: €8
Combiticket Transmission + Re-turning Movement: An artist discussion: €10
After Mami Kang's performance there will be a conversation about Movement with all the artists of our November program. The two events can be combined.
10×10 November: Movement
From the 26th of November till the 5th of December it is time for our last 10×10 edition. Exactly one year ago we started to unfold the 10 stories of Veem's Future by hosting a monthly 10-day program. This last edition is all about Movement. From dance to discours, through workshops and activism you can enjoy the works & practices of Antonia Steffens, Keerthi Basavarajaiah, Raoni Muzho Saleh, Nico Roses, Mami Kang, Matthew Day & Paula Chaves.
The November 10×10 program is co-curated by Amsterdam based choreographers/performers Antonia Steffens and Keerthi Basavarajaiah. Co-curation will form a recurring part of our methodology as we work to embed new perspectives into the internal structures. Read more…
We will stick to the corona measures during all of our activities to ensure your wellbeing in our care. Read more about our regulations in our safety protocol.
Concept, Choreography, Performance:
Mami Kang
Music:
Yon Eta
Light design:
Martin Kaffarnik
Advice:
Nikola Knežević, Noha Ramadan, Bruno Listopad