Program
Veem House Dinner: Tuning In
MOHA and Julie Kurris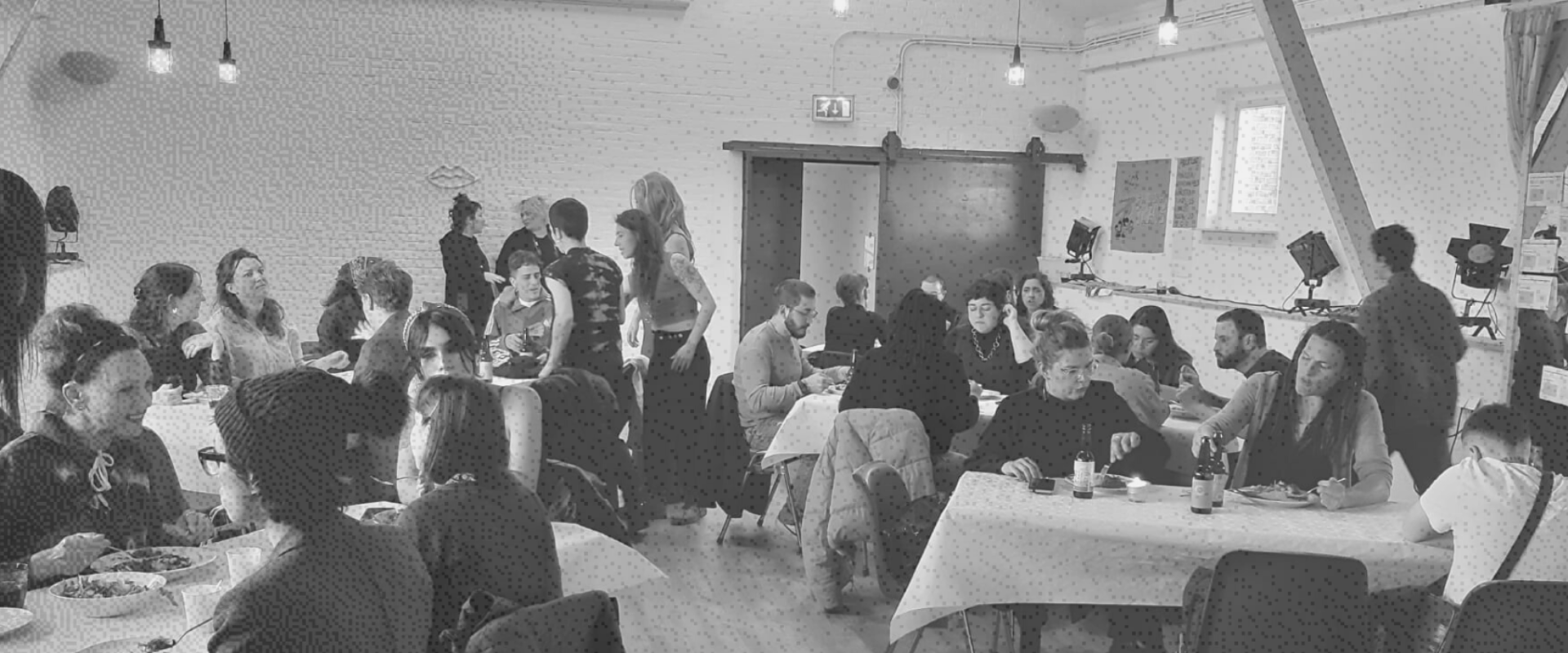 Join us for a theatrical dinner experience that triggers our imagination as much as our taste buds. This time we tune into surrounding voices in order to find our own. 
We harmonize, we disconnect, fall in and out of tune. How can we voice our own experiences while staying open to others? How can we create a polyphonic melody together? Join House Artist MOHA and musical theatre maker Julie Kurris for a dinner experience that will sharpen your ears, and open your mind!
7 May 2022
19:00 — 21:00
€ 7.50

About Veem House Dinner
Veem House Dinners are theatrical experiences that trigger our imagination as much as our taste buds. In this individualized and rushed society we take the time, space and attention to feel at home with strangers. We organize these dinners every other month. No Veem House Dinner is alike, as we engage with different themes, mix up ingredients, formats and guests. Indeed, also our guests so no need to worry about sitting alone, the Veem House Dinner is single-person friendly. Surprise du chef? Surprise de l' artiste! Are you ready to be surprised? 
For the Veem House Dinners we collaborate with House Artist MOHA. Their open and caring approach is the secret ingredient for these coming dinners. The food that's being served during Veem House Dinner is always vegetarian. Allergies or other dietary wishes? Email interaction@veem.house to see what's possible.
"What you hear and what you listen to can be two different things"

– Gordon Hempton, acoustic ecologist
About Julie Kurris
Julie Kurris is a performer and music-theatermaker based in Amsterdam. She studied drama at KASK in Ghent and did her master musictheater at the Royal Conservatory in The Hague in collaboration with the Veenfabriek. Within her art she is looking to implement her daily engagement in a playful way, using a mixture of music, performance and image. To do this she looks for collaborations to mix her knowledge with her co-creators into interdisciplinary realms. She worked with Dodó Kis (flute), Liesbeth Vreeburg (harp), Karlijn Hamer (musictheater), Madelyn Bullard (dancer), Amber Rijcken (Illustrator) and more.
Currently Julie is expanding her knowledge by studying a master in cultural and social anthropology. The overlap of academic research implemented in society are a new exploration field to adopt in her artistic work. In this way she wants to expand her engagement towards the climate crisis, feminism and social injustice.