Program
Veem House Dinner #5 with MOHA Project (sold out)
MOHA Project - Alice Pons and Olivia Reschofsky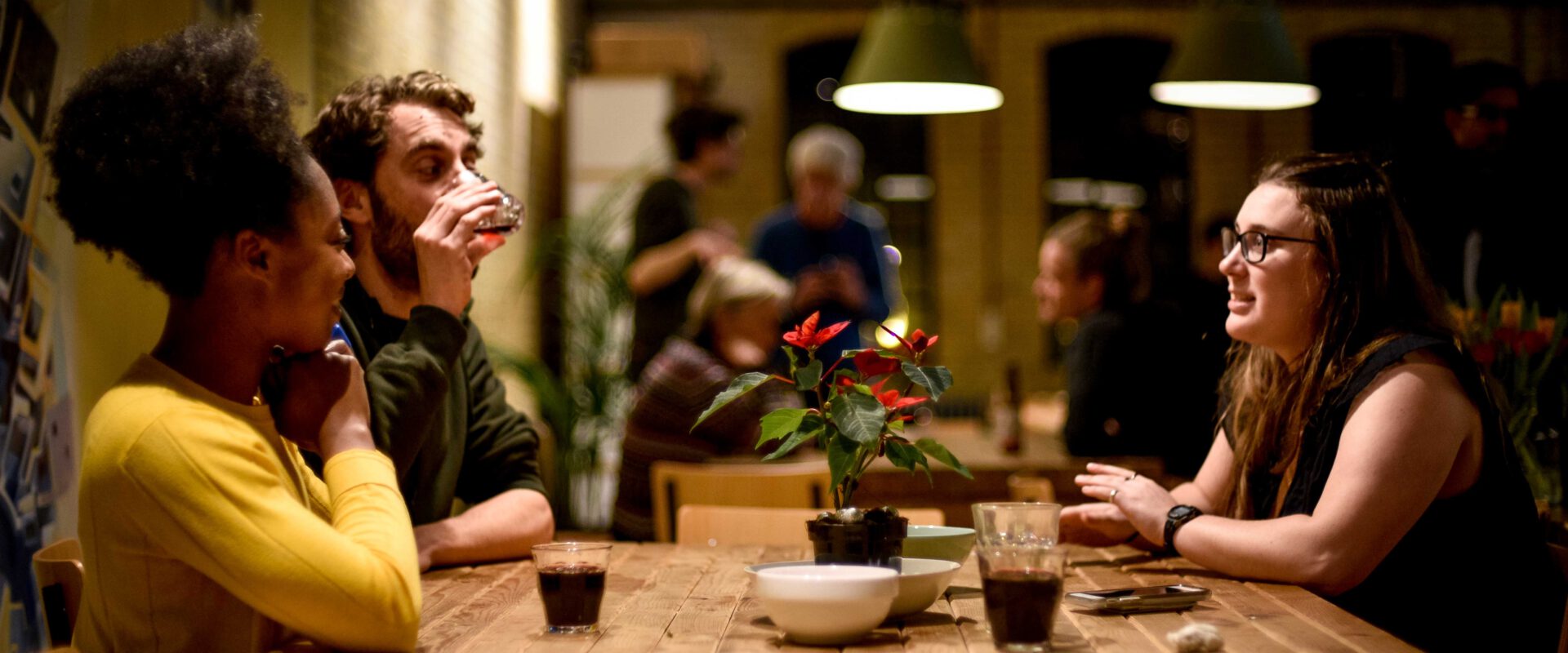 – this event is sold out –
Join Veem House Dinner #5 to celebrate our hybridity, and pay homage to the many side jobs that we keep. A three course dinner, with performative intermezzo's, and a cocktail of hidden talents!
Sharing a meal together is an enriching way to meet, exchange thoughts and share space. That's why we organize Veem House Dinners each month in collaboration with our neighbourhood, artists, and other guests! In these monthly dinners we eat while engaging with one of the thematic lines of Veem 10X10. From September, the Veem House Dinners are hosted by MOHA Project.
During the Veem House Dinner #5 we honour our hybridity – as technicians, production assistants, evening coordinators, bartenders, financial directors, volunteers, cleaners… and as artists. How many skills do we develop in our lives in order to survive? How many identities do we have to take? How many side jobs? How much knowledge do we gain? MOHA will bring our hidden talents to the fore and let them shine!
About MOHA Project
MOHA is an Amsterdam-based artist collective who create performances, present workshops, devise publications, and propose alternative curatorial models. Operating outside conventional art institutions, MOHA works in public spaces and with specific communities, aiming to shatter our personal bubbles and connecting with the day-to-day realities of people we might never otherwise encounter.
MOHA works with shop owners, maintenance workers, and butchers. MOHA cleans. MOHA cuts grass. MOHA does babysitting. MOHA makes sandwiches. MOHA makes socks. MOHA listens. MOHA becomes multi-functional art-workers, organizers, caretakers, truck drivers, waitresses, social workers, mediators, cleaners, improvised urbanists and hosts. Their position in relation to the contexts they are working in is always in question. Are they part of the building's maintenance team? Are they a bad entertainment act? Are they the artists? As MOHA strives to understand the different structures that surround us, MOHA becomes the structures themselves.
From 2021, MOHA Project will be a House artist of Veem House for Performance.
– Ticket Veem House Dinner: €5
– The menu is vegetarian and can be made vegan on request. Please forward dietary requests by email to info@veem.house.
September 10×10: hybridity
The 10-day September program is embracing hybridity. By 'Hybridity' we mean the multiplicity in which many artists operate – whether it describes working life, the multidisciplinary nature of artistic practice or lifestyle, hybridity is an inherent aspect of many artists working today. You may recognize some of the makers/artists in this program from their other role within Veem House: as bartender, evening coordinator or technician. This month we focus on their artistic practice and you are very welcome to discover it! Click here to read more about the September 10×10 program.
By:
MOHA Project – Alice Pons and Olivia Reschofsky
Photo:
Ernst van Deursen