Program
Words for the Future | completed series launch
Nienke Scholts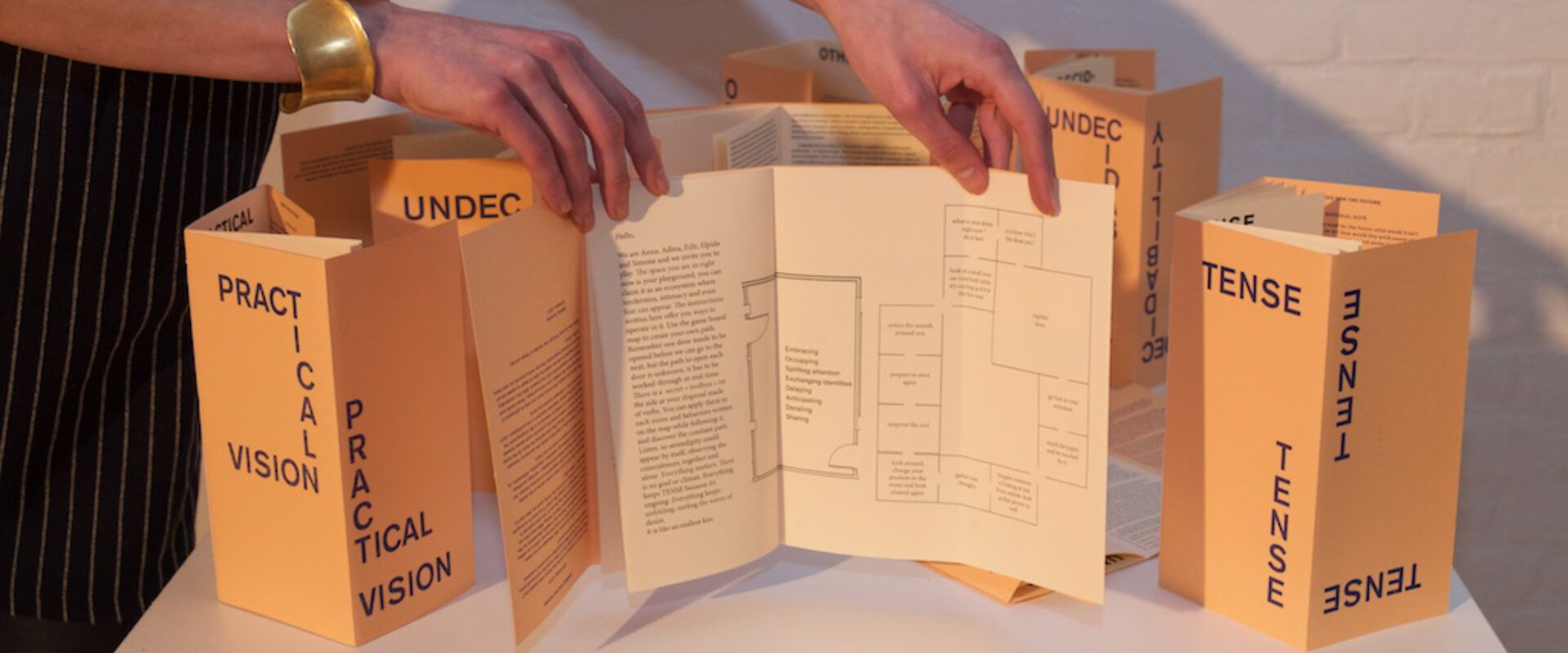 Liquid, Otherness, Practical Vision, Eco-Swaraj, Hope, Undecidability, Tense, Resurgence, ! ?, Atata.
Dear,
It's a great pleasure to invite you to the launch of the completed Words for the Future series!
Words for the Future is a multi-voiced publication series of ten word-issues; the result of what started in the summer of 2017 as a search for language that might open up imagination on possible futures.
Ten people from diverse fields of knowledge outside of the arts were asked to propose a word for the future. Each of them wrote a text that unfolds the desired or foreseen way of thinking or doing, this word defines for them. At the same time an artist, in whose work this particular word seems already latently present, was invited to respond to it. By bringing both the essay and the artistic responds together in one publication, each issue became a dialogue around one word.
For the launch, I invited artists Rosie Heinrich and Aymeric Mansoux to respond to this collection as a whole. I am curious what this series is in their eyes; what its potential might be; if it does indeed open up some imagination; and if and how it may function for their own practices as a tool of some kind..
The afternoon is moderated by Marijke Hoogenboom, chair of DAS Research, who has been following the project from the very beginning. Veem House is the soil in which the seed for Words for the Future was planted and that helped it to grow, and it means a lot to me to be able to present it there now in 'full bloom'.
I'd love for you to join us in this celebration and launch of the Words for the Future series!
Nienke
———
Rosie Heinrich is a visual artist. She works with audio material from recorded conversations as a medium to construct narrative works that consider the constitution of our personal and collective realities, through the act of (self-)storytelling. She just finished an extensive project about the imagination-crisis in iceland with a beautiful publication We Always Need Heroes. Rosie is a colleague of Nienke in the researchgroup THIRD! of DAS Research / Ahk.
Aymeric Mansoux is an artist, media researcher and he is leading the master Experimental Publishing (XPUB) at the Piet Zwart Institute in Rotterdam. Aymeric is, e.g., interested in how artistic research not only becomes public as a clean end product, but in all its incompleteness and complexity. Mansoux questions how research can be relevant for other people's practices and which choices we consequently make with regard to the copy-right and shareability of knowledge.
Colophon
Contributors
Rachel Armstrong, Silvia Bottiroli, Natalia Chaves López, Gurur Ertem, Daniel L. Everett, Jalada | Moses Kilolo, Ashish Kothari, Ola Maciejewska, Sarah Moeremans, The NarrativeCollective | Hilda Moucharrafieh, Ogutu Muraya, Nina Power, Rodrigo Sobarzo, Simone van Saarloos, Isabelle Stengers, TILT | Andrea Božić & Julia Willms, (To) Come and See team | Simone Truong, Eilit Marom, Anna Massoni, Elpida Orfanidou & Adina Secretan, Michiel Vandevelde, and Jozef Wouters.
Curator / Editor
Nienke Scholts
Publisher / Designer
The Future
The Future Publishing and Printing is an experiment-focused studio. Over the years, their activities have ranged from editorial design, curation, and book making, to creating and organizing exhibitions and residencies. They see their role being to make ideas public in the medium that seems to fit best with the idea.
Typeface: Reckless (www.displaay.net)
Advisor
Anne Breure
Copy editor
Noah Voelker
Most grateful to Anne Breure, Martha van Meegen, Andrea Rogolino, and the team of Veem House for Performance, as well as to Marijke Hoogenboom, Klara van Duijkeren and Vincent Schipper, for their generous support and investments in the process of developing this project.
Created by:
Nienke Scholts
Supported by
Respondents:
Aymeric Mansoux, Rosie Heinrich
Moderation:
Marijke Hoogenboom