Program
Work In Progress Event Day 2 (sold out)
Pablo Fontdevila, Ira Brand, and Noah Voelker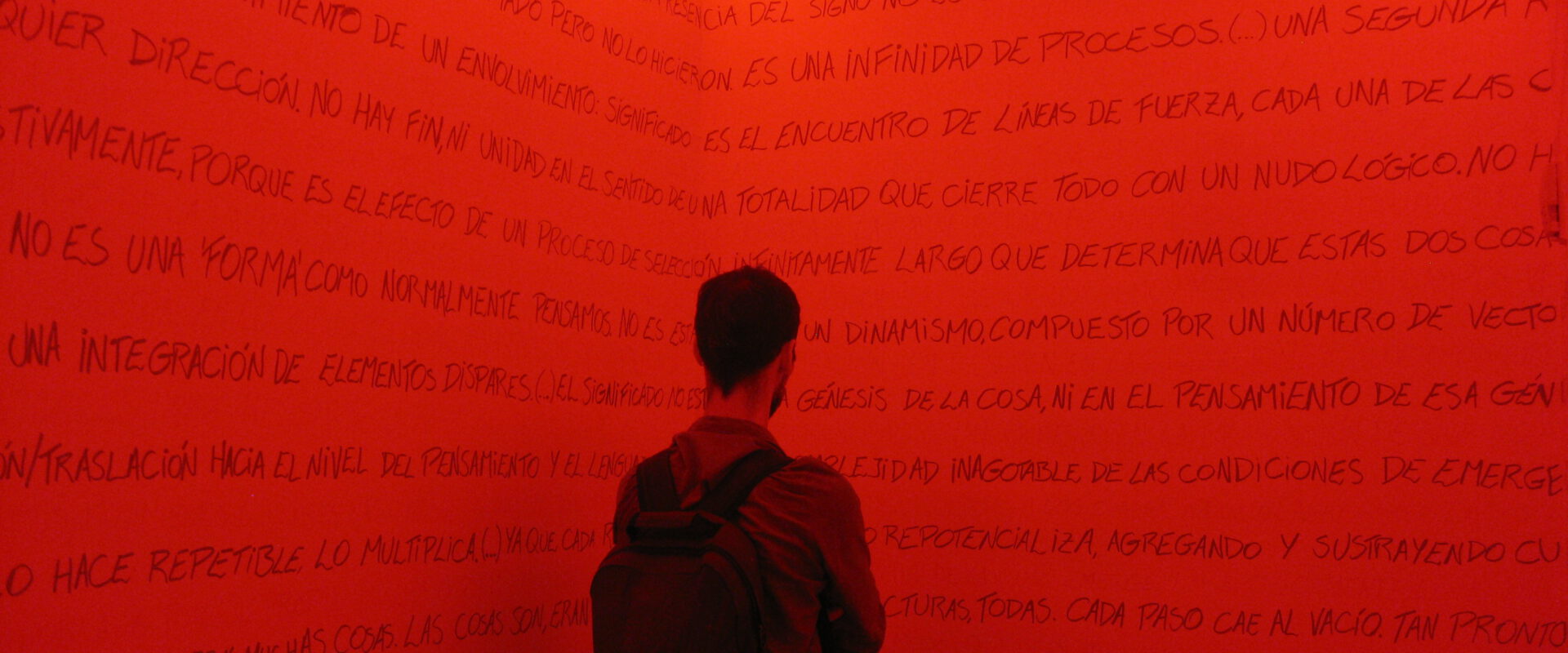 – this event is sold out –
The 10-day September program is embracing hybridity. By 'hybridity' we mean the multiplicity in which many artists operate – whether it describes working life, the multidisciplinary nature of artistic practice or lifestyle, hybridity is an inherent aspect of many artists working today.
This evening we present three works-in-progress of makers/artists you may recognize from their other role within Veem House: as bartender, evening coordinator or technical coordinator. Please feel welcome to get to know the works-in-progress of Pablo Fontdevila, Noah Voelker and Ira Brand. They are in the midst of their research and would like to share and exchange their work with you.
—
Pablo Fontdevila – Remarks in Colour
'Remarks in Colour' is an installation, a playground exploring diverse and specific relations between texts and the immersive experience they activate within the space. In a series of autonomous and interrelated pieces, Pablo explores interactions between words, lighting and space, and how they can help us become more sensitive – a response to an exploitative and unempathic culture oversaturated by images.
—
Ira Brand – (like) the party has been cancelled
Ira has been experimenting with approaching her work from an entirely different angle. Using found materials and still images, Ira is working with a practice of collage, discovering its potentials as an aesthetic, meditative, and political, tool. Ira will be exploring what working from this visual language might generate, what relationships to an audience it offers, and how and where it can produce embodied, performed, and live possibilities. This will be a first research sharing of this new project.
—
Noah Voelker – Economic Tarot Card Readings by MONOAH
My name is MONOAH and I am master of Economic Tarot Card Readings. I have created my own full tarot deck that harnesses the mysticism of economics. The cards can work for any question you might have. Whether you need to know more about the field, about what is going on in the world, or something from your personal life. This is a chance to not only dive deeper, but in different ways – to redefine for yourself what these powerful terms can mean in your life!
No pre knowledge of economics or finance is needed. I am here as a guide and the cards will tell us a lot if we listen…
Ticket: €10
Doors open: 19:15
Upon entering you can sign up for the various performances and create your own route. Before, in between or after visiting performances you're more than welcome in the Veem Kantine to enjoy a drink, leave your feedback, find yourself a sparring partner in your own research or to start a conversation about your own hybrid practice.
Make sure to be there on time if you want to experience all three performances!
By:
Pablo Fontdevila, Ira Brand, Noah Voelker