Stories
Exhibition about the Colombian National Strike in Veem House
11 November 2021 — by Rasureitor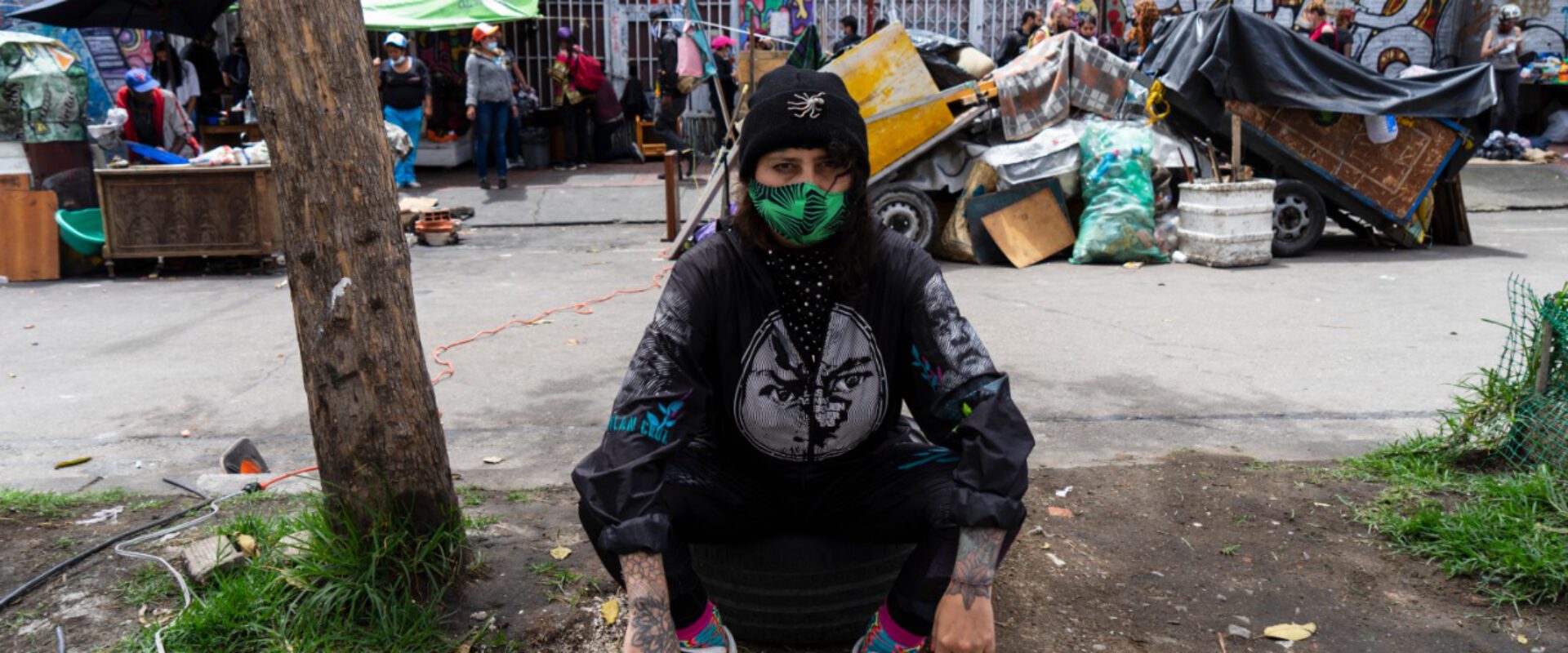 During our November program you can see an exhibition in Veem House: "Political Cartel". Colombian artist Rasureitor presents a collection of posters that they gathered during different demonstrations and protests within the Colombian National strike of 2021.
This assembly of posters manifests the voices of the people, who took the streets after decades of fear and silencing. They are the work of various graphic collectives that joined in visualizing popular claims for the defense of life, the territory, and the people. This exhibition was curated in the context Paula Chaves Bonilla's new performance House of Desaparecidxs. As it was against the backdrop of these rumbling voices claiming their rights that House of Desaparecidxs was created.
About Rasureitor (Bogotá- Colombia)
Rasureitor is the pseudonym under which this feminist, woman, activist, hair artist, DJ, painter, and Colombian from the hood works. She has dedicated the last ten years of her 37 years to draw on people's heads. In her work, the social component is always present: street dwellers, children, recyclers and prisoners, are part of the population towards which Rasu has tried to focus part of her project. Working with them is essential because they are invisible to other citizens and the State. She seeks to change a moment of their lives through her cuts, dignifying them with care, sharing stories, and bringing smiles.
As a hairdresser she has been part of multiple music festivals located in cemeteries in Ciudad Bolivar, in Comunas, in Festivals for lesbian and bisexual women, and in many more places where she has let her machine speak for her.
Sixteen years ago, Rasu was a rap DJ. Currently, she is active as a selector of Colombian political rap in the protests of the Colombian national strike, women's marches, demonstrations to demand rights, and other places in the streets of Bogotá. Rap is a sound that has always fascinated her. She feels it is the people's voice and is closely related to the street dwellers and their condition. Moreover, it is an art form that tells what happens in those dark and forgotten places she has tried to reach with her work.
For her, art is healing. She sees painting as a practice to meditate on the violence that her country lives in. Through her street art, she brings colors to the grayscale of the citizen's broken hearts. Painting has saved her life and filled other people's life with strength too. Her main influences are the geometry of nature, indigenous textiles, and the roots of her ancestors, painting as a memory of what we are and where we come from.
Rasureitor's work is a denounce of the violation of human rights in Colombia.