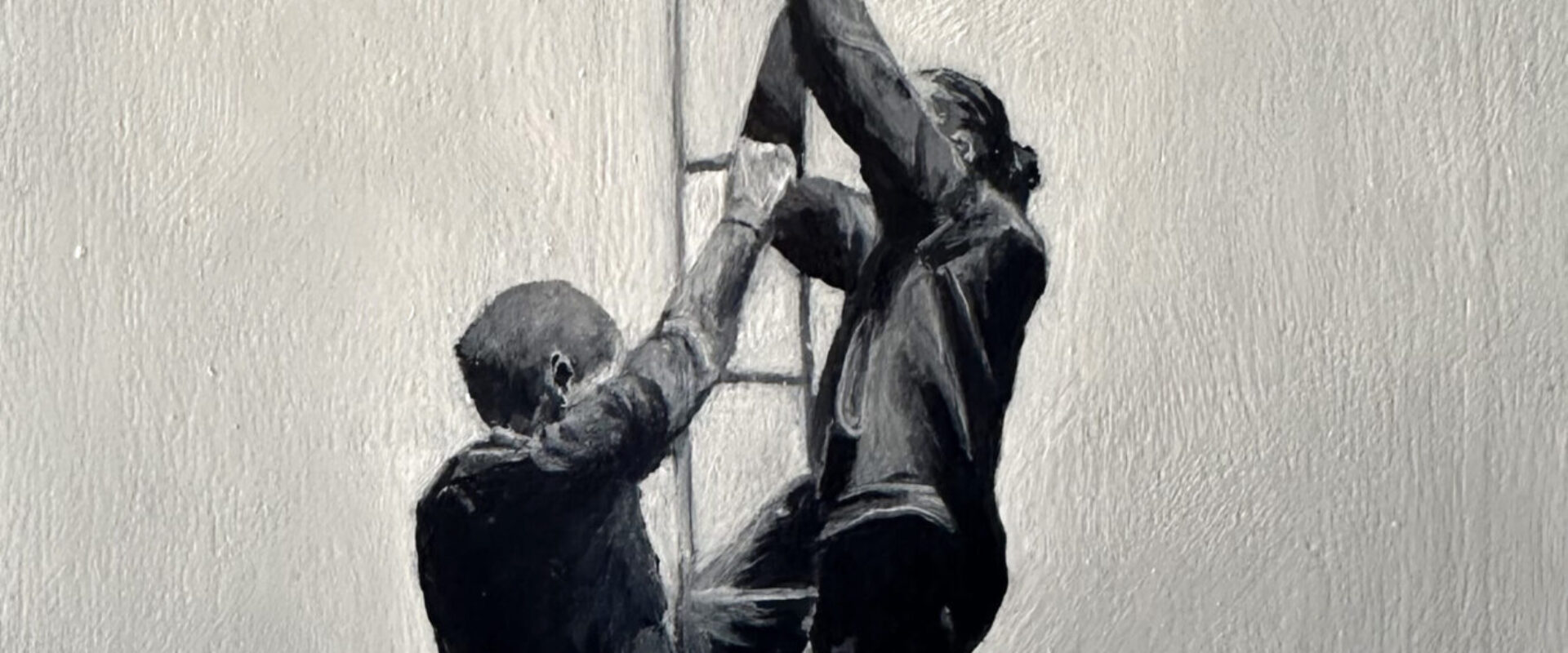 A ladder with no ending. A cyclical machine of repetition. Two bodies that relate to it, over and over again.

ROTOR #3 – Sisyphus Machine is ROTOR's new physical mime performance: a depiction of the timeless struggle and quest for freedom, inspired by Albert Camus' reading of the Myth of Sisyphus. Sisyphus is condemned to spend eternity pushing a boulder up a mountain. In his reading of the myth, Camus draws a parallel between myth and life: he highlights the beauty in the absurdity of our existence and the human need to find meaning in it. his is the starting point from which ROTOR faces meaninglessness in this minimalist performance.

ROTOR #3 – Sisyphus machine is a search for the purpose and meaning of the human condition, and an ode to will and resilience. ROTOR takes you on a physical journey of self-discovery and introspection in a celebration of the power of movement. How do we find our freedom in the seemingly endless repetition of the everyday? How do we give life meaning when it seems meaningless? How do we relate to a future that is increasingly uncertain?
More dates and locations to be announced
Tour dates
31/01/2024
De Nieuwe Vorst, Tilburg
06/02/2024
Theater Kikker, Utrecht NL
07/02/2024
Theater Kikker, Utrecht NL
22/02/2024
Schuur, Haarlem NL
29/03/2024
Frascati, Amsterdam, NL
30/03/2024
Frascati, Amsterdam, NL
About ROTOR
ROTOR is a Dutch performance collective, based in Amsterdam, and house artist of Veem House. The collective consists of Hidde Aans-Verkade and Koen van der Heijden.
ROTOR has a strong fascination for the body. Their work is focused on both embodied knowledge (the body as a storehouse of history) and the body as a vehicle for contacting the world in the here and now. With a background in various movement disciplines such as parkour and breakdance and a shared interest in Kung Fu, ROTOR trains and questions this physical knowledge. Repetition is a central theme in their work, which is reflected both in the dramaturgy of ROTOR's performances and in their way of working. In this way they try to touch the audience beyond reason.
After graduating from the Mime at the Amsterdam School of the Arts (AHK), ROTOR was selected for the 3Package Deal in 2017. Performances they have created so far are: 'The Place to Be', 'Rushing Faces' (in collaboration with DOX) and 'Touch or Tune' (in collaboration with VOÏSZ Vocal Projects). ROTOR works closely with various makers such as Schweigman & and Johannes Bellinkx.
Credits
Concept and performance
Koen van der Heijden, Hidde Aans-Verkade
Production
Rick Busscher
Scenography
Django Walon
Composer & musician
Krijn Moons
Action coach
Niels Kuiters
Artistic advice
Francesca Lazzeri
Costume design
Kevin Pieterse
Technical producer
Jurr van Diggele
Technician
Mathisse Coornaert
Set builder
Merijn Versnel
Poster image/paintings
Daniela Schwabe
Graphic design
Sjors Bazelier
Marketing/communication
Pien Visser
Stage hands
Tim van Dongen en Rita Bifulco
Produced by
Veem House for Performance, Schweigman&
Co-producer
Over het IJ

Special thanks to: Loes van der Pligt, Rigging Amsterdam, Fonds 21, Prins Bernhard Cultuur Fonds and BNG Bank Theaterprijs