Program
She gave it to me I got it from her
Clara Amaral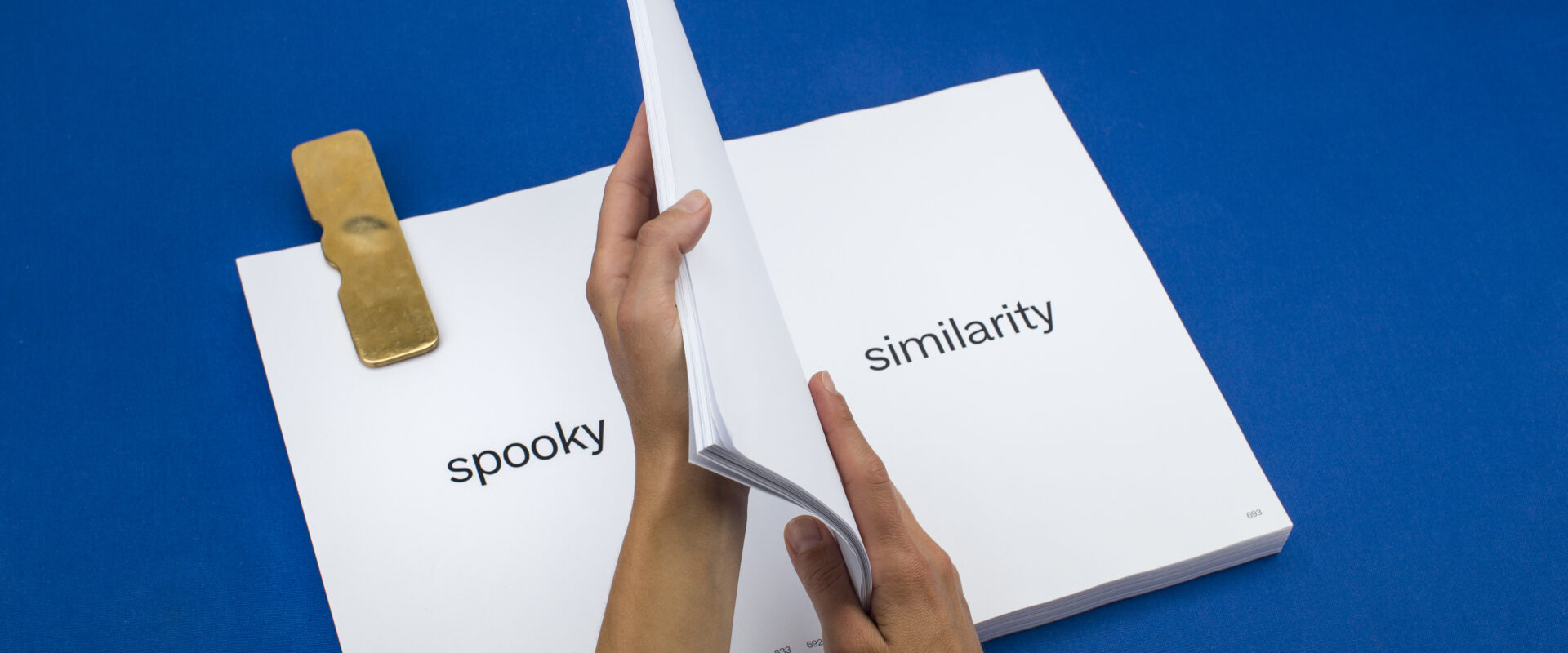 – Please note: this performance takes place at Huis De Pinto (St. Antoniesbreestraat 69, 1011 HB Amsterdam) –
She gave it to me I got it from her
a poem that choreographs her hands and voice
her voice that reads out loud
                     the book
                     becoming script
                     becoming performance
                     becoming archive
the permanence of her voice in the book
in the book
the presence and absence of their names
She gave it to me I got it from her
It's a book and a choreography, read out loud and handled by a performer, for a group of people.
—
The publication/performance skips through five generations of women in Amaral's family and hinges on the one in the middle—the last one in the sequence to not have been taught how to read or write. What at first sounds like just some family trivia in actuality offers a glimpse into a deeply rooted sociocultural obstacle that many women in Portugal faced up until the 1950s, before the reform of the education system—which until then often excluded women on the basis of their gender or economic status.
Book launch / March 1st / 19.00 – 21.00 / free entrance
On March 1st the book will be launched at Huis de Pinto. At the launch you'll have a chance to flip through the book, buy it on the spot and talk to Amaral in person. Drinks will be available too. For the occasion we have also organised a rare screening of Guy Sherwin's film Messages (16mm, 35min), a diary-essay recording the development of language, in words and drawings, of his young daughter Maya which sits nicely in parallel to Amaral's own practice.
For the launch we are sticking to an old school event opening: no RSVP! To attend, you can simply show up. When we've reached full capacity we will adhere to a one-in, one-out policy. Please note that the launch won't include Clara Amara's performance.
—
Clara Amaral is an artist working with text and performance. Her artistic practice is situated in an interdisciplinary perspective, questioning what it means to be a reader, to be a writer, aiming to expand existing modes of reading and writing. Central to her practice is the investigation of innovative publishing modalities and the performative aspect of writing and language through an intersectional feminist approach. More: www.misted.cc
4 March 2022
18:00 — 19:00
sold out
4 March 2022
19:30 — 20:30
sold out
4 March 2022
21:00 — 22:00
sold out
5 March 2022
18:00 — 19:00
sold out
5 March 2022
19:30 — 20:30
sold out
5 March 2022
21:00 — 22:00
sold out
6 March 2022
18:00 — 19:00
sold out
6 March 2022
19:30 — 20:30
sold out
6 March 2022
21:00 — 22:00
sold out
Location: Huis De Pinto (St. Antoniesbreestraat 69, 1011 HB Amsterdam)
Click here for the current COVID-19 regulations.
Credits
Written and choreographed by
Clara Amaral
Graphic Design
Ronja Andersen and Karoline Swiezynski
Copy editor
Isabelle Sully
Conceptualization and fabrication of objects
Olga Micińska in dialogue with Clara Amaral
Publisher
Kunstverein Publishing
Photo
The Book Photographer
Co-producers
Veem House for Performance (Amsterdam), Kunstverein (Amsterdam), Alkantara (Lisbon), Teatro do Bairro Alto (Lisbon)
Supported by
Mondriaan Fonds (Amsterdam), Members of Kunstverein (Amsterdam), Circular, Vila do Conde, Workspacebrussels
Clara Amaral is supported by the stipend Kunstenaar Start from Mondriaan Fonds (2021 – 2022).