Program
Luring Whispers (sold out)
Keerthi Basavarajaiah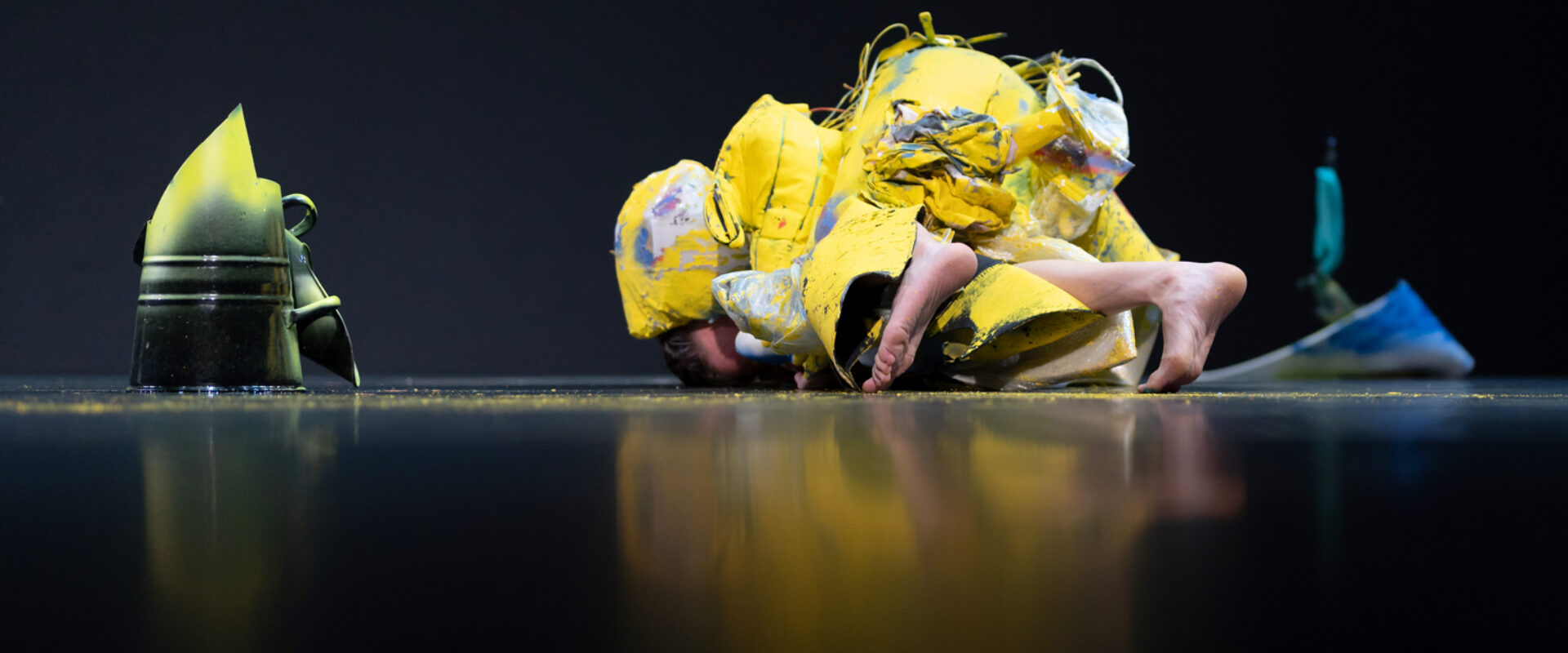 What worlds are entered in sensation? Surreal worlds? Magical ones perhaps? Haunting for sure as they tend not to be seen but are felt. What traces are the lines to enter these worlds?
In Luring Whispers Indian performer/maker Keerthi Basavarajaiah shifts the common assumption of human agency (notably its visual dominance) and investigates the experience at play in what might go unseen. A dance in the initiation of senses- of touch, smell, taste, sound, of movement, a synesthetic play through the traces of materiality. Presence in their absence, presence in their traces, presence at a distance. Things come alive in this dance that exceeds its parts. From tiny sounds – a crackle, a sizzle, a sputter – to the body gestures -a stroke, a caress, a touch – and material traces – a drop, a speck, a morsel – the work plays in between and across.
About Keerthi Basavarajaiah
Keerthi Basavarajaiah is a maker and performer of Indian origin, based in Amsterdam. As a choreography graduate from SNDO (School for New Dance Development), she is looking at generative spaces for the body to attune to the emerging conditions, exploring shifts in the mundanity of rhythms. Her works tend to move with a synaesthetic play of senses, in-between the postures of audience-performance relationship. What other worlds can be entered side- ways amidst the exhausted bodies of habitual perception? Recently she has received a contribution of Fonds Podiumkunsten to develop a project named "Art on Delivery" in Amsterdam.
Ticket: €12
10×10 November: Movement
From the 26th of November till the 5th of December it is time for our last 10×10 edition. Exactly one year ago we started to unfold the 10 stories of Veem's Future by hosting a monthly 10-day program. This last edition is all about Movement. From dance to discours, through workshops and activism you can enjoy the works & practices of Antonia Steffens, Keerthi Basavarajaiah, Raoni Muzho Saleh, Nico Roses, Mami Kang, Matthew Day & Paula Chaves.
The November 10×10 program is co-curated by Amsterdam based choreographers/performers Antonia Steffens and Keerthi Basavarajaiah. Co-curation will form a recurring part of our methodology as we work to embed new perspectives into the internal structures. Read more…
We will stick to the corona measures during all of our activities to ensure your wellbeing in our care. Read more about our regulations in our safety protocol.
Concept, choreography and design:
Keerthi Basavarajaiah
Performance:
Keerthi Basavarajaiah, Marina Orlova
Advice:
Erin Manning, Antonia Steffens