Program
Open Studio with Timothy Nouzak (sold out)
Timothy Nouzak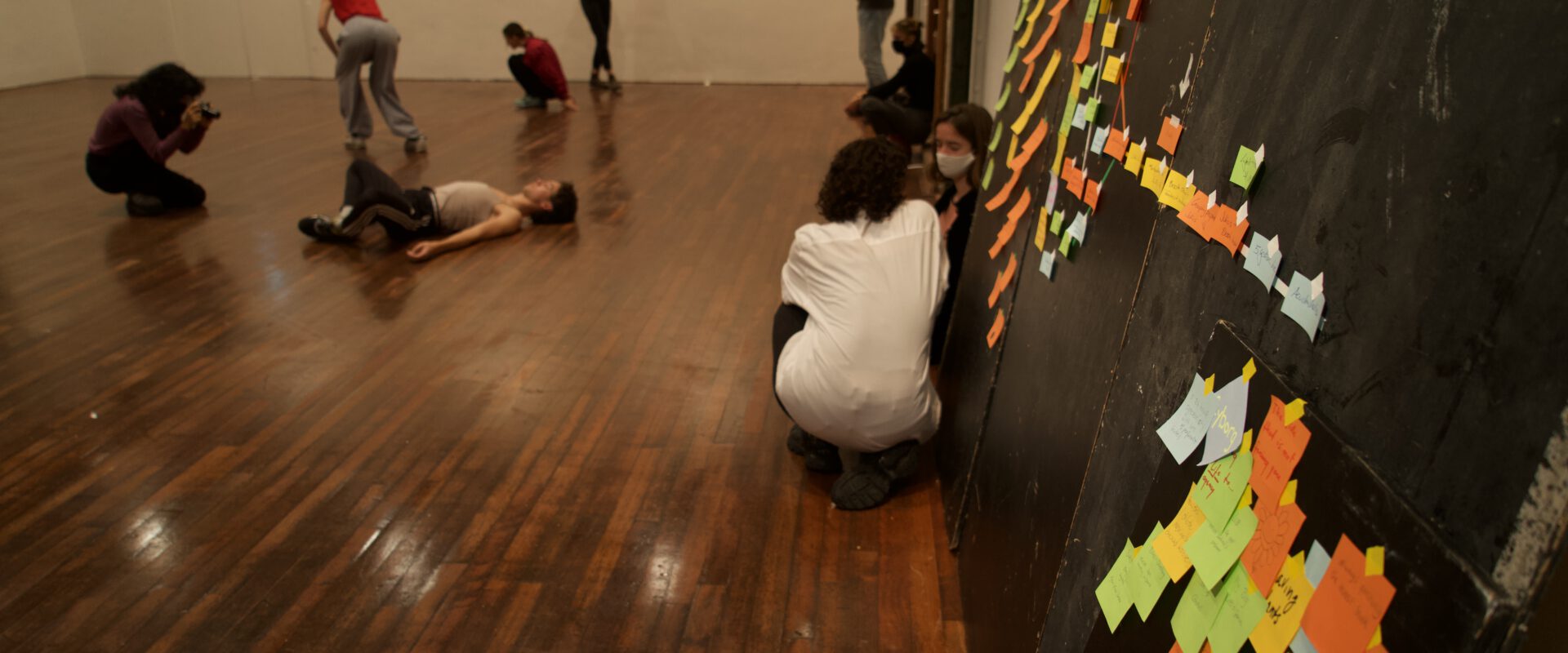 – this event is sold out –
What does an action presuppose?
When does an action become meaningful?
Does meaning always enact out of memory?
What does it signify to move a memory?
__
During a two week research residency at Veem House for Performance, Timothy Nouzak, a young performance maker, currently enrolled in P.A.R.T.S (Brussels), has created a fourth edition of his collective movement score: ,Common-Works'. On the 22nd and 23rd of October, the Open Studio gives audiences the chance to see the new score edition, made in collaboration with 9 performers from Amsterdam, and to gain insight into the artistic process through an after discussion.
Each edition of ,Common-Works' can be seen as a 'common ground' where a group of performers come together to share, experiment and perform in order to draw – on top of the base of ideas and concepts that have circulated throughout the past editions of the score – a new possible access on what the next edition might be.
The practices Timothy has been developing over the past years, tend to explore the intersection of culture, norm and narrative by questioning how collectivity can be rediscovered through practices of collective listening and sensing: to reconnect to the body, to let the body speak, to let the body think and to let the body communicate through the work.
About
Timothy Nouzak is a young performance-maker coming from Vienna (AT) and Houston, TX (US). After his B.A. Studies in 2016, he moved to Brussels (BE) and is currently part of STUDIOS, a choreographic research program at P.A.R.T.S. – Performing Arts Research and Training Studios under the direction of Anne Teresa De Keersmaeker. His current artistic research is framed within several communal movement practices, which tend to explore the intersection between norm/narrative, culture/identity and embodied history/memory.
For more information visit: www.timothynouzak.com
Ticket: €5
Open Studio
Are you curious about the creation processes of emerging performance makers? Open Studios provides a glimpse into artists work and processes as they develop, as well as the possibility of dialogue across the stage line. Join us for an evening of informal and reciprocal exchange!
10×10 October: Exchange
Collaborations for our 10×10 October program have launched with enthusiasm, paused with reluctance, have taken a different turn or gradually became impossible but we remained agile. While we've made countless adaptations, we're happy to announce that we will indeed create 10 days of International Exchange from the 22nd – 31st of October! Of course taking all the safety measures in consideration. Read about them here.
This 10×10 edition is all about International Exchange as Veem House for Performance has been an international production house for more then three decades. Over the past 30 years, Veem-productions could be seen all over the world and many international artists were welcomed and programmed in our house. As crossing country borders is difficult at the moment, some parts of that exchange will happen online.
Concept & artistic direction:
Timothy Nouzak
In collaboration with performers:
Lorena Solís Bravo, Mylan Hoezen, Julius Frodermann, Eli Steffen, Alexander Blum Bertelsen, Ioanna Mitza, Sam Scheuermann, Polina Fenko
In conversation with:
Freda Fiala
Photo:
Koen van der Heijden
Video:
Tamara van den Berg