Program
Porcelain White: The Conversation
Venuri Perera and Zwoisy Mears-Clarke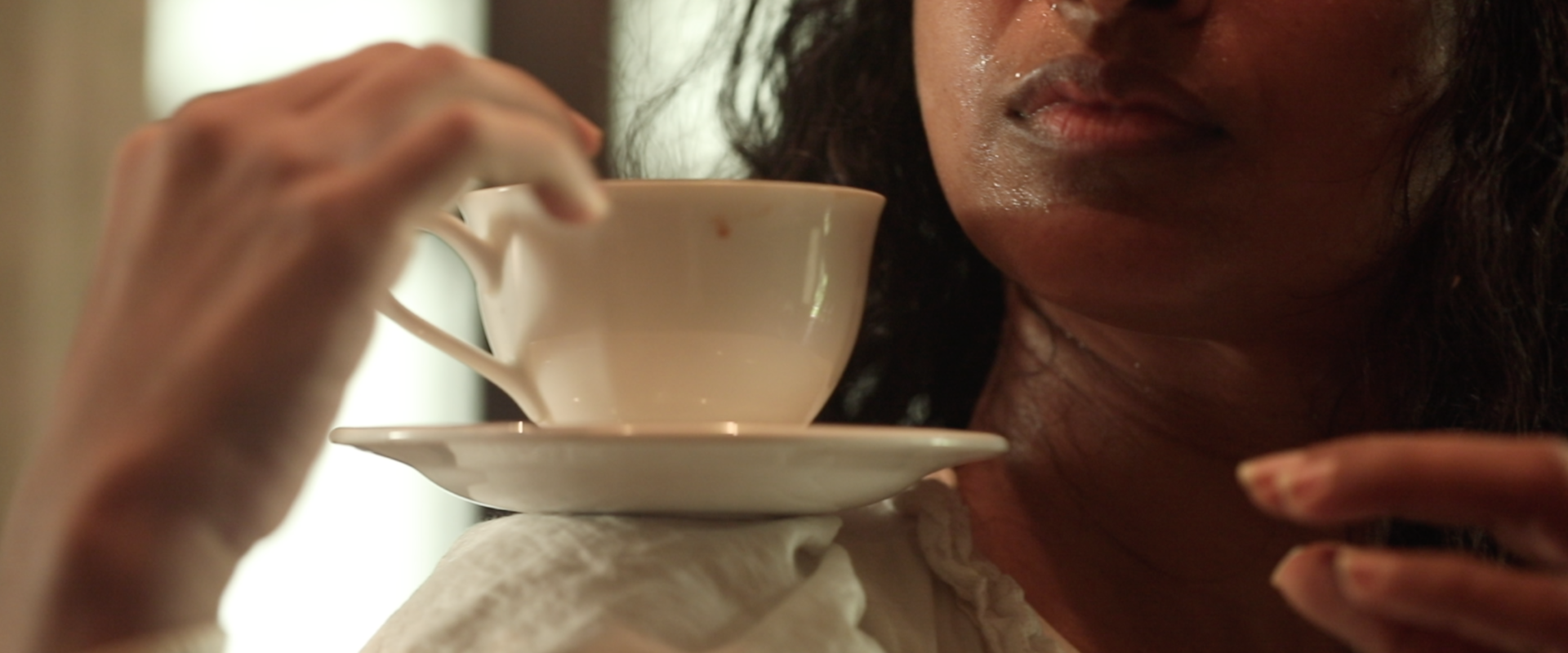 Film + aftertalk
Venuri Perera and Zwoisy Mears-Clarke, born oceans apart in former colonies of Britain, find that they have in common a 'whitened' inheritance. They were both brought up in the English-speaking middle class, which maintains certain practices adopted from the former colonial masters, that protect their social status. Conversing across continents, they probe their complicity. In this film, they unravel the complexities and limits of their inherited privilege as they inhabit neocolonial spaces.
After the screening we will have a conversation with Venuri and Zwoisy moderated by Quinsy Gario.
Porcelain White is a production by Zwoisy Mears-Clarke and Venuri Perera in coproduction with Festival Theaterformen. Funded by the International Coproduction Fund of the Goethe-Institut.
Ticket: €7,50
There are two options to attend the film screening of Porcelain White + aftertalk:
– in our theater (limited capacity)
– via an online live stream
Good to know: if you choose to attend the event via the online live stream participation in the aftertalk won't be possible but you are able to watch it live.
10×10 October: Exchange
Collaborations for our 10×10 October program have launched with enthusiasm, paused with reluctance, have taken a different turn or gradually became impossible but we remained agile. While we've made countless adaptations, we're happy to announce that we will indeed create 10 days of International Exchange from the 22nd – 31st of October! Of course taking all the safety measures in consideration. Read about them here.
This 10×10 edition is all about International Exchange as Veem House for Performance has been an international production house for more then three decades. Over the past 30 years, Veem-productions could be seen all over the world and many international artists were welcomed and programmed in our house. As crossing country borders is difficult at the moment, some parts of that exchange will happen online.
Concept, text, performance:
Venuri Perera, Zwoisy Mears-Clarke
Director:
Arun Welandawe-Prematilleke
Cinematography Germany :
Florence Freitag
Cinematography Sri Lanka:
Ryan and Jonathan Wijayaratne
Sound:
Isuru Kumarasinghe
Editing:
Ryan Wijayaratne
Translation:
Melmun Bajarchuu
Thanks to:
Sunila Galappatti, Sara Mikolai
Moderator aftertalk:
Quinsy Gario