Program
The Nothing Factory (film)
Pedro Pinho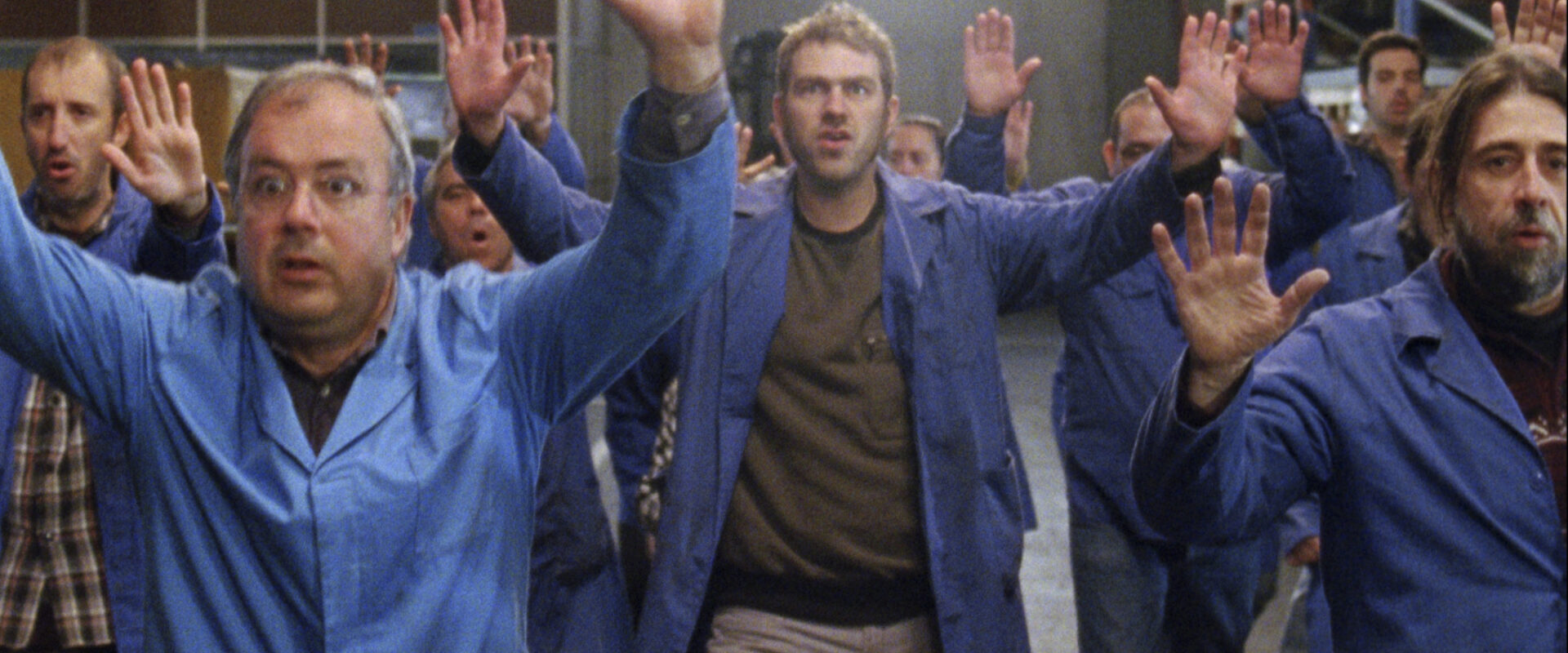 Additional Programme
Before the film screening, the event 'How to Practice Fair Practice Code? Trust at Veem House' will take place here in the house.
It is a symposium on the Fair Practic Code, specifically organized for makers and performers in the theatre, where we are going to discuss one of the five pillars of the Fair Practice Code: Trust.
For more info, click here!
The Nothing Factory (2017), directed by Pedro Pinho
One night, a group of workers realizes that their administration has organized the stealing of machines from their factory. They soon understand that this is the first signal of a massive layoff. Most of them refuse to cooperate during the individual negotiations and they start to occupy their workplace. So when the administration vanishes to their great surprise, they're left with a half-empty factory…
As the world around them collapses, new desires start to emerge.
In Portugal and Europe, the last few years have caused a brutal redefinition of the way in which we look at the world. A lack of prospects and valid discourses about the present has often made us feel ineffectual.
'The Nothing Factory' stems from there.
The closing of an elevator factory (one of many that close every month in the industrial outskirts of Lisbon) works as a microcosm and a parable for dramatically exploring the textures and consequences of the feeling of impotence that most people felt during that time.
Under the shadow of bankruptcy, the characters try to stay afloat and look for ways to reshape their lives. Driven by a sense of urgency and some kind of life instinct that remains, as they witness the collapse of their jobs and the institutions they believed in, they are forced to embark, with reluctance and fear, in an unforeseen experience, a collective adventure.
Bio-Filmography
Pedro Pinho studied Cinema in Lisbon and Paris.
In 2008 he co-directed with Frederico Lobo the documentary feature 'Bab Sebta' (Prize Marseille Esperance award at FIDMarseille'08, Best Film at Doclisboa and Forumdoc.bh (Brazil)). In 2009, with five other filmmakers, he founded the company Terratreme, which in recent years has been playing a central role in producing and promoting new Portuguese directors.
'The End of the World' (2013) is his first medium-length fiction film ad it was screened at the 63º Berlinale, IndieLisboa, and Festival do Rio (It was nominated for the Portuguese Golden Globe Awards for Best Film and Best Photography at Caminhos Cinema Português'14).
In 2014 he co-directed with Luisa Homem the documentary As Cidades e as Trocas, shown at FIDMarseille, Doclisboa and the Art of the Real (NY).
Currently he works as a director, writer and producer.
'The Nothing Factory' is his first fiction feature.
Terratreme
Terratreme is a film production unit composed of six directors and producers searching for new production models that allow them greater freedom and autonomy in their creative processes.
In its 10 years' experience, has consolidated its expertise in film production and distribution. Currently working with a large and diverse group of filmmakers, Terratreme has one of the strongest presences, among Portuguese production companies, in major film festivals around the world (Cannes, Berlin, Locarno, Nyon, Marseille, Rotterdam, San Sebastian, Buenos Aires, Rio de Janeiro, Brasilia, Chicago, New York, Toronto), all while expanding its activities through international co-productions (Brazil, France, Switzerland, Germany, Japan, Bulgaria, Cape Verde, Argentina, Chile).
Based on an original idea by:
Jorge Silva Melo
Screenplay:
Pedro Pinho, Luisa Homem, Leonor Noivo, Tiago Hespanha
Director:
Pedro Pinho
Cinematography:
Vasco Viana
Editing:
Cláudia Oliveira, Edgar Feldman, Luísa Homem
Original Soundtrack:
José Smith Vargas, Pedro Rodrigues
Sound Director:
João Gazua
Sound Editor and Mixer:
Tiago Raposinho, Carlos Abreu
Color Correction:
Andreia Bertini
With:
José Smith Vargas, Carla Galvão, Njamy Sebastião, Joaquim Bichana Martins, Daniele Incalcaterra, Rui Ruivo, Hermínio Amaro, António Santos
Producers:
João Matos, Leonor Noivo, Luísa Homem, Pedro Pinho, Susana Nobre, Tiago Hespanha
Production:
Terratreme Filmes
International Sales:
Memento Films International
Distribution – Portugal:
Terratreme Filmes, Portugal Film
Distribution – France:
Météore Films