Stories
'TOP' Letter to Secretary of State Uslu
17 November 2022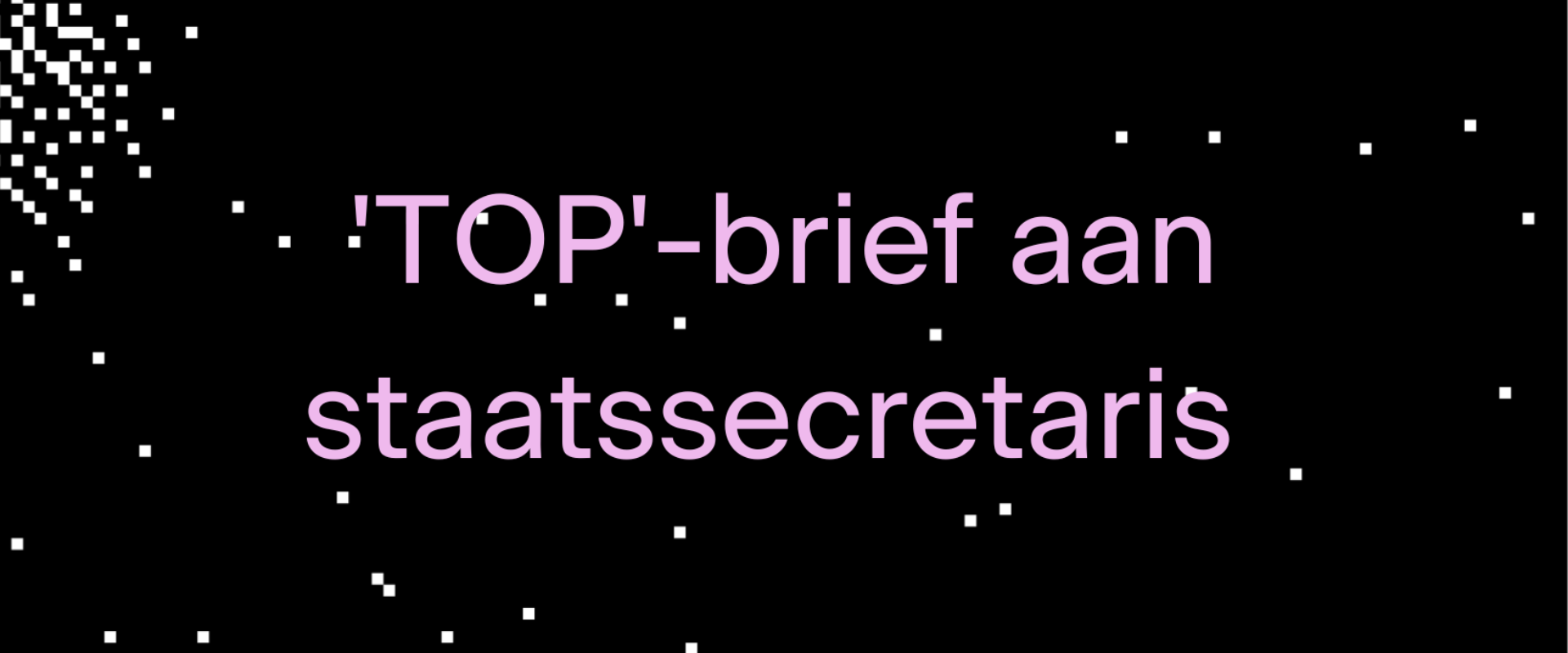 Amsterdam 7th of November 2022
Concerning: invitation to meet with Taakgroep Ontwikkeling Podiumkunsten
Your Excellency, dear Secretary of State Uslu,
In your letter, published on the 20th of October, you offer the field clarity about the plans of the coming subsidy period. In the letter it starts to become visible what the outline of the Basic Cultural Infrastructure (BIS) for the future might be.
Thank you for this, on behalf of several institutions within the Dutch performing arts that focus on development, located in various parts of the country. We are not all part of the Basic Cultural Infrastructure, but together we are important places. Places where artists are often picked up for the first time, where they can grow, try, fail, try again and come to artistic maturity.
We guide and encourage makers during the recruitment, internal development and sometimes also outflow. We would like to introduce ourselves as Taakgroep Ontwikkeling Podiumkunsten (Task Force Development Performing Arts – TOP). Our task: to put the power of development and innovation at the service of vital and future-proof performing arts in the Netherlands. 
Together we contribute to a healthy, vital structure in which developments in the performing arts thrive. In which new generations of makers and audiences can find each other in versatile art and culture that enrich city and country. Based on this mission statement, we would like to present ourselves to you as a sparring partner, ally and experience expert.
In an interview with Het Parool you recently said: 'I miss the speed of the business industry'. In that case, we say: 'come and talk to us, quickly switching is part of our core business, we like to keep up the momentum.' Therefore, below are a few points that we share with you. Points with which we could come to a solution together, possibly faster. 
Recognition for failure of the system 
First of all, we are pleased that you wholeheartedly acknowledge that 'the system is jammed and no longer fits the developments in the cultural field.' In our daily practice, we have been running into these walls for years.
This concerns issues such as the imbalance between supply and demand, the fragmentation of responsibility through the underfunding of smaller organizations with the expertise of development; the need for fair pay and the ability to safeguard the other values of Fair Practice.
We cannot wait until 2029 to tackle these issues. We have often thought deeply about, and worked on, solutions together. In addition, we know better than anyone which developments are happening in the field. In fact, we are often the founders of it.
However, our contribution is under pressure. There are many new threats: inflation, rising energy costs and with that programming 'safely' in theaters. These should not be guiding principles for the vital source of social power that is art and culture.
Generation beyond borders
We believe in the power of a landscape that looks beyond borders, a landscape that manages to keep the performing arts both contemporary, locally and internationally connected. The broad social consensus is that our society is in a period of transition. We can assure you that these transitions are happening in our sector at full speed. We experience it all around us, how new interesting initiatives are being created. A young generation is explicitly knocking on the door.
There is a need to give a new generation a place and a voice, so that they can shape the future with their own vision and imagination. They bring in new stories, perspectives and audiences. However, they stumble upon boundaries: domestic boundaries within the subsidy system that offer hardly any room for organizational forms of the new generation.
For example, makers who work together across national borders. Or makers who want to work autonomously yet collectively under one foundation. Also institutions that support multiple makers and take on the organizational costs. Or festivals that facilitate development throughout the year often run into the limitations of the funding bodies.
The advice Onderweg naar overmorgen (written by the RvC – Raad voor Cultuur) speaks of a system aimed at impact measurement that could potentially contribute to the agility and resilience of the cultural sector. We also aim for more space and freedom within our role in the field of development. Regardless of the forms we take.
Are we going to ask the new generation once again to conform to the system?
Or do we dare to open the system in such a way that space is created for the other and the Other? This requires the system to make space for innovative small-scale institutions and makers.
How can we create space for organizations that, in addition to expertise in artistic development, also pay attention to professionalization and positioning?
How can new or cross-border organizational forms be given space within the system?
How can we work on forms of accountability that do justice to development, in which the focus is more on process than product?
How can smaller venues that are committed to finding an audience for new makers and artistic experiment be better rewarded for their role in development and innovation?
We realize that a review of the system will take time. At this moment we especially need interventions dedicated to create space for the makers and organizations of today. In any case, innovative power is difficult to capture in rules and regulations. We know that funds want to get moving too, so let's get to work. We would be happy to discuss this with you and your policy officers, your advisers and representatives of the funds.
Finally
The Netherlands is structurally in the top 10 of the most innovative countries in the world. This is because we research, experiment and do business. We are apparently good at anticipating and responding to changes and opportunities. We must keep that innovative strength healthy, also in the performing arts. We need an environment that rewards innovative makers and audiences looking for adventure. This environment is now provided by production houses, festivals, workplaces, development places and platforms. They play an indispensable role in the chain for a lively landscape that is ready for the future of performing arts, but are not always recognized and financed as such.
Art is about making proposals. It is capable of imagining the impossible. Such as giving back time or creating understanding in times of polarization. Approach art as the R&D of society, as a sector that signals emerging movements in society, researches it, and puts it on the agenda. Ask institutions themselves what they can and want to bear responsibility for and create leeway for this.
Your influence as a representative of the national government is big. You largely set the tone. You can expect us to insist on the importance of grassroot development and innovation to be clearly reflected in your policy. We are also happy to provide the strategic reasoning behind this.
We therefore invite you for a meeting, together with the policymakers of OCW and representatives of the Raad voor Cultuur and Fonds Podiumkunsten. We will come back shortly with a proposal for such a meeting and will be happy to be in touch with your secretariat to look at the best location and date.
We look forward to this meeting.
On behalf of the Task Force and all other organizations that express their support for our plea.
Task Force Development of Performing Arts (TOP)
Marga Kroodsma, Veem House for Performance | Chairwoman TOP
Rosa Boon, TENT Huis voor hedendaags circus
Leonie Clement, Festival Cement | PLAN
Rebecca Sigmond, Het Huis Utrecht
Niek vom Bruch, Grand Theatre | Station Noord
Peter Hendrikx, De Nieuwe Oost | Theater aan de Rijn
Simone Hogendijk, Over het IJ
This letter is supported by
Korzo
Feikes Huis
Theater Ins Blau
SHIFFT
Paradiso Melkweg Productiehuis
Theater Kikker
Productiehuis KOSMIK
Dansateliers
Theater Walhalla | Werkplaats Walhalla
Panama Pictures
Peergroup
Amsterdam Fringe Festival
Oerol
Amsterdamse Bostheater | Stichting Boslab
Nowhere
Het Zuidelijk Toneel | PLAN
Theater Artemis | PLAN
Oranjewoud Festival
Golden Palace
Podium Bloos | PLAN
Festival Circolo | PLAN
ICK Dans Amsterdam
Dans Brabant | PLAN
Theaterfestival Boulevard | PLAN
Nicole Beutler Projects
Theater de Nieuwe Vorst | PLAN
DOX
VIA ZUID
Verkadefabriek | PLAN
BAU
Jonge Harten Theaterfestival
United Cowboys | PLAN
Parktheater Eindhoven | PLAN
Standplaats Midden
Likeminds
SPRING
Vlaams Cultuurhuis de Brakke Grond
Theater Bellevue
Tryater
RIGHTABOUTNOW INC
Noorderzon
Het Houten Huis
Welcome to the Village
Schuur | Toneelschuur Producties
MusicalMakers
WORM 
Theater Rotterdam | Productiehuis Theater Rotterdam
Jakop Ahlbom Company
STIP Theater Producties
Cinedans