Stories
ROTOR wins BNG Bank Theaterprijs 2022
2 September 2022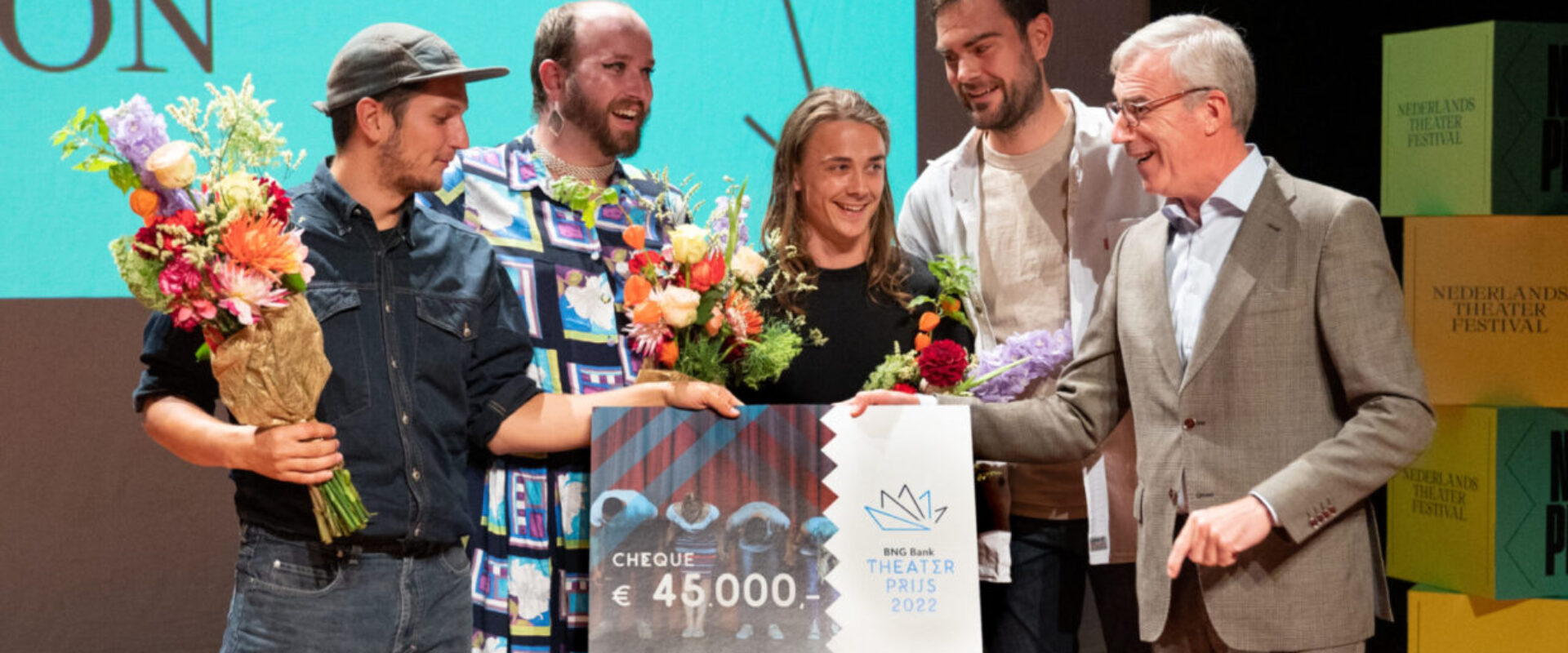 During Nederlands Theaterfestival Veem House Artist ROTOR has won the BNG Bank Theaterprijs 2022 for their performance Erosion! 
"The jury was moved by the openness of this performance and the space that the abstract universality offers: to feel connected to each other."
The BNG Cultuurfonds has created the prize to encourage young theater talent up to the age of 35. The winner receives 45,000 euros to recreate the winning performance or to invest in a new production. In 2022 the jury consisted of Miel van Teijlingen, Leonie Clement, Carole van Ditshuyzen, Mark Fischer, Lieke Hillebrand, Richard Kofi and Jolie Vreeburg.
From the Jury report:
"The winning performance looks like a radio play and sounds like a movie. The makers create their own pure universe into which the spectator is irrevocably drawn. The audience almost becomes complicit in what is happening on the stage in the utmost concentration. We breathe in and hold our breath."
"We look at complete surrender and in turn surrender ourselves to the detailed composition of movement, image and sound. The thoughts are free and associative. What is our essence as human beings? Who are we if no one is holding us? Who are we independent of each other and who are we dependent on the other? What does it mean to be subject to repetition, to wear and tear, to be lonely?"
Other nominees were Sheralynn Adriaansz (BEIGE), Merel Severs (Let me tell you something you already know), Ritzah Statia (Kibra Silensio), Timo Tembuyser (Missa Mater Sola)  en Mathieu Wijdeven (Het Waarom Beantwoord).
ROTOR will perform Erosion during Theater Festival in Theater Bellevue on 7th and 8th of September. On the 15th of September the piece travels to Haarlem where it will be performed in Schuur. 
Erosion is a Veem House production co-produced with Schweigman&
Photo: Anna van Kooij