Stories
The Past and Present Tense: An interview with Jaha Koo by Lies Mensink
30 October 2018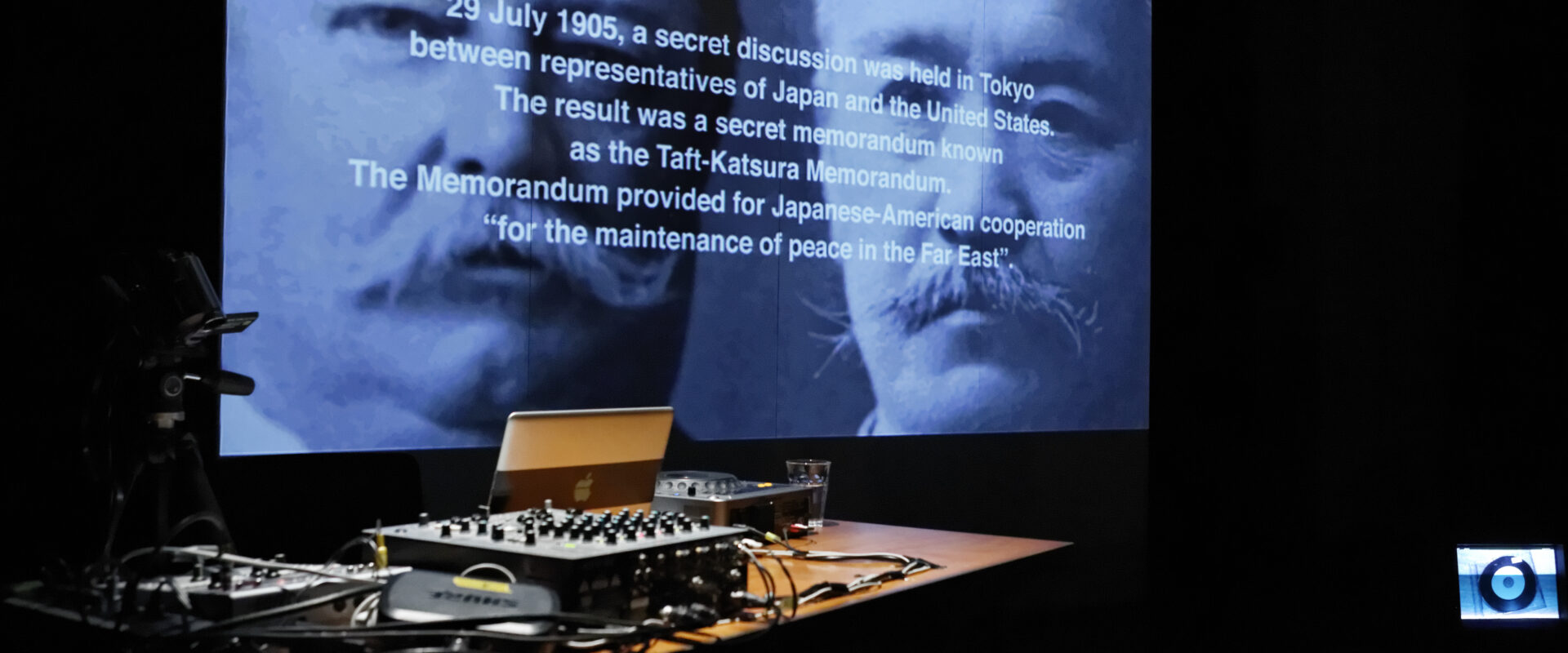 When the South Korean performance artist Jaha Koo came to Amsterdam seven years ago to study at DasArts, he was unable to communicate with his fellow students: "For the first two years it was too heavy, I had to take time to improve my English. I decided to pause my education." Jaha turned his frustrating journey of improving his English pronunciation into a performance piece: 'Lolling and Rolling' (2015). This Thursday, Jaha will perform 'Lolling and Rolling' for the very last time at Veem House for Performance.
Working as a theatre maker, music producer and as an audiovisual artist, Jaha has created an authentic performative language. His work oscillates between multimedia and performance, always incorporating his own music and video work. 'Lolling and Rolling' (2015) is the first piece of Jaha's 'Hamartia Trilogy', and is followed by the well acclaimed 'Cuckoo' (2017). Jaha recently started working on the final piece of the trilogy 'The History of Korean Western Theatre' (working title) that will premiere in 2020. "The main theme of the trilogy is about how the past tragic issues affect our contemporary society." It becomes quite clear why Veem relates his work to the #politicalmemory: "I try to find the root of the tragic issues. This means that I have to consider the past." Each performance focuses on a different problem within a different timeframe and Jaha shifts between his personal problems and global concerns, between the past and the present. 'Lolling and Rolling' specifically focuses on the conflictive topic of English education in Korea.
"Korean people invest lot of time and money to learn proper English, but somehow it is very difficult to find a fluent English speaker in the Korean society." Jaha's own struggle with English pronunciation, makes him wonder what the root of the problem is. During the creation of the piece he is reminded of a Korean news report on tongue surgery for better English pronunciation. "It was a big issue around 2005. In the Korean language, there is no 'R' pronunciation, parents thought that if their child had a longer tongue it would be better for the 'R' pronunciation. They forced their children to cut their tongue tie." When people realized that this linguistic surgery was not helpful at all, they quickly began searching for other methods. "It's crazy," Jaha says, "parents would force their children to speak English instead of Korean, even though Korean is their mother tongue. I was thinking that this kind of madness is related to colonialism: the Japanese colonial background and the American influence after the Korean war."
Jaha began searching for the root of the problem in Korea's colonial past and in this hidden power structures were revealed: "Japan forced the Korean people to learn Japanese, that's why the Korean people have a big complex with the 'R' sound: they learnt Japanese pronunciation. Korean people feel that Japan forced their history. That they destroyed Korea's culture." Even though Jaha shares the histories of Korean issues, 'Lolling and Rolling' is not just for a Korean audience. "It's related to global Issues. 'Lolling and Rolling' is about imperialism and post colonialism, related to Japan and America." Jaha hopes that through his piece the audience starts to think about the bigger cultural strategies related to political power.
'Lolling and Rolling' focuses on the time when Jaha arrived in Amsterdam, seven years later the past has irrevocably changed the present once again. "The political environment has changed and my opinion has changed. I want to renew the work, and so I decided to stop Lolling and Rolling." Seven years after Jaha entered DasArts he is confronted with a different reality: one where Trump is president and Kim Jong-un Supreme Leader. But Jaha's personal identity has also shifted: "When I go to Korea I feel like a stranger there. Here, in Europe, I'm also a stranger, but I'm more comfortable. I don't belong to any specific culture anymore."
Jaha will perform 'Lolling and Rolling' –in its original version- this Thursday for the very last time at Veem House for Performance. "The reason I decided to show this work in Veem is that it will be very valuable for me to show the 'first piece'. Later the second piece of the trilogy is also shown in Amsterdam at Frascati Theater on the 21st and 22nd of November. I guess you can see the evolution: How I have developed my performance language from 'Lolling and Rolling' to 'Cuckoo'."
In his further artistic development Jaha is supported by Veem House for Performance, De Balie and De Ateliers through AFK's 3Package Deal and CAMPO. Jaha will focus on the final piece of the trilogy, which investigates the development of Korean theatre and his own artistic practice. The 1st of November, he will return to where it all began for one very last time and perform 'Lolling and Rolling': "It is like a turning point to talk about the next page in my life."